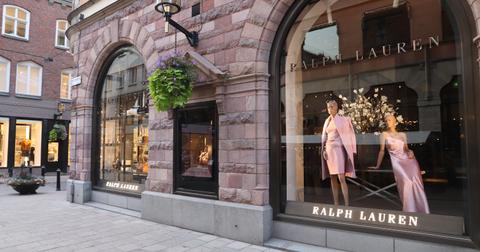 Ralph Lauren Stock Gains on Big Earnings Beat
By Amit Singh

Updated
Ralph Lauren stock rose due to its better-than-expected second-quarter results.
The second-quarter earnings beat analysts' expectations by a wide margin.
There was solid growth in China.
Ralph Lauren (RL) stock closed 14.7% higher on Thursday due to the company's stronger-than-expected results for the second quarter of fiscal 2020. The company's top line beat analysts' consensus estimate, which reflected healthy growth in Europe and Asia. China performed well and registered stellar growth on a constant currency basis.
Ralph Lauren's margins expanded, which reflected the favorable product, channel, and geographic mix. Also, higher pricing and smart promotions supported the company's margins. Higher sales and margins drove the double-digit growth in Ralph Lauren's bottom line, which is encouraging.
Article continues below advertisement
Ralph Lauren's Q3 sales 
The company posted revenues of $1.71 billion, which increased 1% YoY (year-over-year). The revenues beat analysts' estimate of $1.69 billion, which reflected growth in Europe and Asia. However, the negative foreign exchange rate remained a drag and had a negative impact on the top line by 1.3%.
Ralph Lauren's revenues in North America fell 1% YoY to $881 million, which reflected weak wholesale sales. The wholesale revenues fell 6%. However, the comparable retail sales rose 2% due to growth across brick and mortar and the digital channel.
Notably, Levi Strauss' (LEVI) revenues in the Americas also remained weak and fell 3% during the last reported quarter. The company's management blamed the weakness in the wholesale business for the decline. However, Levi Strauss marked a 9% increase in its direct-to-consumer sales, which reflected growth in its namesake brand.
While the wholesale business remains an integral part, we think that weakness in department stores could hurt companies' growth rate. On the positive side, companies are reducing their dependence on the wholesale business and focusing more on the high margin direct-to-consumer business.
Ralph Lauren's sales increased 3% to $480 million in Europe. The retail comparable store sales rose 3% led by healthy growth in brick and mortar stores. Meanwhile, a 13% jump in e-commerce sales also supported the comps.
In Asia, the revenues rose 4% to $255 million, which reflected a 20% increase in China on a constant-currency basis. Comparable store sales increased 1%. However, disruptions in Hong Kong remained a drag.
Article continues below advertisement
Q3 margins expanded
Ralph Lauren's margins expanded in the second quarter due to healthy sales growth and a favorable mix. The company's adjusted gross margin increased by 60 basis points to 61.5%. Besides the favorable geographic and product mix, higher pricing boosted the margins.
Ralph Lauren's adjusted operating margin expanded by 100 basis points to 14.9%. Gross margin expansion and a decline in the expense rate supported the company's operating margins.
By region, the operating margin remained weak in North America and fell by 100 basis points. However, Europe and Asia's adjusted operating margin increased by 170 basis points and 140 basis points.
Margin expansion drove the company's second-quarter earnings. Ralph Lauren posted an adjusted EPS of $2.55, which increased 13% YoY and beat analysts' estimates of $2.39 by a wide margin.
Fiscal 2020 and Q3 outlook
Ralph Lauren continues to project 2%–3% growth in its net revenues for 2020 on a constant currency basis. However, unrest in Hong Kong and negative currency rates could continue to hurt the company's sales. The operating margins will likely expand by 40–60 basis points due to higher sales and lower costs.
The third-quarter revenues will likely stay flat. Currency volatility will likely have a negative impact on sales growth by 70–90 basis points. The operating margins are expected to remain flat or decline by 20 basis points.
Ralph Lauren stock: How did analysts react?
Analysts had a mixed reaction towards Ralph Lauren stock following the second-quarter earnings. CFRA increased its target price to $90 from $80 and maintained a "sell" rating. RBC increased the target price to $130 from $128. Meanwhile, Wells Fargo cut the target price to $128 from $135. However, Wells Fargo maintained an "outperform" rating.
Analysts have a consensus target price of $121.07 on Ralph Lauren stock, which implies an upside of 4.7% based on its closing price of $115.67 on Thursday.
Nine out of 17 analysts suggest a "buy" on Ralph Lauren stock. Meanwhile, six analysts recommend a "hold" and two analysts recommend a "sell" on the stock.