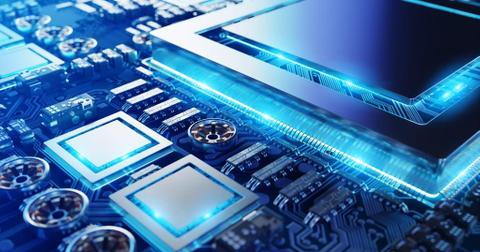 Morgan Stanley Upgrades Nvidia Stock to 'Overweight'
By Ambrish Shah

Updated
Nvidia (NVDA) stock got an upgrade to "overweight" from "equal weight" by Morgan Stanley today. Following the upgrade, the stock popped almost 5%. Morgan Stanley analyst Joseph Moore also raised his 12-month target price on the chipmaker from $217 to $259. Nvidia stock closed trading at $210.89 on November 22. So, Morgan Stanley's target indicates a 22.8% rise from its current price.
According to a MarketWatch report on November 25, Moore said, "Nvidia will return to solid growth in both gaming and data center, after both segments disappointed in 2019. As we look into 2020, we see catalysts for Nvidia's growth accelerating on nearly every vector, even in what we expect will be a tough semiconductor environment." The report added, "Ray-tracing software support should generate more gamer enthusiasm in gaming products, and new data-center workloads around conversational AI should lead to another leg of data-center growth."
Article continues below advertisement
The road ahead for NVIDIA
In the third quarter of fiscal 2020, Nvidia's sales of $3.0 billion surpassed analysts' average estimate of $2.9 billion. Its adjusted EPS of $1.78 also beat analysts' average estimate of $1.57. In last year's third quarter, the company reported an adjusted EPS of $1.84 on revenue of $3.2 billion.
Analysts expect NVDA to post revenue of $10.8 billion in fiscal 2020, a fall of 8.1% year-over-year. However, its revenue growth is expected to increase 19.0% to $12.8 billion in fiscal 2021. Nvidia's sales are expected to rise by 16.1% to $14.9 billion in fiscal 2022.
Analysts also expect the semiconductor company's adjusted EPS to fall 16.1% to $5.57 in fiscal 2020 but rise 29.8% to $7.23 in fiscal 2021 and 18.7% to $8.58 in fiscal 2022.
Dividends
Nvidia exited the third quarter of fiscal 2020 with free cash flows of $1.5 billion, compared to $0.3 billion in the third quarter of fiscal 2019. The semiconductor giant has been using its free cash flows to reward investors.
In the third quarter of fiscal 2020, Nvidia paid $98 million in dividends. At the end of November 22, Nvidia's dividend yield stood at 0.3%.
Article continues below advertisement
Analysts' views on Nvidia stock
Of the 41 analysts covering Nvidia, 29 suggest a "buy," up from 27 last month. Three suggest a "sell," unchanged from last month, and the remaining nine suggest a "hold," also unchanged from last month. Their average $232.80 target price for Nvidia stock implies a 10.4% upside from its closing price of $210.89 on November 22.
Stock performance
Nvidia's strong financial performance has boosted its stock about 58% year-to-date. Meanwhile, the Dow Jones and S&P 500 have risen about 20% and 24%, respectively. Advanced Micro Devices, Nvidia's peer in the GPU space, saw its stock rise 112.1%. Semiconductor rival Micron Technologies gained 44.6% in the same period. However, Intel stock has increased 22.8% this year through November 22.
Nvidia stock hit a new 52-week high of $221.41 on November 25. The stock is trading around 69.4% above its 52-week low of $124.46. Its 14-day relative strength index score of 61 suggests that investors are neutral on the stock. Meanwhile, its 14-day moving average convergence divergence is 3.92, implying an upward trading pattern. On November 22, Nvidia stock closed near its upper Bollinger Band of $213.96, suggesting it's overbought.
Nvidia is currently trading at $220.03. On the basis of that price, the stock was trading as below:
8% above its 100-day moving average of $180.62.
4% above its 50-day moving average of $194.08.
6% above its 20-day moving average of $208.31.
Read Nvidia Stock Looks Good on Rising Data Center Demand and Nvidia's Latest: The Road to Recovery to learn more. Also, check out NVIDIA: The Way It Is Meant To Be Played.