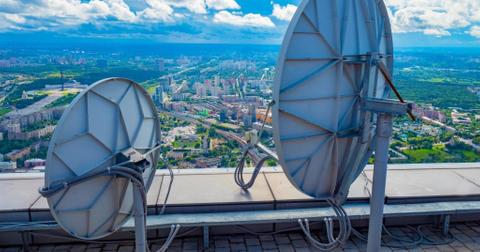 Is Dish Benefiting from AT&T's Pay-TV Losses?
By Ambrish Shah

Updated
In the third quarter, Dish Network (DISH) reported revenues of $3.17 billion—down 6.7% YoY (year-over-year). It also reported adjusted earnings per share of $0.66—down 19.5% YoY. Notably, Wall Street analysts expected the pay-TV operator to report adjusted EPS of $0.61 on total revenues of $3.16 billion.
Article continues below advertisement
Loss in pay-TV subscribers
In the third quarter, Dish lost a net of 66,000 satellite TV customers versus 367,000 net losses in the third quarter of 2018. Although Dish lost satellite TV subscribers in the third quarter, the loss was narrower than analysts' expectations. At the end of Q3 2019, Dish had 9.5 million satellite TV customers, down from around 10.3 million customers in Q3 2018.
Amid declining satellite TV customer numbers, Dish is focusing on its streaming substitute, Sling TV. The company gained 214,000 net Sling TV customers in the third quarter versus 26,000 net additions in the third quarter of 2018. At the end of the third quarter of 2019, Dish had 2.7 million Sling TV customers, up from around 2.4 million customers in the third quarter of 2018.
Comparatively, AT&T (T) lost a net of 1.2 million pay-TV customers in Q3 2019 versus 346,000 net losses in Q3 2018. The telecom company also lost a net of 195,000 over-the-top video customers versus 49,000 net additions in Q3 2018.
Citing MoffettNathanson analyst Craig Moffett on November 9, MarketWatch reported, "Moffett sees two possible explanations for Dish's momentum: Either Dish is near an 'equilibrium' after already losing its most vulnerable customers, or the company is benefiting from DirecTV's 'utter meltdown,' whereby disgruntled AT&T customers have nowhere to go but Dish and disgruntled Dish customers don't have a very viable DirecTV to consider."
According to MarketWatch, Moffett noted, "It will take some time to see if Dish's improvements, particularly for traditional satellite TV, are sustainable, or if there is, indeed, simply a one-time benefit from calamity at AT&T."
Comcast (CMCSA) lost 238,000 traditional video customers in Q3 2019. Charter Communications (CHTR) also lost 75,000 video customers in Q3 2019 in comparison to its 54,000 lost customers in Q3 2018.
Article continues below advertisement
Dish Network as a fourth wireless carrier
Dish plans to enter the wireless industry as the fourth-largest mobile operator subject to the completion of the merger deal between T-Mobile (TMUS) and Sprint (S). In July, Dish struck a deal with T-Mobile and Sprint. Under the terms of the agreement, Dish would buy Sprint's prepaid businesses such as Boost Mobile and Virgin Mobile for $1.4 billion.
Dish would also buy Sprint's 800 MHz spectrum for about $3.6 billion. The combined company would also provide its wireless network support to Dish Network for seven years.
The US Department of Justice and the FCC conditionally approved the merger deal. However, the deal still faces a lawsuit filed by various state attorneys general on antitrust concerns. Read Sprint Fairly Valued at $3 per Share amid T-Mobile Merger to learn more.
Analysts' recommendations on Dish Network
Several Wall Street analysts revised their price targets for Dish stock after its third-quarter earnings results.
HSBC increased its target price from $24 to $26.
UBS increased its target price from $34 to $36.
Guggenheim increased its target price from $48 to $53.
Pivotal Research increased its target price from $33 to $37 with a "hold" rating.
Cowen decreased its target price from $58 to $54.
Raymond James decreased its target price to $41 with a "strong buy" rating.
Dish is covered by 19 Wall Street analysts. Among these analysts, seven recommend a "buy," seven recommend a "hold," and five recommend a "sell." The analysts' average target price stood at $41.89, which denotes that the stock has an upside potential of 17.5% from the last closing price of $35.66. The lowest target price estimate is $26, while the highest is $96.
Stock performance
Dish stock has risen close to 3.7% since the start of November. On November 14, the stock closed at $35.66, which was 0.03% lower than its previous closing price. This price was 20.1% lower than its 52-week high of $44.66, and 53.6% higher than its 52-week low of $23.22. The company's market cap is $17.6 billion.
Based on Dish's closing price on November 14, it has reported returns of 2.8% in the last five trading days, 6.0% in the trailing one-month period, and 11.1% in the trailing 12-month period. The company has gained 42.8% year-to-date.
On November 14, Dish closed 2.1% above its 20-day moving average of $34.92 and 2.9% above its 50-day moving average of $34.66. The company was also trading 0.8% above its 100-day moving average of $35.37.
Dish's 14-day MACD is 0.65, which indicates an upward trading pattern. The company's 14-day relative strength index (or RSI) score of 58 suggests that the stock is neither overbought nor oversold.
Please read Why Dish Stock Rose on T-Mobile CEO Exit News to learn more.