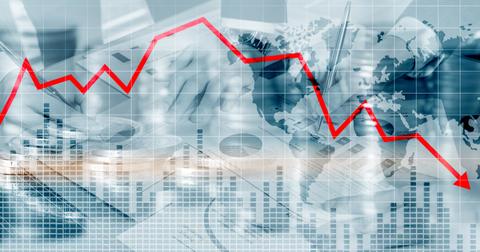 IRBT Stock Tanks ahead of iRobot Class Action Lawsuit
By Adam Rogers

Updated
Shares of iRobot (IRBT) are trading over 5% lower today. The stock is in the red after law firm Faruqi & Faruqi LLP "reminds investors in iRobot Corporation ('iRobot' or the 'Company') of the December 23, 2019 deadline to seek the role of lead plaintiff in a federal securities class action that has been filed against the Company," according to this press release.
iRobot faces accusations of misrepresenting the reason for the acquisition of the Japan-based Sales On Demand Corp. as well as Robopolis SAS. These two companies are iRobot's largest distributors, and iRobot is accused of inflating sales and revenue figures to mislead investors.
While iRobot had attributed its double-digit revenue growth to increased demand for Roomba vacuums, complainants believe the company was engaged in "channel-stuffing" to boost revenue numbers.
Article continues below advertisement
IRBT stock is down 66% since April 2019
IRBT investors have seen a massive erosion in wealth in 2019. The stock has fallen over 66% from its record high of $132.88 to its current price of $43.5. IRBT stock is currently trading at a three-year low. The last time it was trading at these levels was back in October of 2016.
The pullback has meant that iRobot stock has returned 19.3% in the last five years, significantly underperforming broader markets. Investors have been concerned over the considerable slowdown in sales.
In the second quarter of 2019, IRBT reported sales of $260 million—below consensus estimates of $267.94 million. On the earnings call, the company forecast 2019 sales between $1.2 billion and $1.25 billion and earnings between $2.40 and $3.15.
In the third quarter, iRobot's sales were $289.4 million with adjusted earnings of $1.24. This level was significantly higher than analysts' revenue estimates of $259.38 million and earnings estimates of $0.52.
However, the stock fell after iRobot narrowed its 2019 guidance. The company lowered its revenue forecast to $1.2 billion–$1.21 billion. Also, its EPS forecast narrowed to $2.60–$2.80.
Analysts revised iRobot's target price lower
Shortly after iRobot released its Q3 earnings, several analysts reduced their target prices.
Citi reduced its target price from $85 to $55 and reiterated a "neutral" rating.
Piper Jaffray reduced its target price from $64 to $51 and maintained a "neutral" rating.
Bank of America downgraded iRobot from "buy" to "neutral."
Out of the eight analysts covering IRBT stock, two have a "buy" recommendation, five have a "hold" recommendation, and one has a "sell" recommendation on the stock. They have an average target price estimate of $55.57, which is 28.4% higher than the current trading price.
Article continues below advertisement
Is the worst over for IRBT investors?
If iRobot manages to post revenue of $1.2 billion (consensus estimates) in 2019, it will mean a 10.1% year-over-year growth in sales. However, analysts are forecasting company earnings to fall 12.7% in 2019. Further, while the sales growth is estimated at 10% in 2020, analysts expect earnings to decline 51.5%.
Plus, IRBT margins continue to take a hit from the ongoing tariff war between the US and China. The trade war has also resulted in lower-than-estimated domestic sales for the company. The tariffs on List 3 goods such as robot vacuum cleaners have increased from 10% to 25% in the last year.
To offset the higher tariffs, IRBT had to increase product prices on its RVC lineup. This decision affected demand. iRobot management has submitted an application for exemption of its products from high tariffs. However, there are over 30,000 applications awaiting tariff review.
The company is also looking to diversify its manufacturing facilities outside China. It has begun production in Malaysia and should shore up production in the country next year. We can see that the uncertainties continue to keep piling up for investors.
Can IRBT make a comeback in 2020?
The stock will get a boost whenever the trade war comes to an end. While iRobot is expecting international demand to drive revenue growth, investors will be concerned over the slowdown in domestic sales that still accounts for a considerable portion of revenue.
Investors can be further impacted if IRBT loses the ongoing litigation accusing it of inflating sales figures. There is also the concern of an upcoming recession, which could severely impact product sales.
Currently, there are more questions than answers for IRBT. The stock is trading at a forward price-to-earnings multiple of 33.2x, which you can consider expensive based on the upcoming earnings decline. Will investors bet on a stock that has returned a paltry 19% since its IPO back in 2005?