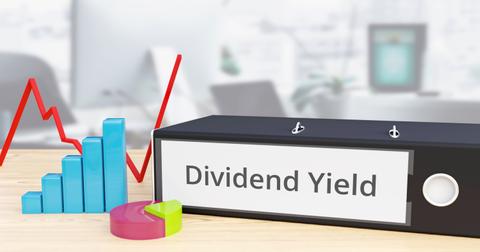 How ExxonMobil's and Chevron's Dividend Yields Compare
By Maitali Ramkumar

Updated
ExxonMobil's (XOM) dividend yield has risen to 4.8%, despite its stock price rising 3.4% this quarter. The company's better-than-expected third-quarter results and hydrocarbon production growth, along with stronger equity markets, have boosted the stock. Meanwhile, Chevron's (CVX) dividend yield is 3.9%, and its stock price has risen 2.7% quarter-to-date. CVX stock has grown less this quarter due to the company's earnings miss and upstream output slowdown. Let's look at both stocks in further detail.
Article continues below advertisement
ExxonMobil's and Chevron's shareholder returns
ExxonMobil, which provides shareholder returns as dividends and share repurchases, has paid growing and reliable dividends for over three decades now. In this year's first nine months, ExxonMobil put about $10.9 billion toward dividends and $421 million toward share repurchases. In the fourth quarter, ExxonMobil's dividend is set to grow about 6% YoY (year-over-year) to $0.87 per share.
Similarly, Chevron's dividend is set to grow 6% YoY this quarter to $1.19 per share. The company intends to repurchase about $5 billion in stock. The company's cash outflow for dividends and net share repurchases was $6.7 billion and $1.8 billion, respectively, in this year's first nine months.
ExxonMobil and Chevron have a premium valuation
While ExxonMobil's forward PE multiple is 19.6x, Chevron's is 17.6x. Both companies' multiples are higher than peers' average of 15.8x. Their high valuation is due to their financial strength and low debt. During a tough period, they can quickly raise debt without worrying the market or rating agencies.
In the third quarter, ExxonMobil's and Chevron's total debt-to-capital ratios were 19.3% and 17.4%, below peers' average of 31.4%.
Article continues below advertisement
Strong financials lay a foundation for robust returns
ExxonMobil and Chevron's financial strength helps them pay dividends reliably throughout business cycles. Backed by its strong financials, ExxonMobil plans to create a competitive portfolio of assets that return wealth to shareholders in any business conditions.
In ExxonMobil's third-quarter earnings call, vice president of investor relations Neil Hansen said, "We are also leveraging our significant financial capacity to progress advantaged investments through the cycle, maintaining constancy of purpose on our commitment to grow long-term shareholder value across a range of market environments."
Meanwhile, Chevron has identified its cash priorities. Its top priority is dividend payments, followed by capex funding, its balance sheet, and buying back stock. This year, Chevron's cash balance has risen to $12.8 billion, thanks to its operating cash flow. In the short term, Chevron aims to put any excess cash toward strengthening its balance sheet. In the long term, Chevron aims to return wealth to shareholders through dividends and buybacks.
Peers' dividend yields
Royal Dutch Shell's (RDS.A) and BP's (BP) dividend yields of 6.2% and 6.3%, respectively, are higher than XOM's and CVX's. In the third quarter, both Shell's and BP's upstream earnings fell due to lower realizations. However, Shell's trading activities and wider marketing margin boosted its integrated gas and downstream earnings.
Among the four energy stocks we've discussed, BP has risen the most in the fourth quarter. To learn more, read Why Markets Love BP Compared to XOM, CVX, and Shell?