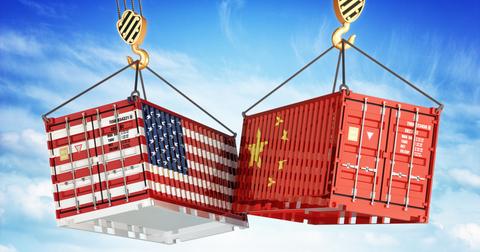 Hong Kong Bill: US Must Bear Consequences, Says China
By Vineet Kulkarni

Updated
While it seemed that the US-China preliminary trade deal was coming along, the two sides may just have moved a step back again. President Trump signing the Hong Kong Human Rights bills will likely be the big hindrance for the Phase 1 trade deal. China has repeatedly condemned the US's intervention with the Hong Kong protests.
Article continues below advertisement
Hong Kong bill and Phase 1 trade deal
Referring to the recently passed Hong Kong bills, China's Ministry of Foreign Affairs said on Thursday that the US has "sinister intentions." According to CNBC, China's foreign ministry said in a statement that "we advise the U.S. not to act arbitrarily, or else China must firmly counteract, and the U.S. must bear all resulting consequences."
President Trump said earlier this week that the interim trade deal with China is very close. China also looked to be gearing up for the deal when it said it will raise penalties on IP (intellectual property) rights violations. However, the recent Hong Kong bill issue could act as a stumbling block to the negotiations and might change the direction of the talks.
The Phase 1 trade deal is very important for both parties mainly given the December 15 deadline. Higher tariffs will come into effect on $156 billion worth of additional Chinese goods from December 15.
China trade war impact
The trade disputes between the world's two largest economies have impacted both sides. However, China's wounds seem deeper than the US's. China's industrial profits fell 9.9% in October, recording their steepest fall since 2011. The decline came amid lower producer prices as the trade war with the US weighed on them. China is growing at its slowest pace in decades.
At the same time, however, the US seems on a relatively better footing. Though things look like they are slowing down, the US jobs market and GDP growth remained strong recently. The US economy grew at 2.1% in the third quarter, higher than the initial estimate of 1.9%.
Article continues below advertisement
However, with presidential elections less than a year away and an intensifying slowdown in China, neither party may want to escalate the trade war. China and the US have been involved in a trade war since early last year. After multiple discussions and several rounds of negotiations, both sides have failed to reach a resolution. How the trade talks between the two play out amid the Hong Kong bill issue remains to be seen. Interestingly, the Phase 1 trade deal will likely clarify whether a concrete solution to the conflicts can be reached or not.
Stock markets at record highs
Amid all these uncertainties, stock markets continued to soar. The Dow Jones (DIA) and the S&P 500 (SPY) continued to trade at record highs. They are up almost 20% and 25%, respectively, so far this year. Tech giant Apple (AAPL) stock leads the charts with approximately 70% gain year-to-date. Microsoft (MSFT) stock has soared almost 50%. Chinese stocks also had a decent run so far this year. Alibaba (BABA) and JD.com (JD) have surged around 46% and 60%, respectively, so far this year