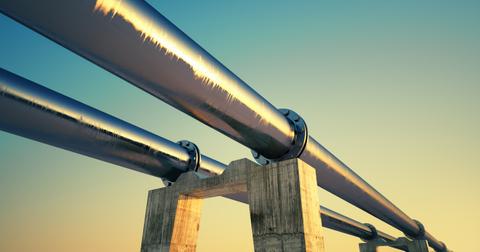 Energy Transfer's Q3 Earnings: What's Next for Its Stock?
By Vineet Kulkarni

Updated
Midstream infrastructure giant Energy Transfer (ET) plans to report its third-quarter earnings today after the market closes. The stock has been trading in a narrow range since last month and has lost almost 5% so far this year.
Notably, it has reported significant earnings growth in the last several quarters, although this trend couldn't boost its stock. Its distributable cash flow and coverage ratio growth will be a key trend to watch today.
Article continues below advertisement
Energy Transfer's earnings
Based on analysts' estimates, Energy Transfer could report EBITDA of $2.73 billion in Q3 2019. This represents an increase of more than 11% compared to Q3 2018. During its Q2 earnings, the company increased its 2019 full-year adjusted EBITDA guidance range to $10.8 billion–$11 billion from $10.6 billion–$10.8 billion.
According to analysts' estimates, Energy Transfer's revenues could decrease by 4% YoY to $14 billion. The midstream company has exceeded analysts' revenue estimates for four of the last eight quarters.
Management's upbeat commentary could also boost Energy Transfer stock in the short term. Its capex guidance for Q4 and beyond should be interesting to see. The company reduced its planned capex for 2019 from $5.0 billion to $4.7 billion in Q2 2019.
Another focal point in Energy Transfer's Q3 earnings would be its debt. Its large pile of debt is a concern for investors. How the management's efforts on deleveraging fared during the quarter will also be key to watch.
In September, Energy Transfer agreed to buy oil and gas transport company SemGroup for $5 billion. How the company positions the SemGroup (SEMG) acquisition while trying to strengthen its balance sheet will also be crucial.
Will Energy Transfer increase distribution?
Investors must be waiting for a distribution increase, which hasn't occurred for a while. So, any update on that front might drive Energy Transfer stock.
In its second-quarter earnings, its distributable cash flow increased sharply by 23% YoY to $1.6 billion. Its coverage ratio was 2.0x. The company offers a distribution yield of 9%, substantially higher than that of the broader markets and the benchmark Treasury yields.
Article continues below advertisement
Natural gas infrastructure company Williams Companies (WMB) reported its third-quarter earnings last week. It beat analysts' earnings estimates but missed on revenue expectations. Its distributable cash flow increased by 8% compared to Q3 2018. WMB stock has also been subdued this year and has gained just 4% YTD.
Several brokerages cut Williams Companies stock's price target after its Q3 earnings. Wells Fargo trimmed WMB's price target to $26 from $29, while UBS also cut its target to $33 from $35. Raymond James cut its price target to $30 to $32, but rated the company as a "strong buy."
How ET stock is placed
Energy Transfer stock is currently trading at $12.65, almost 4% and 11% below its 50-day and 200-day simple moving average levels, respectively. The large premium to both key levels indicates weakness in the stock. Energy Transfer stock has fallen below its 50-day levels in August and has been trading weakly since then. It is currently trading at an RSI (relative strength index) of 53, which indicates that the stock is neither overbought nor oversold.
Energy Transfer stock had fallen more than 25% from its 52-week high of $17.04 in November 2018. Its stock has gained almost 8% from its 52-week low of $11.68 in December 2018.
Analysts expect a massive upside of more than 65% from Energy Transfer stock. Analysts gave ET stock a mean target price of $20.84 against its current market price of $12.65. Along with its robust potential capital appreciation, Energy Transfer's dividend yield makes it an attractive proposition from a total return perspective.
Energy Transfer stock is not an exception. There are many MLP (master limited partnership) stocks that have been weak despite strong earnings and distribution growth. To learn more, please read Top Midstream Energy Stocks: What Analysts Got Wrong.