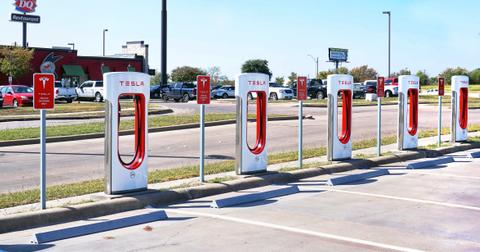 Did Cybertruck Earn Tesla Stock a Lower Valuation?
By Anuradha Garg

Updated
Today, China Renaissance downgraded Tesla stock (TSLA) from "buy" to "hold." As The Fly reported, China Renaissance analyst Carson Ng kept his target price for TSLA stock unchanged at $346. This price target implies upside of about 3% from Tesla's last closing price. The Chinese investment bank had initiated coverage on TSLA stock on September 26 with a "buy" rating.
Article continues below advertisement
China Renaissance initiated Tesla coverage in September with a "buy" rating
According to Seeking Alpha, Carson Ng had highlighted that the EV subsidy rollout in China wouldn't have any negative impact on Tesla. This assessment is true, given the fact that Tesla never really had access to those subsidies in the first place.
This policy change has somewhat leveled the playing field between foreign automakers operating in the country and domestic EV manufacturers. Tesla CEO Elon Musk tweeted in June, "Only cars made in China are eligible for these subsidies. Tesla has never had access to them."
China Renaissance's positive thesis on Tesla stock
Seeking Alpha quoted Ng saying, "We think Tesla is immune since it has never enjoyed any China government subsidies. We are positive on Tesla's outlook in China and expect its exemption from 10% car purchase tax from Aug 30, 2019 and commencement of local production this year to drive Tesla's China deliveries from 13,000 units in 2018E (5% of its global deliveries) to 135,000 units in 2021E (24%)."
Article continues below advertisement
Chinese government's purchase tax exemption for Tesla
The Chinese government made an exception for Tesla when it exempted the company from a 10% purchase tax. Usually, this exemption applies to domestic manufacturers or joint ventures between Chinese and foreign automakers.
Tesla is the only foreign automaker that got this exemption. We discussed this exemption in detail in China Did for Tesla What Trump Didn't. It will lower the prices of Tesla's vehicles in China while it's already expected to benefit from the start of local production.
Tesla's China Gigafactory
Article continues below advertisement
Why China Renaissance downgraded Tesla stock
Tesla stock has appreciated almost 47% since China Renaissance initiated coverage of the stock. China Renaissance downgraded the stock based on its valuation. Why? Ng thinks the recent stock price appreciation partly factors in positives for the stock—including Model Y production and the start of China's Gigafactory.
Ng also expects the company's new "Cybertruck" electric pickup truck to draw "polarized responses" from both consumers and investors.
Tesla's Cybertruck, a "polarizing" vehicle
Tesla's Cybertruck is one of the most polarizing vehicles to have launched recently—or maybe ever! With its futuristic design and sci-fi features, it drew a lot of attention. Its target customer group, including farmers and contractors, however, weren't super thrilled with these features. They prefer practical use over design.
The electric pickup's polarizing status was already familiar to Elon Musk. He had suggested, "If there's only a small number of people that like that truck, I guess we'll make a more conventional truck in the future."
Tesla's unveiling of the vehicle also divided the investor and consumer communities. While attempting to showcase the strength of the vehicle's windows, the glass broke. This slipup drew a lot of flak from market participants.
Tesla stock lost 6.14% on November 22, after the unveiling. Apart from the design surprises, the market wasn't pleased with the shattered window.
Initial response to Tesla pickup truck is impressive—200,000 pre-orders
The initial reaction to the vehicle, however, has been remarkable. Tesla's Cybertruck has already received 200,000 orders in just three days since its launch. Most Wall Street analysts, however, remain divided on how many of these pre-orders Tesla can convert into real buyers. They mostly expect this EV to be a niche product, not a mass market darling.
Also, the competition in this space should keep ramping up pretty seriously. Ford (F) and General Motors (GM) also plan to launch electric versions of their pickup trucks. Meanwhile, Amazon (AMZN) and the Ford-backed Rivian has already unveiled their pickup truck, the R1T. You can expect to see it on the road earlier than Tesla's pickup.