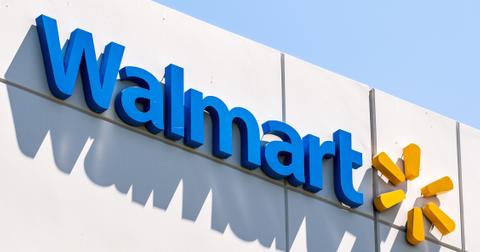 Could Walmart's Q3 Earnings Lift Its Stock Further?
By Amit Singh

Updated
Walmart is set to announce its third-quarter earnings results tomorrow.
This year, Walmart stock has risen by 28%. An earnings beat could boost the stock.
Wall Street expects the company's sales growth to accelerate and its EPS to return to growth.
Walmart (WMT) is scheduled to announce its third-quarter earnings results before markets open tomorrow. We expect Walmart's top-line growth to accelerate in the third quarter, led by digital expansion. Meanwhile, its earnings could return to growth, reflecting higher comps, productivity savings, and a favorable product mix.
In this year's first half, Walmart's bottom line fell, reflecting dilution from its acquisition of Flipkart. Its growing e-commerce sales, price investments, and seasonal markdowns have kept its margins narrow.
WMT stock has risen about 28% year-to-date, thanks to the company's US and Mexican comps growth. Its bottom line has beaten analysts' expectations in the last six quarters, supporting is stock.
Article continues below advertisement
Walmart's earnings: Q3 growth drivers
We believe Walmart's digital initiatives could continue to drive its traffic, and comps in the third quarter. The retailer's value pricing and online grocery pickup expansion to more than 2,700 stores and same-day grocery delivery at more than 1,100 stores could boost its comps.
Walmart has continued to outpace rivals Amazon (AMZN) and Target (TGT) in the grocery business thanks to its online grocery pickup expansion and price investments. The company's e-commerce business has continued to grow robustly and support its comps growth. In the second quarter, its digital sales soared 37%, boosting its comps growth by 1.4%.
While Walmart's revenue growth could accelerate, price investments in some markets, seasonal markdowns, and higher e-commerce sales could continue to pressure its margins. This pressure may be offset by Walmart's focus on increasing its wider-margin private brand sales and cost savings. In the third quarter, we expect Walmart's bottom line to return to growth, reflecting its improved sales and mix.
Article continues below advertisement
Walmart US and Walmex
Walmart's robust domestic and Mexican business has kept its financials strong. The company's comps in the US (its largest business segment) have increased in the last 20 quarters, and its US traffic has risen in the last 19. Walmart's domestic performance has been impressive despite competition from Amazon and Target.
Amazon is investing significantly to make one-day delivery a standard for Prime members, and has removed the fee for Amazon Fresh delivery for them. Meanwhile, Target has boosted its same-day delivery capabilities through its Shipt, in-store pickup, and drive-up services. Target's same-day delivery expansion has grown its comps rapidly.
Despite challenges, Walmart's US comps rose 2.8% during the second quarter and have risen by 3.7% on average in the last five quarters. Its US comps over two years have jumped 7.3%, their highest growth in a decade.
Meanwhile, the company's Walmex sales rose 6.3% during the second quarter, reflecting a 4.8% rise in comps. Its Mexican business has remained strong, and its comps there have outpaced the market for the past 18 quarters. Walmart's omnichannel offerings and online grocery pickup expansion are driving its comps. We expect the US and Mexico to continue to drive Walmart's top line in the third quarter.
Article continues below advertisement
What Wall Street expects for Walmart's third-quarter earnings
In the third quarter, Wall Street expects Walmart's revenue to rise about 3% YoY to $128.64 billion, boosted by faster sequential sales growth. In its last reported quarter, Walmart's top line rose 1.8%. The company's sustained strength in the US and delivery expansion could drive its top line.
Meanwhile, analysts foresee Walmart's EPS returning to growth after falling for two quarters. Wall Street expects Walmart's adjusted EPS to rise by about 1% YoY to $1.09.
What analysts recommend for WMT stock
With Walmart's comps continuing to grow and its EPS returning to growth, WMT stock could gain. However, analysts' average price target of $123.58 implies a minimal 3.7% upside for the stock based on its closing price of $119.12 yesterday. The stock's 28% year-to-date gain and high valuation could limit any upside.