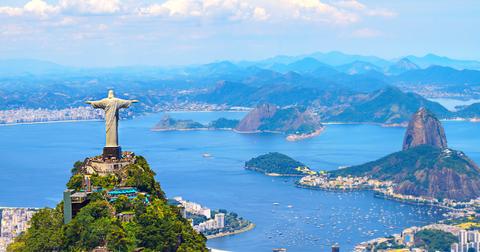 Could Boeing Benefit from Latin America's Jet Demand?
By Mike Sonnenberg

Updated
Boeing (BA) expects that Latin America could need 2,960 new planes by 2038 as Brazil's economy improves and low-cost carriers drive passenger growth. While speaking in Sao Paolo, Boeing executive Darren Hulst noted, "Low-cost carriers have really been the engine of growth in Latin America."
Hulst's comments reinforce Boeing's commercial market outlook, which was released in September. Boeing expects 1,160 of these new planes to replace retiring planes and another 1,800 planes to support passenger growth.
Boeing's European rival, Airbus (EASDY), is less optimistic about the region's prospects. In September, Airbus released its Global Market Forecast, which identified the demand from Latin America at 2,700 planes by 2038.
Article continues below advertisement
Latin America and the battle of the single aisles
Following the global trend, Latin America is also expected to see a rise in its single-aisle aircraft market share. Boeing expects single-aisle jets to account for 85% of the region's fleet by 2038, up from the current 78%.
The Boeing 737 MAX and the Airbus A320neo are battling it out in the single-aisle space. While the Boeing 737 MAX has been grounded since March, Boeing expects it to be back in the skies by January. On Monday, Boeing noted that it "continues to target FAA certification of the MAX flight control software updates during this quarter."
The company added, "It is possible that the resumption of MAX deliveries to airline customers could begin in December." The affected airlines plan to take additional time to retrain the pilots on the aircraft and get it flying on their commercial routes.
Airlines around the world have suffered due to the MAX fiasco. Southwest Airlines (LUV) has canceled over 30,000 flights and doesn't expect the 737 MAX to be back in the skies before February. Southwest's pilots are suing Boeing over income loss and breach of trust. Southwest has 34 Boeing 737 MAX 8s.
United Airlines (UAL), which owns 14 MAX 8s, doesn't expect them to be back in service until January. By then, United will have recorded over 10,500 cancellations. American Airlines (AAL) has also extended the grounding of this aircraft until mid-January. The company has 24 MAX 8s in its fleet.
On the other hand, Airbus is racing ahead of Boeing in aircraft deliveries. Boeing deliveries in the first 10 months of the year have been less than half of what Airbus has delivered. The Airbus A320neo aircraft can gain an advantage if Boeing's MAX troubles continue.
Article continues below advertisement
Boeing expects a $500 billion Latin America services market
Apart from its growth in the aircraft market, Boeing also expects the Latin America services market to grow at a healthy rate of 4.7% CAGR (compound annual growth rate). Boeing expects the aircraft market value in Latin America to be $395 billion. However, the services market is valued at $500 billion. Most of the services demand should come from maintenance, engineering, and operations.
On the other hand, Airbus quoted the Latin America Services market value at $268 billion over the next 20 years—almost half of what Boeing has forecast.
Airbus is trumping Boeing in the fastest-growing market
The 737 MAX crisis has helped Airbus make deeper inroads in the world's fast-growing aviation market in the Asia-Pacific region. Last week, Airbus announced that it would scale up the output of its A320 planes in China. Airbus plans to increase its A320 production by 50% to six aircraft per month by the end of 2019. The company aims to reach a monthly production target of 63 by 2021.
Boeing expects China to need over 8,000 planes over the next 20 years. The company expects China's aviation traffic to grow by an annual rate of 6%—a $1.3 trillion market opportunity. That's not all. Boeing also expects China's service market to grow 5.7% annually over the next 20 years to create a $1.6 trillion market value.
Other parts of Asia could see robust growth. Boeing expects Southeast Asia and South Asia to need an additional 4,500 and 2,560 planes, respectively, over the next 20 years. Airbus expects the Asia-Pacific market to grow 5.8% annually over the next 20 years, creating an opportunity for over 16,000 aircraft deliveries.
Trump's interim trade deal may help Boeing win some China business. However, Airbus seems to be getting its China strategy right with a production ramp-up. Airbus aims to have 2,000 of its jets in service in China by next year, holding over 50% of the market. Boeing's China worries could worsen if the demand for the home-grown Commercial Aircraft Corporation of China picks up.
Chinese regulators grounded its 737 MAX 8 aircraft following the deadly March 10 Ethiopian Airlines crash. Soon after, China's state-owned airlines inked a $33 billion order for 300 aircraft from Airbus. Airbus appears to be leveraging Boeing's MAX crisis to pitch itself more aggressively to China.