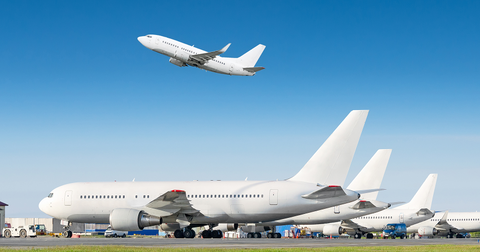 Boeing Orders, Deliveries Sink Due to MAX Uncertainties
By Anirudha Bhagat

Updated
The troubled 737 MAX's prolonged grounding is hurting Boeing's (BA) commercial aircraft order and delivery numbers. Uncertainties over the MAX's return have kept orders scarce for the troubled jet, with customers opting for other wide-body planes instead.
Boeing's order book summary shows that Air Lease (AL) swapped 15 MAX orders for five 787-9 Dreamliner orders. The aircraft leasing company now has 135 unfilled orders for the 737 MAX. Similarly, an unidentified customer has replaced three MAX orders with one for a 777 freighter jet.
Article continues below advertisement
Although Boeing lost 18 MAX orders last month, it booked ten new orders for its wide-body aircraft. In October, its order count fell about 58% YoY (year-over-year) from 24 orders, mainly due to orders for the company's fast-selling 737 MAX being almost frozen. Last year, the MAX accounted for nearly 70% of Boeing's overall commercial aircraft orders.
In October, Boeing racked up seven orders for its 787 Dreamliner, two orders for its 777 freighter jet, and surprisingly, its first MAX order since the plane's grounding in mid-March. From January through October, Boeing's net orders stood at -95 aircraft, compared with -84 from January through September.
As of October 31, the company's total order backlog was 5,457 aircraft. Of that total, Boeing had 4,387 unfilled orders for the 737 series, 18 for the 747, 102 for the 767, 428 for the 777, and 522 for the 787.
Boeing MAX crisis hurts deliveries
737 MAX shipments have been frozen since April, impacting Boeing's overall deliveries. In October, the company's total deliveries plunged 55% YoY to 20 planes from 44. And from January through October, Boeing's aircraft shipments fell 47% YoY to 322 aircraft from 612. As MAX certification uncertainties persist, Boeing looks like it could miss its 2019 delivery target of 895–905 aircraft.
Boeing's declining aircraft shipments are severely impacting its financials. In the second quarter, Boeing's revenue fell 35% YoY, and it reported a net loss for the first time in 12 quarters. The company's third-quarter revenue and earnings fell 21% and 59% YoY, respectively.
Article continues below advertisement
Furthermore, in its Q3 results, Boeing disclosed that 737 MAX crisis costs had reached $9.2 billion. These costs include $5.6 billion as estimated compensation to MAX customers. Southwest Airlines (LUV), American Airlines (AAL), and United Airlines (UAL) together own 72 MAX planes. They project a combined revenue loss of nearly $1 billion in fiscal 2019 due to the MAX crisis.
Additionally, Boeing's production costs have risen due to its reduced MAX output. In April, the company lowered its monthly MAX production by 19% to 42 units. The aircraft manufacturer's production costs had risen by $3.6 billion as of September.
Boeing lagging behind Airbus
Boeing's MAX troubles have proven a boon for rival Airbus, whose orders and deliveries have outpaced Boeing's. The company reported 415 net orders last month and 542 from January through October. Furthermore, Airbus delivered 77 planes in October, and 648 from January through October.
Boeing's orders and deliveries could recover next year
Once Boeing wins regulatory certification for the MAX, its deliveries could recover. The company hopes to get regulatory approval soon and to resume MAX deliveries in December.
As the company didn't halt MAX production during the grounding, we believe it could ship over 300 planes within a couple of months of securing regulatory approval. Additionally, the company plans to increase its output to speed up deliveries.
One benefit of the crisis could be that the MAX's intense regulatory scrutiny might make it one of the world's safest aircraft. As a result, air carriers may be encouraged to place more orders for MAX planes.