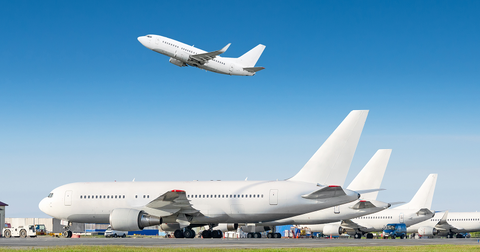 Boeing or Airbus: Who Stole the Dubai Air Show Day 2?
By Anirudha Bhagat

Updated
The second day of the Dubai Air Show, which runs from November 17 to 21, was quite eventful, as aircraft manufacturers booked multibillion-dollar orders. Boeing (BA) and Airbus were both vying for new contracts, but the European planemaker stole the spotlight yesterday.
Article continues below advertisement
Airbus bags two huge orders
Airbus locked down approximately $30 billion worth of deals for dozens of its aircraft. It received a major order boost from Emirates Airlines, which signed contracts to buy 50 A350-900s jets worth $16 billion. Per the agreement, Airbus will begin the deliveries in 2023.
Emirates' latest deal to buy 50 A350-900s is bigger than the carrier's earlier plans to purchase only 30. Nonetheless, Reuters, in its November 18 report, pointed out that Emirates had deferred its plan of buying slightly smaller A330neo planes. According to the report, the Middle East's largest carrier had planned in February to order 40 A330neos and 30 A350-900s.
Airbus's second major order was for its smaller A320 aircraft family. Air Arabia ordered 120 A320 planes valued at $14 billion at the list price. The transaction involved 73 A320neos, 27 A321neos, and 20 A31 XLRs. Per the contract, Airbus will begin delivering these jets in 2024.
The deal confirms Reuters' November 13 report. Reuters stated that Airbus might receive at least 100 firm orders for the A320 from Air Arabia. It also noted that the two companies could sign the contract during the Dubai Air Show.
Boeing gets first official order for MAX
While Airbus booked $30 billion worth of orders on November 18, Boeing landed $1.2 billion worth of deals. Although this is much lower than Airbus, Boeing's receipt of new orders at the event is a good sign. It won its first official orders for the 737 MAX since the plane's grounding in mid-March.
Boeing secured a deal for ten 737 MAX aircraft from Turkey-based SunExpress airline. The deal is likely to be worth $1.2 billion at the list price. Orders for MAX aircraft have been frozen following the global flying ban, as airlines remained concerned about its safety.
Article continues below advertisement
Due to the MAX crisis, Boeing has lost hundreds of orders for its narrow-body aircraft. In October, Spirit Airlines (SAVE) chose Airbus over Boeing for its 100 narrow-body airplane requirements. In the same month, India-based IndiGo also opted for Airbus for its 300 narrow-body aircraft requirements. The combined deal is likely worth approximately $45 billion at the list price.
Due to the uncertainty about its return, some companies are even swapping their previous 737 MAX orders out for other models. In October, an unidentified customer and Air Lease Corporation (AL) together converted 18 MAX orders with Boeing's wide-body planes.
Boeing lagged Airbus in the order race
Frozen deals for the 737 MAX are severely hurting Boeing's overall commercial aircraft orders and deliveries. The model had previously accounted for approximately 70% of the company's total airplane orders and deliveries.
Boeing recorded net orders of -95 jets in the period from January to October. The negative figure reflects 218 order cancellations for its MAX aircraft. Boeing's aircraft deliveries also plunged 47% year-over-year to 322 airplanes during the period. In comparison, Airbus received orders for 542 aircraft and shipped 648 planes during the same timeframe.
Article continues below advertisement
Ongoing issues with its other aircraft, including the 787 Dreamliner and the 777X, also weighed on Boeing's total orderbook. It's facing a rapidly depleting order backlog situation for its 787 Dreamliner. Due to the declining backlog, the company has decided to reduce its monthly output by two units to 12 units from 2020's end. According to Reuters' October 9 report, demand for wide-body aircraft has softened due to trade worries and global growth concerns.
Boeing's other ambitious 777X program is also facing trouble, as it has encountered multiple delays for several reasons. Operational issues with General Electric-made (GE) GE9X engines affected the program. The 777X program received another blow in September after it failed a heavy-load test, causing the further delay of its launch. During its third-quarter results, Boeing further delayed the launch date of the 777X aircraft to early 2021 from late 2020.