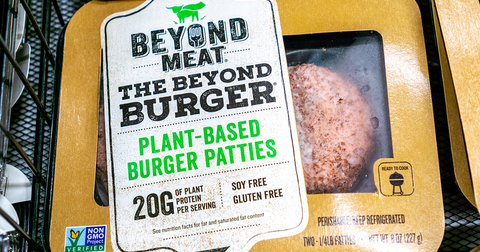 Beyond Meat Sees China As a Gateway to the Asian Market
By Anirudha Bhagat

Updated
Beyond Meat (BYND) is booming in the US. As a result, the company intends to expand across other parts of the world. After announcing the European expansion plans in May, the company wants to grow in the Asian continent. Beyond Meat's executive chairman, Seth Goldman, sees China as the gateway to the region.
Goldman elaborated on China's plans during an exclusive interview with Reuters on the sidelines of a food conference in Chicago on Thursday. During the interview, he said that the company plans to have a production facility in China by the end of 2020.
Article continues below advertisement
According to Reuters, Beyond Meat already exports its products in Singapore, Hong Kong, and Taiwan. However, the company doesn't have a presence in the world's largest pork consuming country. Chinese people consume approximately 50% of the world's total annual pork production, according to the latest data from the USDA.
China is a vast market for Beyond Meat. Rising health consciousness and awareness about livestock's environmental impact creates a favorable environment for plant-based meat growth prospects.
Beyond Meat isn't the only US company that's eyeing the Chinese market. Impossible Foods wants to expand its operations in China. In September, the company told Reuters that it "is actively working to speed up its entry into China." For Impossible Foods, China is "number one priority when it comes to overseas markets."
Article continues below advertisement
Beyond Meat's China expansion plan
Beyond Meat recognizes that the entry wouldn't be easy in China—unlike Europe. Notably, the company is building a manufacturing unit in the Netherlands. Beyond Meat expects to start production in early 2020. According to Reuters, the move would help Beyond Meat meet the huge European demand and save on the expensive exporting costs from the US.
However, during the conference, Goldman cautioned that setting a production facility in China won't be as quick. He said, "We know that to get to China and to do it the right way," according to Reuters. He also said, "it's going to take scale, it's going to take a manufacturing presence in that area."
In the report, Reuters said that to expand in China, plant-based manufacturers would have to "develop production system." They would have to "secure retail customers and create supply chains."
Beyond Meat would have to tap into partnerships with locally established food giants. Notably, collaborations have played a significant role in Beyond Meat's vast and rapid success in the US. Last month, the company partnered with Dunkin' Brands (DNKN). The latter agreed to rollout the Beyond Sausage sandwich in 9,000 stores.
Subway, Yum! Brands owned KFC, and McDonald's (MCD) are also testing Beyond Meat products. Subway is testing the Beyond Meat Mariana Sub at its 685 locations. KFC is testing Beyond Fried Chicken for a limited time in the US. McDonald's is also offering a Beyond Meat cobranded PLT (plant, lettuce, tomato) sandwich at its 28 stores in Canada.