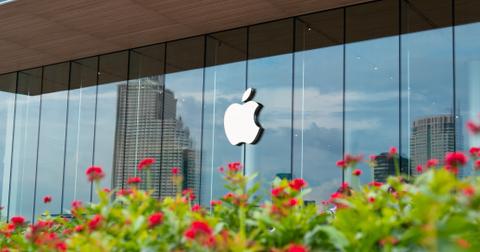 Apple Stock: Valuation, Growth, Price Target, and More
By Adam Rogers

Updated
Shares of tech giant Apple (AAPL) are trading at $265.21 as this article was written. The stock is up almost 68% year-to-date. It has returned 50% in the trailing 12 months and 125% in the last five years.
Among the major indexes, the S&P 500 and the Dow Jones Industrial Average have gained 19.2% and 24%, respectively, in 2019. Apple stock has been one of the top performers, not only in tech but across industry landscapes.
Just 12 months ago, Apple investors were concerned about the company's ability to limit its iPhone decline. AAPL stock had slumped over 30% in the final quarter of 2018. However, its shares have roared back to life, wiping out these losses to trade at record highs.
This investor optimism has been driven by the strong demand for the iPhone 11 lineup of smartphones. Apple also introduced subscription-based services such as Apple Arcade and Apple TV+ to diversify its revenue base. Both segments have the potential to grow into multibillion-dollar businesses.
Article continues below advertisement
Apple stock might move significantly lower if tariffs persist
Apple investors were sweating over the trade war between the US and China last year. According to MarketWatch, however, the company might very well be exempted from China tariffs. AAPL stock has gained about 1% in premarket trading today after President Trump visited a manufacturing facility in Texas.
According to MarketWatch's report, Wedbush analyst Daniel Ives expects Apple's earnings per share to fall by 4% (or $0.50) if China is hit with an additional 10% tariff. China is an important supply chain partner, especially for the iPhone. However, Ives reiterated an "outperform" rating on Apple stock with a price target of $325.
The recent de-escalation of the trade war between the world's two largest economies sent indexes soaring to record highs. But when asked whether a trade deal is on the horizon, President Trump claimed that China is not "stepping up to the level we want."
How analysts rate AAPL stock
This week, Credit Suisse analyst Matthew Cabral claimed that supply chain data for the iPhone 11 cycle indicates an improvement in unit shipments, according to a report from TheFly. Cabral maintained a "neutral" rating on the stock but has a price target of $221, which is 17% below the current trading price.
However, Morgan Stanley's Katy Huberty remains bullish. According to Huberty, strong iPhone sales and the company's share buyback program could keep driving earnings higher, according to Business Insider. Morgan Stanley has a 12-month price target of $296 for Apple stock.
Last week, J.P. Morgan and Piper Jaffray increased AAPL's price target. Of the 38 analysts tracking AAPL stock, 32 have "buy" recommendations, five have "hold" recommendations, and one recommends a "sell." Maxim downgraded Apple stock from a "hold" to "sell" with a price target of $190.
What next for Apple and its investors?
While analysts are bullish on strong iPhone sales, Apple would have to deliver strong earnings for the first quarter of fiscal 2020 (year ending in September). The upcoming holiday quarter is critical, and Apple has forecast record sales of $85.5 billion–$89.5 billion in Q1.
While AAPL stock has recorded an impressive bull run in 2019, let's also take a look at its valuation and growth estimates. Analysts expect AAPL to post revenue of $275 billion in fiscal 2020, a rise of 5.7% year-over-year. Its revenue growth is expected to accelerate to 7.8% to $296.3 billion in 2021. Apple's sales are expected to rise by 4.1% to $308 billion in 2022.
Comparatively, its earnings are expected to rise at an annual rate of 9.9% over the next five years. Apple stock is trading at a forward price-to-earnings multiple of 17.7x. This might seem like the stock is trading at a premium even after accounting for a dividend yield of 1.16%.
Apple is valued at $1.19 trillion in terms of market cap and is valued at 4.3x forward sales. Comparatively, Amazon, Google, Microsoft, and Facebook are valued at 3.1x, 5.5x, 8.1x, and 8x forward sales, respectively.
While Apple's valuation remains a concern, the stock is also trading well into overbought territory. AAPL stock has an RSI score of 74. An RSI score above 70 indicates that a stock has been overbought, while an RSI score below 30 indicates that a stock has been oversold.
Apple is trading at $265. Based on that price, the stock was trading as follows:
19% above its 100-day moving average of $223.17.
5% above its 50-day moving average of $239.56.
1% above its 20-day moving average of $257.83.