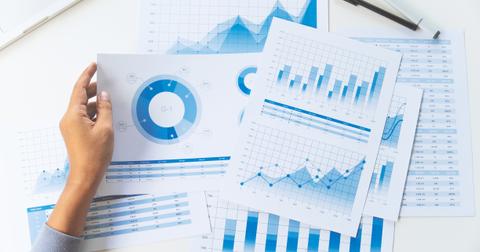 Apple Stock: JPM and Piper Jaffray Raised Its Target Price
By Adam Rogers

Updated
Apple stock is trading 0.5% higher in pre-market trading today. On November 15, two investment banks raised Apple's target price, according to reports from The Fly
JPMorgan Chase (JPM) increased Apple's target price from $280 to $290 and reiterated an "overweight" rating on the stock. JPMorgan Chase analyst Samik Chatterjee expects Apple to benefit from untapped opportunities in the advertising space.
Article continues below advertisement
The report said, "Chatterjee estimates that if Apple were willing to accelerate monetization of advertising through an expansion of its current efforts with Apple Search Ads as well as adopting new strategies around Apple TV, it could expand advertising revenues 33% per annum to $11B in fiscal 2020 from an estimated ~$2B currently."
Piper Jaffray analyst Michael Olson increased Apple's target price from $270 to $290 after an iPhone survey. The survey results indicated an improvement in iPhone customers' upgrade cycles.
Why analysts are bullish about Apple stock 
Apple stock has experienced a solid run in 2019. The stock is trading at record highs. Currently, Apple stock is trading at record highs of $267.14 per share. The tech giant lost more than 30% in the last quarter of 2018. However, the stock has made a strong comeback in 2019.
Several tech stocks have wiped out the losses they experienced in 2018 due to the de-escalation in the trade war between China (FXI) and the US. In September, Apple launched a new lineup of smartphones, which increased investors' optimism.
The initial estimates for the iPhone 11 lineup of smartphones have been more than encouraging. According to a Bloomberg report, Apple shipped more than 10 million smartphones to China between September and October.
China has been a key market for Apple. A few years ago, China was the second-largest country for Apple in terms of revenues. However, competition from China's domestic smartphone manufacturers including Huawei, Oppo, and Xiaomi resulted in a massive decline in the iPhone's market share.
In September, we reported that iPhone 11 supply chain indicators were strong in China due to upgrades from existing customers. Wedbush analyst Daniel Ives estimated that between 60 million and 70 million customers were due for an upgrade.
Apple didn't increase the prices on its latest iPhone 11 devices, which might be a key sales driver in 2020.
Article continues below advertisement
Will the iPhone lead the 5G smartphone market?
Another reason why investors are bullish about Apple stock is the possibility to have two bumper years of iPhone sales. While the demand for the iPhone 11 is solid, Apple is slated to launch three 5G enabled smartphones in 2020. A 5G device will be highly anticipated by Apple loyalists and result in strong upgrade metrics.
According to DigiTimes, Apple might lead the 5G smartphone race next year. The two largest 5G smartphone markets are the US and China. While Apple is already a market leader in the US, Huawei is the top smartphone manufacturer in China.
Apple is diversifying its revenue base and looking at subscription services to reduce cyclicality. However, the iPhone still accounts for over 50% of the company's revenues. Notably, the iPhone is a key driver of Apple stock.
Although most analysts are bullish on Apple stock, Maxim downgraded it from "hold" to "sell." The investment bank expects the iPhone sales in fiscal 2020 (ending in March) to be 14% below the consensus estimates. According to Maxim forecasts, the iPhone sales in 2020 will be 6% lower than the consensus estimates.
What next for Apple stock and investors?
Apple's sales growth will likely accelerate in fiscal 2020. Analysts expect the company's sales to rise 5.7% from $260.17 billion in fiscal 2019 to $274.94 billion in 2020 and 7.8% to $296.31 billion in 2021. The sales will likely reach $308.17 billion in 2022.
The acceleration Apple's sales will also improve the stock's bottom line. According to consensus estimates, the company will increase its earnings by an annual rate of 9.9% in the next five years compared to EPS growth of 8.4% in the last five years.
Apple stock has gained 69% year-to-date. So far, Apple has been the top-performing stock in the Dow Jones Index.