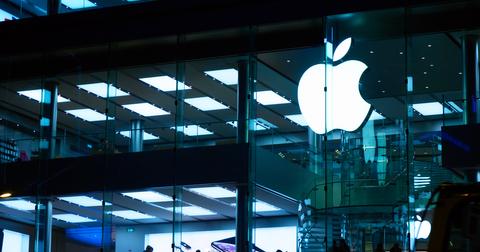 Apple Stock Gets a Downgrade from Maxim
By Adam Rogers

Updated
Shares of tech giant Apple (AAPL) are trading marginally down today. Maxim analyst Nehal Chokshi has downgraded Apple stock, according to a report from The Fly. Chokshi has downgraded Apple from a "hold" to a "sell" with a price target of $190.
According to the analyst, survey data indicates that Apple's iPhone sales in the second quarter of fiscal 2020 (which ends in March) will be 14% below the consensus estimate. He also expects iPhone sales to be 6% below the estimate for fiscal 2020. Further, lower-than-expected iPhone sales will also drive Apple's operating profit lower, according to Maxim.
Apple stock is currently trading at $264.45.
Article continues below advertisement
Apple stock has crushed market returns
AAPL fell over 30% in the fourth quarter of 2018 due to concerns over slowing iPhone sales and the trade war between China and the US. However, the stock has made a stellar comeback in 2019 and has risen a staggering 67% YTD (year-to-date). It's been the top-performing stock in the Dow Jones Industrial Average. The index is up 19% YTD, while the S&P 500 ETF is up 23.2% YTD.
Apple stock has, in fact, gained over 50% since June. While the trade war has somewhat deescalated, investors are extremely optimistic about Apple's new line-up of iPhones. The company launched three new iPhones in September, and these devices will likely push sales to record levels in the holiday quarter.
Apple's initial supply chain data has been more than encouraging. CEO Tim Cook expects sales of $85.5 billion–$89.5 billion in the first quarter of fiscal 2020. In comparison, analysts expect sales of $87.96 billion in the quarter. These bullish forecasts coupled with investor optimism have led Apple stock to reclaim its trillion-dollar valuation. The company is valued at $1.19 trillion in terms of market cap.
Article continues below advertisement
One can imagine why Maxim is concerned about Apple's valuation. If iPhone sales fall significantly after the first quarter of fiscal 2020, AAPL will likely correct accordingly. The iPhone accounted for 52% of sales in the fourth quarter of fiscal 2019, and it remains the company's key revenue driver.
However, several reports state that Apple will be launching a low-cost iPhone in early 2020 to gain traction in emerging markets. The iPhone SE 2 is expected to cost $399 and could sell between 20 million and 30 million units next year.
AAPL sales are set to pick up
In addition to its launch of a low-cost iPhone, Apple didn't raise the prices of its iPhone 11 line-up. Further, the company might very well launch three new 5G-enabled smartphones next year, which will give it an opportunity to have two blockbuster years of iPhone sales.
Though the iPhone remains Apple's flagship product, the company is looking to diversify its revenue base. In the last month, it's launched two new subscription services: Apple Arcade and Apple TV+.
Article continues below advertisement
The first is a digital gaming subscription service, while the second is in direct competition with streaming companies such as Netflix, Amazon Prime, and Disney+. Though its subscription estimates aren't out yet, we've seen that Apple TV+ has already attracted millions of users. The service will be free for 12 months for users who purchase an iPad, iPhone, or MacBook.
The gaming and online streaming markets are high-growth areas, and though Apple faces competition from established players, it has plenty of room to grow. Disney's subscription service, which launched on November 12, has already garnered 10 million subscribers, according to CNBC.
AAPL's Services segment remains its fastest-growing business and a key driver of its stock performance. Its Services sales rose 18% to $12.51 billion in the September quarter and accounted for 19.5% of total sales. In 2019, its Services sales touched a record of $46 billion, the size of a Fortune 70 company.
What's next for Apple and investors?
After a sales decline of 1.9% in fiscal 2019, analysts expect Apple's sales to rise 5.7% to $274 billion in 2020 and 7.8% to $296.51 billion in 2021. Analysts expect the company's earnings to rise at an annual rate of 9.9% in the next five years—higher than its annual EPS growth of 8.4% in the last five.
The company continues to fire on all cylinders, including in the Wearables and Apple Music verticals. It could sell 100 million AirPods in 2020. It continues to lead the smartwatch space and has managed to double its Apple Pay transactions as well.
There's a good chance that these businesses will be able to offset a decline in Apple's hardware products. Is it just a matter of time before Apple stock touches its $300 price target, or will lower iPhone sales result in a sell-off?