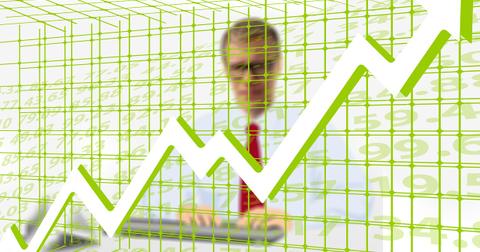 AMD's 50-Day Stock Rally: What You Should Know
By Puja Tayal

Updated
Advanced Micro Devices (AMD) has made headlines as its stock has crossed the $40 mark, reaching a new 20-year high. AMD stock is sensitive to new product launches. This time, it was the launch of its new Radeon Pro W5700 graphics card for workstations that boosted its stock. AMD stock rose 3.5% on November 19 to a 20-year high of $41.29, and has rallied by 45% in the last 50 days. That rally has made AMD this year's strongest semiconductor stock, with a gain of 122% year-to-date. However, some investors are worried about whether this rally is sustainable—semiconductor investors are accustomed to peaks and troughs in the sector.
Article continues below advertisement
AMD and Nvidia bask in semiconductor sector surge
Global semiconductor revenue grew by a double-digit percentage in 2017 and 2018, driven by strong demand for discrete and memory chips. Both AMD and Nvidia (NVDA) benefited from demand for discrete GPUs (graphics processing units), with their stocks rising 188.5% and 159%, respectively, between January 1, 2017, and September 14, 2018. They significantly outperformed the VanEck Vectors Semiconductor ETF (SMH) and SPDR S&P 500 ETF (SPY), which rose 49% and 30%.
Trough follows, impacting AMD and Nvidia
After rallying for almost 21 months, the semiconductor sector fell in late September 2018 when the US-China trade war heated up and brought tariffs for semiconductors. AMD and Nvidia were also hit by the cryptocurrency bubble bursting. Crypto miners were using their GPUs to mine digital currency. However, crypto prices fell and dragged down GPU demand from crypto miners, who filled the market with secondhand GPUs. The resulting excess inventory pulled down AMD's and Nvidia's GPU sales by a double-digit percentage.
In just three months, AMD and Nvidia stocks fell 48% and 53%, respectively, underperforming SMH and SPY, which fell 22% and 17%. That fall made investors cautious about AMD and Nvidia in early 2019.
Article continues below advertisement
Behind AMD stock's 122% rally
Most of AMD's 122% rally this year has been in the last 50 days. In this year's first nine months, AMD and Nvidia stocks rose 53% and 28%. However, investor optimism grew as AMD's 7nm (nanometer) products gained market traction. AMD stock rose 45% between October 1 and November 19, significantly outperforming Nvidia, SMH, and SPY, which rose 19.5%, 13%, and 6.4%.
We can look at a stock's moving average to understand its general direction. AMD stock's 20- and 50-day moving averages have risen significantly, from around $30 on October 1 to $32.60 and $36.60, respectively, on November 20. The stock has gone from oversold to overbought, with its huge volumes of trades skewed toward "buy." AMD's relative strength index score, which rose from 38 to 87 between October 1 and November 20, suggests the same. Scores below 30 suggest a stock is oversold, and scores over 70 imply it's overbought.
What drove AMD stock to a 20-year high?
Investors buy stocks at a premium when they see growth potential. AMD stock rose on news of product launches, which improve the company's average selling prices, revenue, and margins. In the third quarter, several factors boosted AMD's earnings:
Analysts turn bullish on AMD
After AMD reported some of its best quarterly earnings results on October 30, analysts became bullish on the stock.
Cowen analyst Matthew Ramsay raised his price target for AMD from $40 to $47.
RBC Capital Markets analyst Mitch Steves raised it from $44 to $50.
Wells Fargo analyst Aaron Rakers raised it from $40 to $48, based on AMD's high-performance computing wins.
Rosenblatt analyst Hans Mosesmann is the most bullish on AMD, with a target of $52. That target implies it could rise 30% and reach an all-time high. MarketWatch noted that Mosesmann is optimistic about AMD's 2020 product momentum being driven by 7nm PC and server processors and game console chips. Analysts' median estimate for AMD is $35, but as the stock is trading above this target, they suggest "hold."
We recommend holding the stock as well, as it doesn't look like a good buy at a 20-year high. This has been our recommendation for the last few months.