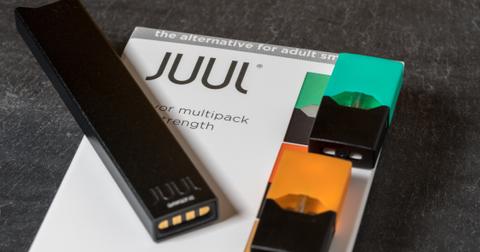 Altria Gives Juul Labs Update, Stock Gets Beating
By Amit Singh

Updated
When Altria (MO) posted its earnings results yesterday, things were looking to go north. Altria's stock was up in premarket trading, thanks to the company's third-quarter beat. However, the stock lost momentum and closed 2.6% lower following management's update on Juul Labs.
Altria announced it is taking an impairment charge of $4.5 billion on its investments in Juul Labs. It expects negatives surrounding Juul, including regulatory changes, to hit volumes and margins. Altria now projects lower US e-vapor volumes and no longer expects Juul to boost margins, at least in the near term.
Article continues below advertisement
Why Juul didn't pan out well for Altria
Altria acquired a 35% stake in Juul Labs last December for $12.8 billion. No one, including Altria, would have predicted the dramatic shifts in the e-vapor category. During Altria's third-quarter conference call, management accepted that they didn't expect the potential regulatory changes in the e-vapor category. Vaping-related lung injuries were also, unquestionably, not foreseen.
A change was coming in the tobacco industry, and Altria's decision to invest in Juul was a strategic decision that could accelerate growth. Consumers' shift toward non-combustible tobacco products made Juul a perfect growth catalyst for Altria, as Juul holds most of the US e-vapor market.
However, the FDA's stance on flavored e-cigarettes indicated that trouble was coming. Flavored e-cigarettes' rising use by children was of particular concern, and Juul announced measures to lower underage usage. However, news of illness and deaths related to vaping worsened its problems. Following the backlash, Juul named K.C. Crosthwaite as its new CEO. The company also changed its marketing strategy by suspending all US ads. It halted sales of all flavored non-tobacco products except menthol.
Altria is also the largest shareholder of Cronos Group (CRON), a leading Canadian cannabis company. Altria invested $1.8 billion to gain a 45% stake in Cronos. Under the agreement, Altria could increase that stake over the next four years.
What's Altria stock's outlook?
Juul's challenges, along with weak domestic cigarette shipment volumes, could continue to hurt Altria stock in the short term. However, Altria stock is likely to get support from its low valuation and high dividend yield. A moderation in cigarette shipment volumes' decline could also support the stock.
Altria's third-quarter results, posted yesterday, were stronger than expected. Whereas the company's sales and earnings beat analysts' forecasts, its domestic cigarette shipment volumes continued to decline.
Altria outperformed rival Philip Morris International (PM) in the third quarter. While lower cigarette shipment volumes hurt both companies' revenue, Altria's sales and earnings improved year-over-year. Meanwhile, Philip Morris's EPS beat analysts' average estimate but fell 0.7% year-over-year.