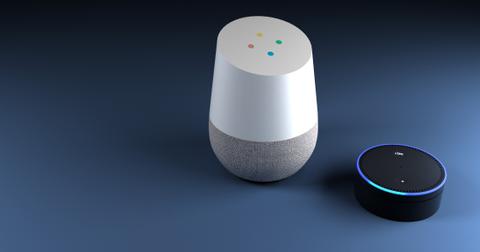 Alexa Continues to Outperform HomePod and Google Home in 2019
By Adam Rogers

Updated
Amazon (AMZN) launched Alexa five years ago. It dominated the smart speaker space in the following years and continues to do so now, despite rising competition. According to Statista, Alexa accounted for a whopping 93.5% of the smart speaker market at the end of the third quarter of 2016.
Over the last few years, the smart speaker market has attracted several other players. This increase in players has meant a significant increase in competition for Alexa. Tech giants such as Google (GOOGL) and Apple (AAPL) launched their own smart speakers. Google launched Google Home, while Apple is also trying to gain traction in this segment with its HomePod.
China's heavyweights Alibaba (BABA), Baidu (BIDU), Xiaomi, and JD.com are all part of the smart speaker space as well. Despite this cutthroat competition, Alexa has managed to retain its top position, according to multiple market research reports.
Article continues below advertisement
Alexa's market share stands at 21.9%
Statista's estimates suggest that Alexa's share in the smart speaker space has fallen from 88% at the end of the fourth quarter of 2016 to 51.8% in 2017 and 35.5% in 2018. At the end of the second quarter of 2019, Alexa had a market share of 21.9%.
Google Home accounted for 8.7% of the market at the end of Q4 2016. This figure rose to 35.7% at the end of 2017 and then fell to 30% at the end of the fourth quarter of 2018. Google Home ended the June quarter of 2019 with a market share of 18.5%.
Comparatively, Apple HomePod's market share fell from 5.7% in the first quarter of 2018 to 4.1% in the fourth quarter of 2018. It ended the second quarter of 2019 with a share of 4.7%. HomePod has been struggling to gain traction for quite some time.
Canalys estimates for Alexa
Canalys, on the other hand, estimates Alexa's market share at 25.4% in Q2 2019. It estimates Google Home's market share at 16.7% and does not consider HomePod among the top five players in the smart speaker space.
While Alexa continues to lead this market, it is losing market share to Baidu. According to the Canalys report, the overall smart speaker market grew shipments by 55.4% year-over-year in the second quarter of 2019 to 26.1 million units.
Article continues below advertisement
Alexa shipments were estimated to rise by 61.1% to 6.6 million units. Comparatively, Google Home shipments fell 19.8% to 4.3 million units. Alibaba and Xiaomi also grew shipments below the overall market rate. While Alibaba's shipments were up 38.8% at 4.1 million units, Xiaomi's shipments rose 37.5% to 2.8 million units.
Baidu was by far the most impressive payer in this segment. It managed to increase shipments by a massive 3700% to 4.5 million units in the second quarter of 2019.
China is the largest market for smart speakers
Canalys data suggests that China's smart speaker market accounted for 48% of the total market at 12.6 million units. Baidu has quickly cemented its leadership position and displaced Google's Alexa as the second-largest smart speaker player. However, the two companies operate in completely different markets.
Baidu, Xiaomi, and Alibaba will continue to enjoy significant shipment growth over the next few quarters. China's huge population coupled with the rising purchasing power of its middle class will continue to generate robust demand.
China's smart speaker market has grown at an annual rate of 98.7% in the last three years. It is estimated to reach shipments of 15 million units in 2019, up from just 1.9 million units in 2016, per this SAR research report.
This Canalys report states, "The lightning fast development in China is largely driven by vendors pouring in large amount of capital to achieve dominant share quickly. This strategy is favoured by internet service providers like Baidu, Alibaba and Tencent who are used to spending billions on traffic acquisition and know how to reach critical installed base fast."
HomePod, Google Home, and Alexa will now have to target international speaker sales going forward. Smart speaker sales in the US fell 2.7% to 6.1 million units in Q2. None of the companies officially report shipments for their smart speakers. These estimates might vary significantly from the actual figures.
Smart speaker devices account for a small portion of overall sales for Amazon, Google, and Apple. But the tech giants continue to pour millions into product development and marketing, looking at the expanding addressable market.
Will Alexa end 2019 as the smart speaker leader or will Baidu gain the top position?