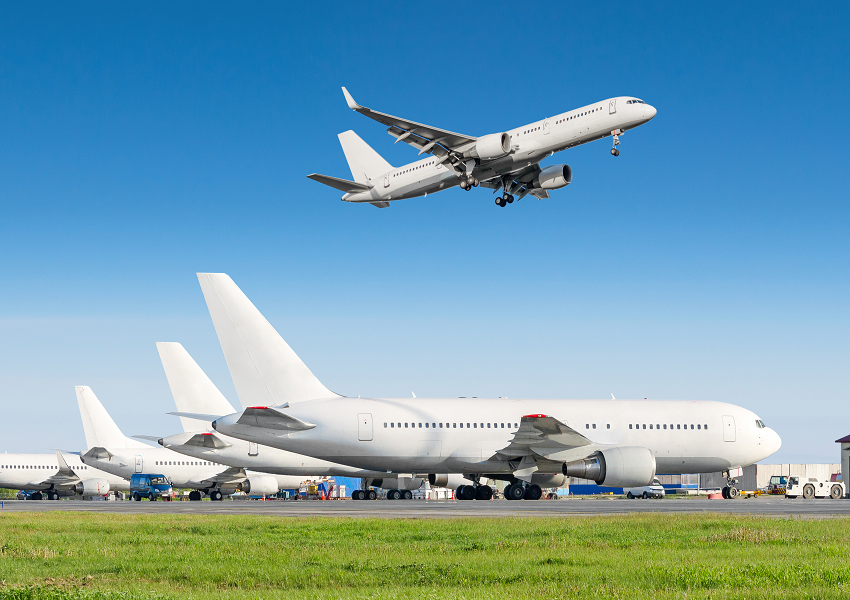 Airline Stocks: Have Q3 Results Eased Investors' Fears?
Airline stocks gained altitude in October. The third-quarter results eased investors' concerns about the global economic slowdown and the impact of Boeing's (BA) 737 MAX grounding. The Global Jets ETF (JETS), which has exposure to passenger and cargo airlines, gained 5.6% in October.
Most of the top US carriers' stock prices rose significantly last month. JetBlue Airways (JBLU) had a monthly gain of 15.2%, while American Airlines (AAL) gained 11.5%. Alaska Air (ALK), Southwest Airlines (LUV), Spirit Airlines (SAVE), and United Airlines (UAL) stocks rose 7%, 3.9%, 3.5%, and 2.7%, respectively.
Article continues below advertisement
Why airline stocks soared last month?
The latest quarterly report instilled investors' confidence in US airlines' ability to deliver strong results despite headwinds. Last month, all of the airline stocks mentioned above reported better-than-expected third-quarter bottom-line results. Except for Spirit Airlines, their quarterly earnings also improved significantly on a YoY (year-over-year) basis.
JetBlue's adjusted third-quarter earnings of $0.59 beat analysts' estimate of $0.51 and increased 40% YoY. American Airlines' third-quarter EPS increased 20% YoY to $1.42 per share and beat analysts' estimate of $1.40. Alaska Air's third-quarter adjusted EPS of $2.63 increased 38% YoY and beat analysts' expectations of $2.52.
Southwest's third-quarter earnings grew 13.9% YoY to $1.23 per share and beat analysts' estimate of $1.08. Meanwhile, Spirit's adjusted third-quarter earnings of $1.32 beat analysts' estimate of $1.23. United's third-quarter adjusted earnings of $4.07 increased 33% YoY and beat analysts' consensus estimate of $3.97.
All of the airlines had healthy corporate and leisure demand due to their top-line and bottom-line results. Also, lower fuel costs drove airlines' earnings higher. Average crude prices remained significantly lower in the last quarter compared to the third quarter of 2018. Since fuel makes up approximately one-fourth of airlines' overall operating expenses, a decline in crude price boosts their profitability.
We also think that higher fares will boost airlines' third-quarter earnings. On June 13, JPMorgan Chase revealed that American and Southwest raised their fares twice during the second quarter. During Alaska Air's third-quarter results, it disclosed a 3.2% YoY increase in its average fares.
Article continues below advertisement
Airlines negated MAX grounding impact
A few airlines even registered strong top-line and bottom-line growth in the third quarter despite the massive negative effect from the Boeing 737 MAX grounding. Notably, the 737 MAX has faced a worldwide flying ban since mid-March following two fatal crashes within five months.
Together, Southwest, American, and United own 72 MAX aircraft. They faced more than 25,000 flight cancelations and millions in capacity losses in the third quarter due to the MAX grounding.
Southwest and American revealed that the MAX grounding hit their third-quarter pre-tax income by $210 million and $140 million, respectively. Despite the negative impact, the three airlines reported significant top-line and bottom-line growth in the third quarter.
Why were airline stocks underperforming?
Before October, airline stocks had a rough ride. Most of the stocks underperformed the broader market. Multiple factors were responsible for the dismal performance until September.
Investors were cautious about airlines' growth prospects due to concerns about a global economic slowdown and US-China trade relations. Airline stocks fell sharply in mid-September due to a geopolitical issue following attacks on a Saudi Arabian oil refinery.
Article continues below advertisement
Although the trade war and geopolitical issues don't impact the airline industry directly, they have a long-term effect. They could hurt passenger traffic in the long run. Strained trade relations and geopolitical tension could trigger a recession in the global economy. A recession would have a negative impact on the job market, which would lead people to cancel or postpone their vacations.
A partial government shutdown, unfavorable weather, Boeing's 737 MAX crisis, and labor disputes also kept investors from investing. Most airlines faced one or more of these factors.
Analysts' ratings and target prices
Analysts have a mixed view of airline stocks. They have provided a consensus "hold" rating on Spirit Airlines and JetBlue Airways. Their target prices on Spirit and JetBlue show upsides of 20.7% and 11%, respectively, over the next year.
In contrast, Southwest, Alaska, United, and American have received a consensus "buy" recommendation. The target price on these stocks signifies a gain of 7.7%, 11.4%, 21.2%, and 22.7%, respectively.