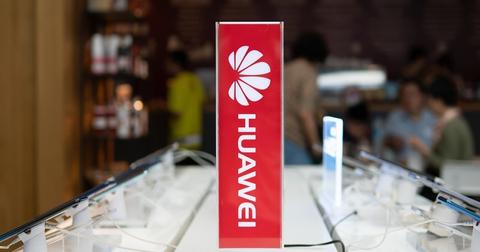 3 Huawei Updates Google Investors Shouldn't Ignore
By Ruchi Gupta

Updated
Google (GOOGL) counts on major smartphone makers like Huawei and Samsung to distribute its apps, such as YouTube. Huawei sold 206 million smartphones last year. This helped Google put its money-making apps in front of millions of consumers.
However, Huawei is under US sanctions that are now hurting its smartphone business. For example, the sanctions prohibit American companies from selling certain technology components to Huawei. As a result of the ban from accessing American technology, Huawei launched its Mate 30 flagship smartphone without Google apps. But the absence of Google apps shrunk the appeal of Mate 30, thereby affecting sales. Huawei admitted in October that losing access to Google apps hurt its smartphone business.
Here are three Huawei-related updates we think Google investors would do well to know at this time.
Article continues below advertisement
Huawei is considering a future without Google
In the next six to nine months, the company will decide whether it should start making smartphones based on its own Harmony operating system. The company's senior vice president Vincent Pang told Business Insider on November 12.
Huawei smartphones currently run Google's Android software. Android phones typically come bundled with Google apps. Therefore, the Android software is crucial to the distribution of Google's money-making apps. Hence, Huawei shifting from Android to its own Harmony software could limit Google's app distributing and hit its advertising business.
Huawei's smartphone sales dipped in the last quarter
Huawei's overseas smartphone sales shrunk 6.0% YoY (year-over-year) in the third quarter. Also, the company's overseas smartphone sales fell in the second quarter. Huawei aimed to sell 250 million smartphones this year and up to 300 million in the next. But with weak sales in the past two quarters, Huawei might not hit its sales target for the year.
Since Huawei is one of its major app distribution partners, Google could also suffer because of Huawei's troubles. For example, Google may see a limited distribution of its apps this year. The apps that Huawei helps Google distribute make money for the company through advertising. As we saw previously, ads are Google's primary source of revenue.
US-China tension may delay Huawei sales licenses
Recently, it looked like a resolution was in sight in the US-China trade war. However, disputes over tariff rollback threaten to delay deal signing. As the US-China trade talks progressed, US Commerce Secretary Wilbur Ross offered hope that Huawei could regain access to American technology that it needs to stabilize its business. However, a delay in the US-China trade deal over tariff disputes could delay Huawei to access American tech.