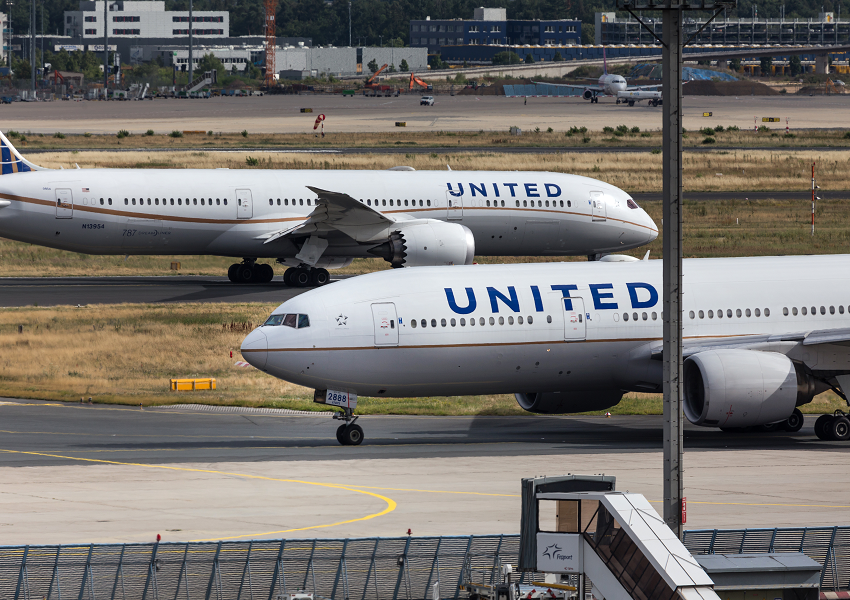 Why United Airlines' Q3 Earnings Growth Could Be Slower
By Anirudha Bhagat

Oct. 11 2019, Published 1:49 p.m. ET
Wall Street analysts' estimates indicate that United Airlines' (UAL) earnings growth rate could slow in the third quarter. They expect its EPS to rise 29% YoY (year-over-year) to $3.95 when it reports its third-quarter earnings results on October 15. This YoY growth projection, however, is far lower than the increases United Airlines has recorded in the previous four quarters.
Except for the second quarter, United's earnings have increased by over 37% YoY in the preceding four quarters. In the second quarter, the company's earnings slowed but were still above 30% YoY. Moreover, the company's average EPS growth rate in the trailing four quarters has been over 92%.
Article continues below advertisement
We believe that sluggish revenue growth could be the main reason behind analysts' projections of slow bottom line growth. For the quarter, Wall Street analysts expect the company's revenue to rise 3.7% YoY to $11.4 billion. This top line growth projection is much lower than the mid-single-digit rise the company recorded in the previous two quarters.
MAX grounding to hurt third-quarter results
We believe the grounding of Boeing's (BA) 737 MAX planes will negatively impact United's third-quarter top and bottom line results. Its MAX aircraft have been facing a flying ban since mid-March following two fatal crashes within five months of each other. United Airlines owns 14 of the troubled jets.
In the second quarter, the company registered 3,440 flight cancellations due to the 737 MAX grounding. We believe the company will have faced a similar number of flight cancellations during the third quarter. United Airlines has replaced the canceled MAX routes with bigger planes, increasing operating costs.
Article continues below advertisement
Boeing's 737 MAX planes are currently the most fuel-efficient single-aisle jets. The model has a larger size and can fly longer distances than Boeing's older models of 737 series aircraft. Therefore, the grounding of these planes is causing lower fuel-efficiency and capacity loss for United Airlines.
Softness in international markets and Hurricane Dorian are also likely to affect United's top line results. The softness in the global market is mainly the result of ongoing US-China trade war and geopolitical tensions.
Although the factors mentioned above don't affect the airline industry directly, they affect passenger traffic in the long run. Geopolitical and trade tensions could trigger a recession in the global economy. A weaker global economy negatively impacts the job market, thereby leading travelers to postpone their business or leisure plans.
Nonetheless, United Airlines is expected to continue benefiting from robust corporate and leisure traffic in the US market. An improved employment market and a steady rise in wages are consistently driving travel demand in the domestic market.
Article continues below advertisement
United's third-quarter earnings outlook
United Airlines provided third-quarter guidance during an investor update on July 16. Despite 737 MAX woes, the company expects its margins to improve in the third quarter due to higher revenues, efficient cost management, and lower fuel costs.
In the third quarter, United Airlines expects its adjusted pretax margin to come in between 10% and 12%. The company's forecast reflects a YoY improvement of 30–230 basis points in its third-quarter pretax margin. It expects its overall capacity to grow in the range of 2%–3% during the quarter. It expects its unit revenue to increase between 0.5% and 2.5% to 13.80–14.07 cents.
On the cost front, United Airlines' management expects its ex-fuel expenses to increase 1%–2% during the quarter to 9.70–9.80 cents. However, they think the average fuel cost per gallon will decline YoY due to lower crude oil prices. The company anticipates its average fuel cost to be $2.12–$2.22 per gallon, down 4%–9% from the previous year's quarter.
Crude prices were slightly lower in the third quarter than in the third quarter of 2018. The average WTI oil price in the third quarter of 2019 was $56, approximately 19% lower than $69 in the previous year's quarter. Fuel accounts for nearly one-quarter of an airline's total operating expenses. Therefore, a decline in crude prices would boost United Airlines' profitability in the third quarter.
Article continues below advertisement
Delta Air Lines (DAL) reported better-than-expected third-quarter results yesterday. However, the stock fell due to its dismal fourth-quarter outlook. Southwest Airlines (LUV) and American Airlines (AAL) will report their respective third-quarter earnings results in the next few weeks. Wall Street's third-quarter estimates reflect a YoY earnings increase of 23% for American, while Southwest's YoY earnings will likely be flat.
Analysts' stance ahead of third-quarter earnings
Analysts remain bullish on United Airlines stock despite the ongoing troubles with the 737 MAX planes. More analysts are actually bullish on the stock than before the MAX crisis. Before the MAX grounding, about 62% of the 21 analysts covering United Airlines stock had "buy" or equivalent ratings. That percentage has increased to 70% as of October 11.
Reuters-polled analysts have provided a consensus "buy" rating on the stock. Their average target price has improved to $109.94 from $104 on March 11. The stock's average target price signifies a potential return of 23.5% over the next year.
Although analysts are bullish on United Airlines, the stock has failed to keep the pace with broader market gains. It's gained 4.3% YTD (year-to-date), while the Dow Jones and the S&P 500 are up 13.6% and 17.2% YTD, respectively. We believe escalated US-China trade tensions, fears of an economic slowdown, and MAX woes have kept investors increasingly cautious about United Airlines' growth prospects.