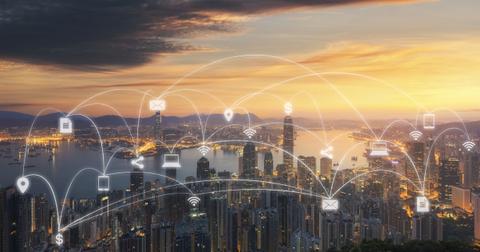 Why Sprint Badly Needs to Seal the Deal with T-Mobile
By Vineet Kulkarni

Updated
While many believe that a merger between T-Mobile (TMUS) and Sprint (S) would reduce competition, we shouldn't overlook what could happen to Sprint as a standalone entity if the merger fails. Last week, antitrust concerns gained ground when a group of economists urged the US DOJ (Department of Justice) to reject the proposed merger. New York and California are also leading a multistate lawsuit trying to block it.
Article continues below advertisement
Will it really reduce competition?
Critics believe that the $26.5 billion merger will unfairly benefit T-Mobile. The DOJ approved the T-Mobile–Sprint merger in July on the condition that the combined entity divest some of its prepaid business, such as Boost Mobile, to Dish Network (DISH). Dish would have access to T-Mobile's network for seven years.
However, Dish is a pay-TV provider and has no experience in the wireless industry. The Verge wrote in an article on October 10, "For at least the next seven years, anyone buying service from Dish will just be getting rebranded T-Mobile service, and that's not actual competition."
Why the merger is important for Sprint
If the merger fails, it will be a big blow to Sprint. The fourth-largest wireless carrier in the country has been struggling financially for a long time. It's reported flattish revenue growth in the last few quarters. Its subscriber growth has also long been on the decline.
As of June 30, Sprint had a total of 54.3 million connections, while it had 54.6 million in the same period last year. Its churn rate for Sprint's postpaid customers was 1.7% on June 30 compared to 1.6% on June 30 last year. However, it marginally improved sequentially. Churn rate is an important metric in the wireless industry. It measures the average number of customers who have stopped using a service.
Article continues below advertisement
Sprint has been reporting losses for the last three consecutive quarters. More concerningly, it's expected to continue reporting losses for the next few quarters based on analysts' estimates. For the quarter that ended on September 30, Sprint is expected to report a net loss of $52 million on revenue of $8.2 billion. In the previous quarter, it reported a loss of $111.0 million on revenue of $8.1 billion.
Sprint is currently valued at a market cap of $26.0 billion. It had net debt of $33.0 billion as per its latest filing. In the last 12 months, it's spent approximately $2.5 billion on servicing this debt—higher than its cash from operations. Sprint is less than half the size of T-Mobile but has a larger debt burden. With such colossal debt, Sprint could severely struggle for capex to deploy 5G and other network-related investments.
Article continues below advertisement
T-Mobile has continued to thrive
In comparison, T-Mobile has continued to flourish. In the last four quarters, its net income has increased by an average of 30%, the highest among its peers. Its total number of customers had increased to 83 million as of June 30 from 75.6 million in the same quarter last year. T-Mobile's aggressive marketing initiatives helped grow its subscriber base.
T-Mobile is the third-largest mobile operator in the US behind Verizon and AT&T (T). Verizon and AT&T have more than 150 million customers each. T-Mobile's debt burden also doesn't seem to be of concern. At the end of the second quarter, it had net debt of $28.6 billion. Telecommunications giant AT&T had net debt of $162.0 billion as of June 30.
T-Mobile–Sprint merger: Retail job losses
Michel Combes, Sprint's CEO, wrote to the FCC (Federal Communications Commission) in April that it was getting too hard to thrive as a stand-alone entity. He believes that Sprint will continue to struggle without the merger. Critics claim that the merger would lead to job losses. However, Sprint has trimmed approximately 35% of its total workforce since 2010 to reduce operating expenses. The CEO sees more job cuts if the company forced to operate as a stand-alone entity.
Article continues below advertisement
Sprint's subsidy issue
The T-Mobile–Sprint merger came up against new uncertainty last month when the FCC unearthed Sprint's alleged Lifeline subsidy fraud. Sprint reportedly wrongly claimed subsidies worth tens of millions of dollars meant for low-income subscribers. Sprint was quick to clarify that it would reimburse the payments, which would not have a material impact on its financials.
The T-Mobile–Sprint merger has been pending for a long time. The uncertainty is denting the companies' future capital investments and delaying their 5G network buildouts. Combining with the fastest-growing wireless company will likely be the best outcome for the struggling Sprint. Read What the T-Mobile-Sprint Merger Delay Could Mean for more info.
Will other states follow Mississippi?
Among the 17 states opposing the merger, Mississippi has left the group and started supporting the combination. T-Mobile swayed Mississippi with some specific commitments benefiting the state last week. It will be interesting to see whether other states follow Mississippi and back the merger.
The DOJ has approved the merger, while the FCC has also supported it. However, T-Mobile can't proceed with it until the states' lawsuit is addressed. If the merger goes through, it will be a big relief to Sprint investors.
So far this year, shares of Sprint are up 10%, while T-Mobile stock has gained 23%. Dish Network stock has surged 36%, and AT&T is up 32% year-to-date.