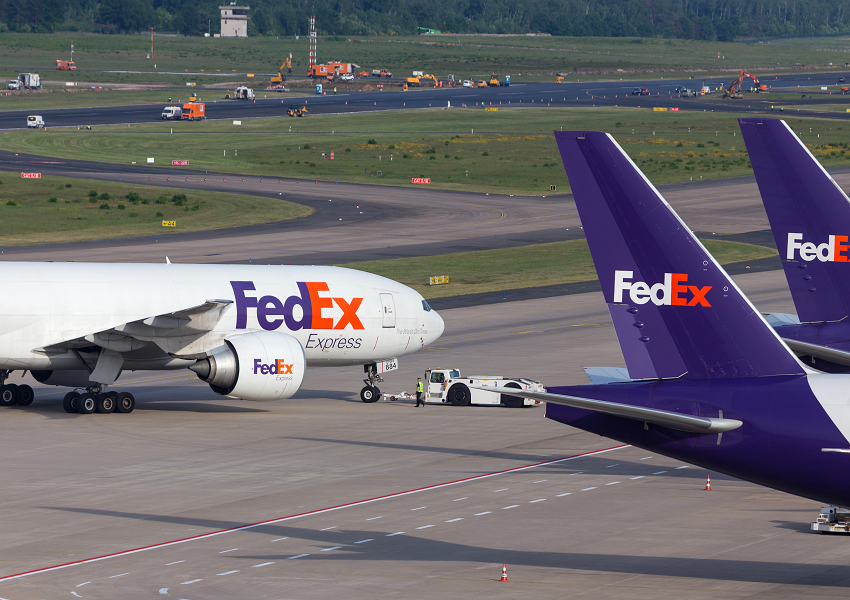 Why FedEx Inspires 'Limited Confidence' Says Bernstein
By Anirudha Bhagat

Oct. 9 2019, Published 4:14 p.m. ET
Another prominent Wall Street analyst cut his rating on FedEx (FDX) stock this morning. Bernstein analyst David Vernon downgraded the stock to "market perform" from "outperform," according to TheStreet. In his research report, the analyst said he had "limited confidence that the idiosyncratic issues plaguing the company will be resolved" in the next year.
Vernon also trimmed his target price on FedEx stock by 24% to $153 from $201. The analyst's updated target price reflects a return of nearly 11% from yesterday's closing price of $138.39. In his research note, Vernon said that he sees "relatively more upside" potential in FedEx's rival United Parcel Service (UPS).
FedEx stock opened lower today on Bernstein's rating downgrade news. However, it later recovered and was trading marginally higher than its October 8 closing price of $138.39.
Article continues below advertisement
Analysts' changed stances on FedEx
Bernstein isn't the only research company that has downgraded FedEx recently. Following the company's dismal first-quarter results and downbeat fiscal 2020 outlook, several analysts lowered their ratings and target prices on its stock. Some prominent analysts that downgraded FedEx stock were as follows:
Stifel Nicolaus downgraded FedEx to "hold" from "buy" and lowered its target price to $171 from $185.
BMO Capital cut its rating to "market perform" from "outperform" and trimmed its target price by $25 to $165.
Edward Jones and KeyBanc Capital lowered their ratings to the "neutral" equivalent from the "buy" equivalent.
JPMorgan Chase (JPM) trimmed its target price to $146 from $168 and reaffirmed its "neutral" stance on FedEx stock.
Morgan Stanley (MS) reiterated its "equal-weight" rating on FedEx but trimmed its target price by $11 to $120.
While UBS Group reaffirmed its "sell" recommendation, it reduced its target price to $132 from $136.
Before the company's fiscal 2020 first-quarter earnings results on September 17, 68% of the 28 analysts covering it had bullish stances on its stock. Moreover, nearly 25% said to "hold" it, while the remaining 7% had bearish views.
However, analysts' perspective changed following FedEx's dismal quarterly performance and downbeat outlook. On October 9, the number of bullish analysts reduced to 50%. Most analysts turned neutral on the stock, and its "hold" rating percentage increased to 39%. The remaining 7% of the 28 analysts covering FedEx stock have bearish views.
Analysts' average target price on FedEx stock has also reduced drastically since its last quarterly results. Currently, its average target price is $164.38, down 12.5% from $187.84 on September 16. The stock's target price signifies a potential return of 18% over the next year.
Article continues below advertisement
Stock near multiyear low
FedEx stock has been one of the worst performers in the air freight and courier industry in the last 12 months. Back-to-back disappointing quarterly performances and a dismal outlook have made investors increasingly cautious about its growth prospects. Moreover, uncertainty over US-China trade negotiations and global economic slowdown concerns have kept the stock on a downward trajectory.
The company's near-term prospects don't look rosy. FedEx trimmed its fiscal 2020 earnings outlook, citing negative manufacturing output in Germany and trade softness in the Asian region. Furthermore, its nonrenewal of two delivery contracts with Amazon (AMZN) could also hurt its near-term results. The company's e-commerce business contributed 1.3% to its total fiscal 2019 revenue.
Over the last year, FedEx stock has lost approximately 41%, or $25 billion, worth of market cap. It hit a new 52-week low of $138.38 on October 8. FedEx stock is also trading near its multiyear low. The stock reached this level in March 2016. As of its October 8 closing price of $138.39, FedEx stock was down 41% from its 52-week high and 14.2% YTD (year-to-date).
FedEx stock has also underperformed the broader US market and the iShares Transportation Average ETF (IYT). The S&P 500 and the Dow Jones are up 15.4% and 12.2%, respectively, YTD. IYT, which invests in Dow Jones transportation stocks, has gained 7% YTD. The ETF has allocated nearly 20% of its funds to air freight and courier services companies.
In contrast to FedEx, the majority of logistics companies have outperformed the market's returns. Shares of FedEx's rival UPS are up 15.6% YTD. XPO Logistics (XPO) and Old Dominion Freight Line (ODFL) stocks are up 20.2% and 31%, respectively.