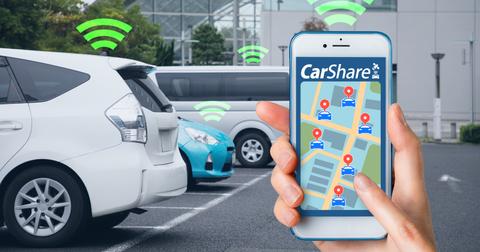 Uber and Lyft Face Heat for Skipping Safety Hearing
By Anuradha Garg

Updated
Uber (UBER) and Lyft (LYFT) chose to skip the congressional hearing on Wednesday. The hearing was meant to examine the companies' safety and labor practices.
Article continues below advertisement
Uber and Lyft anger lawmakers
Lawmakers were angry that the companies skipped the hearing. According to Reuters, the Transportation Committee's chairman, Peter A. DeFazio, said, "Their failure to appear at this hearing is a telling sign that they would rather suffer a public lashing than answer questions on the record about their operations."
Increased scrutiny for ridesharing firms
The companies have come under increased scrutiny. Recently, there were incidents related to passenger safety and driver treatment. Reuters reported that Lyft's spokeswoman, Campbell Matthews, said that the company "provides economic opportunity for drivers and affordable, reliable transportation for riders. We take this work extremely seriously and believe safety is fundamental to these efforts."
Article continues below advertisement
Uber's take on safety
According to Reuters, Uber said that it shares "Congress' focus on keeping Americans safe on rideshare. Safety will always be a long-term commitment for us… We have a rich history of productive conversations with this committee and all federal lawmakers – and look forward to continuing to drive towards solutions that keep all users of the platform safe."
The Washington Post reported that Delegate Eleanor Holmes Norton, the Highways and Transit Subcommittee's chair said, "Uber and Lyft have missed an important opportunity for them." She also said, "That will not stop this committee or this subcommittee from doing its duty."
Eye of the storm
Uber and Lyft have been in the eye of the storm since they went public this year. Uber stock has lost 41.2% compared to its IPO price of $45. Meanwhile, Lyft stock has lost 77.7% of its value since going public. The companies' main concern has been the path to profitability. Currently, both companies are loss-making entities. Uber and Lyft recorded losses in the second quarter. However, Lyft's second-quarter results were better than Uber's results.
Article continues below advertisement
Regulatory issues pile up 
Besides, the companies face a host of regulatory and other issues. Last month, Assembly Bill 5 was passed by the California Senate. The law will make it difficult for ridesharing companies to classify their drivers as "independent contractors." The new categorization could jeopardize the companies' whole business model. As reported by Quartz, Barclays estimates that "reclassifying workers could cost Uber and Lyft an additional $3,625 per driver in California."
Uber and Lyft's profitability
While both of the companies are cutting costs to turn profitable, their break-even level is still at least a few years out. Meanwhile, more regulatory and safety concerns might impact their business prospects.
In contrast, analysts are mainly optimistic about Uber and Lyft. To learn more, read Why Uber and Lyft Have Analysts Feeling Positive.