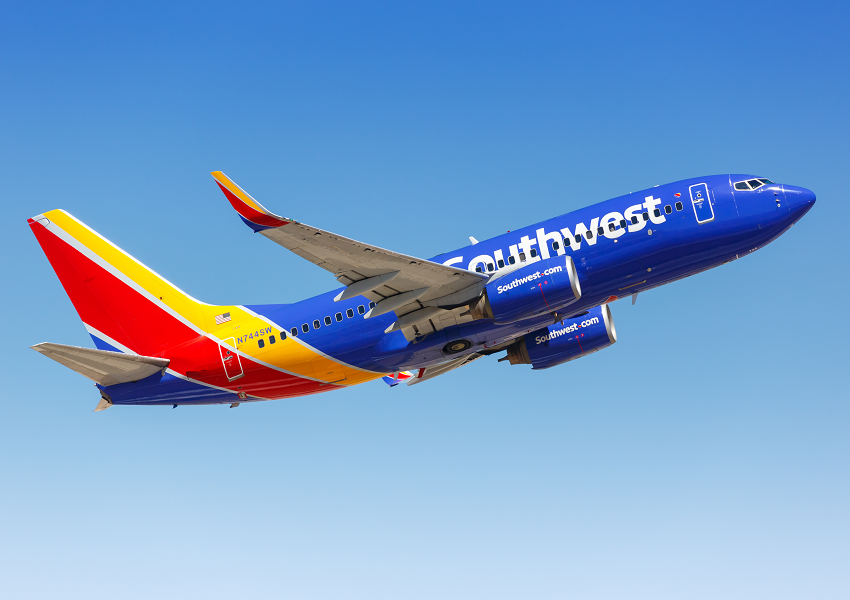 Southwest Airlines Stock Soars after Q3 Earnings Beat
By Anirudha Bhagat

Oct. 24 2019, Published 4:14 p.m. ET
Southwest Airlines (LUV) stock soared 2% in premarket trading today after the company reported better-than-expected Q3 earnings results. Southwest's bottom-line also marked significant year-over-year improvement despite the massive flight cancellations due to grounded Boeing (BA) 737 MAX aircraft. The airline's Q3 earnings grew 13.9% year-over-year to $1.23 per share and surpassed Wall Street analysts' estimate of $1.08.
Higher revenues and lower fuel cost more than offset the negative impact of the MAX grounding. Notably, the Boeing 737  MAX has been facing a global flying ban since mid-March following two deadly accidents within five months.
Article continues below advertisement
Southwest currently owns 34 Boeing MAX aircraft and was supposed to receive an additional 41 this year. Due to grounding and undelivered airliner, the company is facing over 200 daily flight cancellations. The airline, in its latest financial results, revealed that these cancellations negatively impacted its third-quarter pre-tax income by $210 million. For the first nine months, the MAX grounding has reduced its operating income by approximately $435 million.
Southwest Q3 earnings drivers
Southwest Airlines' third-quarter revenues increased 1.1% year-over-year to $5.64 billion, which is in line with analysts' estimates. The top-line growth was mainly driven by healthy leisure and corporate demand. We also believe that increased ticket fares would have also driven Southwest Airlines' Q3 revenues higher.  JPMorgan Chase, in a June 13 report, revealed that the airline had raised ticket prices twice in Q2.
During the quarter, Southwest's operating revenue per available seat mile or unit revenues increased by 4.2% year-over-year to 14.32 cents. The passenger yield grew 4.1% year-over-year, while the load factor inched down 0.4% year-over-year.
Article continues below advertisement
The MAX grounding reduced Southwest Airlines' overall capacity, putting pressure on its third-quarter unit costs. The airline's total seating capacity fell 2.9% in the third quarter. As a result, the overall unit cost increased 4% year-over-year to 12.24 cents. The company's total operating expenses increased by 0.9% year-over-year to $4.8 billion.
Nonetheless, lower fuel costs partially offset the negative impact of increased expenses. The average fuel cost for Q3 2019 fell 8% year-over-year to $2.07 per gallon compared to $2.25 in Q3 2018. Notably, crude prices remained significantly lower in the last quarter compared with rates in Q3 2018. The average WTI oil price was $56 in Q3 2019—down 19% from $69 in Q3 2018.
Fourth-quarter outlook
Southwest Airlines expects that Boeing 737 MAX grounding would continue to impact its overall capacity and operating income. For the fourth quarter, it anticipates the total seating capacity to decline in the range of 0.5%–1%. Further, for full-year 2019, the company now forecasts seating capacity to decrease by 1.5%. Earlier it has projected a decline between 1% and 2%.
Due to reduced capacity and MAX grounding impact, Southwest expects the fourth-quarter unit cost to rise between 4% and 6%. Southwest projects its fourth-quarter unit revenues to increase 0%–2% due to the healthy travel demand environment.
Among Southwest peers, United Airlines (UAL) and Delta Air Lines (DAL) have reported their third-quarter results. Both airlines have surpassed Q3 earnings estimates and also registered massive year-over-year improvements.
United's third-quarter adjusted EPS increased 33% year-over-year to $4.07 and beat analysts' expectations of $3.97. Delta's Q3 adjusted EPS grew 33% year-over-year to $2.32 and beat analysts' consensus estimate of $2.26.