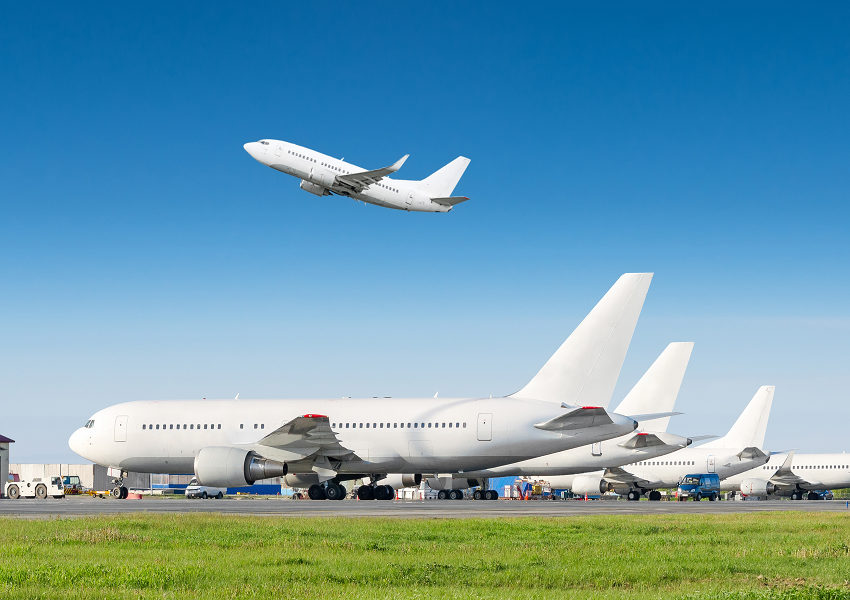 More Delays Cast a Shadow over Boeing MAX's Return
By Anirudha Bhagat

Oct. 18 2019, Updated 4:29 p.m. ET
The uncertainty over the Boeing (BA) 737 MAX's return to service is heightening as airlines are extending their MAX cancellations again. Just a day after Air Canada's October 16 announcement, another North American carrier pushed its Boeing MAX flight cancellations through early February. On Thursday, Southwest Airlines (LUV) announced that it had removed all MAX aircraft from its flight schedules until February 8.
The latest move marks the seventh time in the last seven months that Southwest Airlines has extended the MAX cancellation period. The airline first canceled all 737 MAX flights on March 13 for an undisclosed period following the fatal Ethiopian Airlines accident on March 10.
Article continues below advertisement
On April 8, it announced it would keep its MAX jets grounded until June 7, which it later stretched to August 5 on April 11. Plus, on June 13, it extended this period again to September 2. On June 27, Southwest extended its MAX cancellations until October 1 and then again to November 2 on July 18. On August 27, the airline announced that it would keep its MAX flights grounded until January 5.
The uncertainty surrounding the Boeing MAX's return heightens
Southwest Airlines' latest move occurred in the wake of rising uncertainty over the MAX's return to the skies. Air Canada also thinks that ongoing regulatory hurdles could further delay the MAX's safety certification. On Wednesday, the Canadian carrier announced the removal of all 24 of its MAX aircraft from the flying schedule through mid-February.
Boeing is trying to fix the software problems with the MAX's flight-control system, which caused two deadly crashes within five months. Notably, the company expects to fix the issue and receive regulatory certifications in the fourth quarter.
Article continues below advertisement
However, considering rift between aviation regulators in the US and Europe, we don't expect the Boeing MAX to return this year. The JATR (Joint Authorities Technical Review) panel, which comprised several US agencies and aviation regulators from nine countries, heavily criticized the FAA with respect to its review of crucial technical MAX systems.
Traditionally, global regulators have relied on each other's judgment while certifying a plane, which saves time, according to Reuters. As this interagency disagreement isn't common, the aircraft's certification process could delay the MAX's return to service.
The Southwest Airlines pilot union, SWAPA (Southwest Airlines Pilot Association), also expressed doubts regarding the 2019  return of the Boeing MAX. On October 14, SWAPA noted that it doesn't expect the MAX to fly again before February 2020. The association stated that the extensive work still left and friction among regulators could cause further delays in its certification process.
Article continues below advertisement
Boeing MAX crisis hurt airlines
The global flying ban on MAX aircraft is impacting airlines' financials and expansion plans. Before the Ethiopian Airlines crash, approximately 370 MAX planes were in operation globally. Three major US carriers—Southwest Airlines, American Airlines (AAL), and United Airlines (UAL)—together operated 72 MAX aircraft. According to an estimate by OAG, the three airlines would lose 6.3 million in seating capacity and $600 million in operating profit if the MAX remains grounded through October.
Southwest, which owns 34 MAX jets, has recorded over 200 daily flight cancellations due to the MAX grounding. Since mid-March, the company has faced over 30,000 cancellations, which are impacting its financials. Southwest revealed a negative impact of $175 million on its Q2 pretax income due to the MAX fiasco.
Furthermore, the MAX problem has delayed its global expansion plans, particularly on its Hawaiian Islands route. The company received approval to start service between California and the Hawaiian Islands in March. It had planned to use all MAX aircraft on this route due to the model's fuel efficiency.
Article continues below advertisement
The company was also scheduled to receive 41 additional MAX jets this year. This expansion would have supported its aggressive approach toward expanding operations throughout its network. However, after waiting for months, the company decided to use its older 737-800 aircraft to expand in this region.
American Airlines owns 24 MAX planes, and the aircraft's grounding has caused 115 daily flight cancellations. In the second quarter, the company reported a negative impact of $175 million in pretax income. It expects a $140 million hit in the third quarter.
United Airlines, which has 14 MAX aircraft, has replaced its MAX schedule with its older aircraft. However, the use of older and larger planes is increasing the company's operating expenses.
Stock performance
Boeing stock has lost nearly 13% (or $30 billion) in market capitalization since the March 10 Ethiopian Airlines accident. On March 8, the stock was the top performer in the 30-stock Dow Jones Industrial Average. On that date, it had a year-to-date return of 31%. However, its YTD gain has eroded to 14.4%, and it now ranks 16th on the Dow Jones.
Boeing stock has underperformed the broader market as well as the iShares US Aerospace & Defense ETF (ITA). The Dow Jones and the S&P 500 indexes have risen 15.9% and 19.6%, respectively, year-to-date. ITA invests in assemblers, manufacturers, and distributors of aerospace and defense equipment, and the ETF is up 28.2% year-to-date.