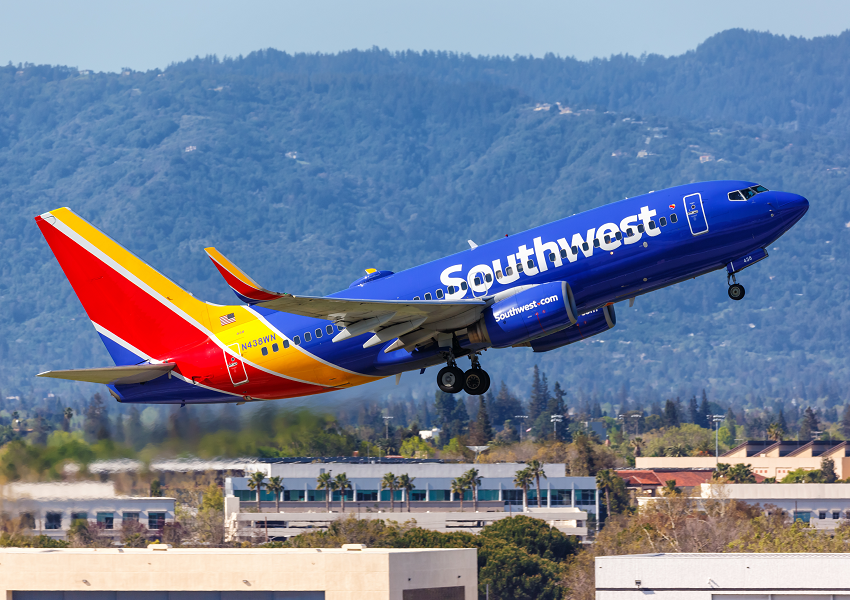 Boeing Crisis: The Impact on Southwest's Q3 Earnings
By Anirudha Bhagat

Oct. 21 2019, Updated 1:33 p.m. ET
Southwest Airlines (LUV) plans to report its Q3 earnings results on October 24. Wall Street analysts estimate that the airline could report flat year-over-year earnings for the third quarter. They forecast the airline's Q3 earnings to come in at $1.08 per share, which is in line with Q3 2018.
Reduced capacity and increased costs due to the prolonged grounding of the Boeing (BA) 737 MAX aircraft are likely to impact Southwest Airlines' Q3 earnings negatively. Nonetheless, robust demand and higher passenger yield could offset the negative impact of these factors.
Article continues below advertisement
Wall Street analysts project Southwest Airlines' third-quarter revenues to increase 1.1% year-over-year to $5.64 billion. Apart from healthy passenger demand, higher ticket fares are also expected to boost the airline's top-line results. In its June 13 report, JPMorgan Chase noted that Southwest Airlines had increased its ticket fares twice in the second quarter.
MAX crisis to hurt Southwest Airlines' capacity
The worldwide grounding of Boeing's 737 MAX aircraft is causing massive seating capacity and profitability losses for Southwest Airlines. Before the mid-March implementation of its global flying ban, Southwest Airlines had 34 MAX planes. The airline was also scheduled to receive 41 additional MAX planes this year.
Due to the grounding of the MAX aircraft, the company is facing approximately 200 daily flight cancellations. According to its September 18 investor update, the company reported nearly 600 flight cancellations in September due to Hurricane Dorian.
Article continues below advertisement
Southwest Airlines revealed in its investor update that these cancellations negatively impacted its overall seating capacity in the third quarter. As a result, the airline lowered its projection for its third-quarter capacity growth. The company now expects its third-quarter seating capacity to decline 3%, instead of its earlier forecast of a 2%–3% year-over-year decrease.
Reduced capacity to hurt profitability
Reduce seating capacity would result in higher unit costs for Southwest Airlines in the third quarter. During its investor update, the company projected its ex-fuel unit cost to increase 8%–10% in the quarter. Furthermore, the company expects the removal of the 737 MAX jets to negatively impact its fuel efficiency. So, Southwest Airlines anticipates its fuel efficiency to fall 1%–2% during the third quarter.
Article continues below advertisement
In our view, the MAX's negative impact on Southwest's Q3 pretax income should be higher than in the second quarter. The company's second-quarter pretax income took a hit of $175 million due to the MAX grounding. During the second quarter, Southwest Airlines reported over 15,000 flight cancellations. We expect a similar number of flight cancellations in the third quarter.
Southwest Airlines is not alone in its impact from the MAX grounding. American Airlines (AAL), which owns 24 MAX jets, also revealed a negative impact of $175 million on its Q2 pretax income. The company faced over 7,800 MAX cancellations in the second quarter. United Airlines (UAL), which owns 14 737 MAX aircraft, reported 3,440 MAX flight cancellations in Q2.
Low fuel costs to support Southwest's Q3 earnings
We think that lower oil prices in the third quarter should benefit Southwest's Q3 earnings. Crude prices have been more economical in the third quarter compared to Q3 2018. The average WTI oil price in Q3 2019 was approximately $56, which is 19% lower than $69 in Q3 2018.
Fuel accounts for nearly one-fourth of an airline's total operating expenses. So, a decline in crude oil prices could improve Southwest's profitability in the third quarter. During the September 18 investor update, the company said it expects an average fuel cost of $2.05–$2.15 per gallon. The company's guidance range is 4%–9% lower than its Q3 2018 fuel cost of $2.25 per gallon.
Article continues below advertisement
Analysts' stance ahead of Q3 earnings
More analysts have turned bullish on Southwest Airlines stock following its better-than-expected Q2 earnings results on July 25. Before the Q2 results, approximately 43% of the 21 analysts covering the stock were bullish. The proportion of bullish analysts increased to 50% on October 21. Since its Q2 results, analysts' average target price on the stock increased by $1.87 to $60.56.
In September, two prominent Wall Street analysts upgraded Southwest Airlines stock. Macquarie analyst Susan Donofrio upgraded the stock to "outperform" from "neutral" and raised the target to $67 from $52. Andrew Didora of Bank of America Merrill Lynch raised its rating on LUV stock to "buy" from "neutral." He also increased his target price by 12% to $65 from $58.
Didora believes that Southwest's margins could improve despite the slower demand and higher capacity projection for next year. According to a September 23 report by TheStreet, the analyst stated, "As we do not expect unit revenues to accelerate in this environment, we prefer the airlines that have the cost structure to drive margin expansion, like Buy-rated UAL and LUV."
Stock performance
Southwest Airlines stock, which was marred by the MAX crisis and labor dispute, has rebounded. With its year-to-date gain of 15.1%, the stock is one of the top industry performers. It has also outperformed the Dow Jones Industrial Average and the iShares Transportation Average ETF (IYT), which are up 14.8% and 14.3%, respectively, year-to-date.
However, the majority of airline stocks have failed to keep pace with the broader market. American Airlines has been impacted heavily, as its stock has plunged 12.1%. United Airlines stock has returned 7.6% year-to-date.