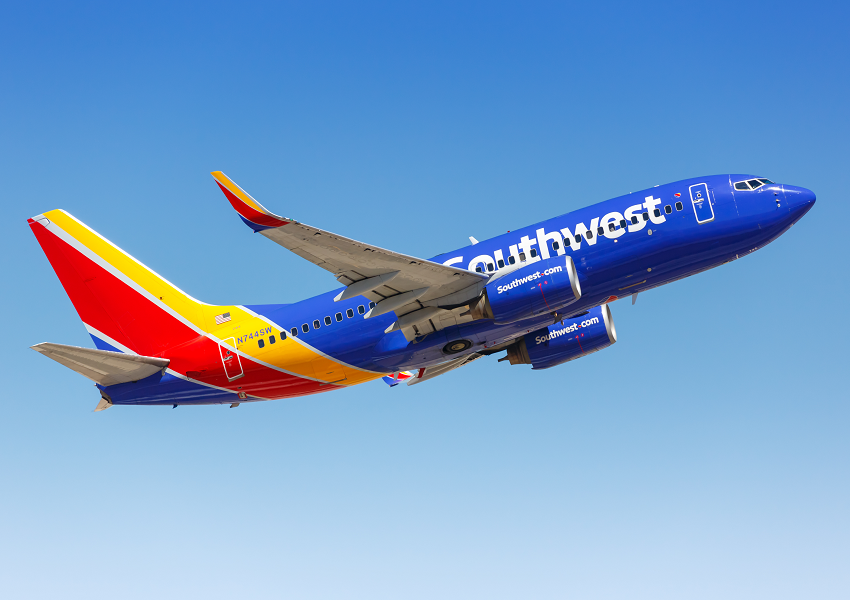 Is Acquisition a Solution to Southwest's MAX Problems?
By Anirudha Bhagat

Oct. 22 2019, Published 2:26 p.m. ET
A prominent Wall Street analyst downgraded Southwest Airlines (LUV) stock yesterday as the Boeing (BA) 737 MAX problem intensifies. Yesterday, Stifel analyst Joseph DeNardi stated that Southwest is at a higher risk due to its complete dependence on the Boeing 737 aircraft series. Stifel also trimmed its target price on the stock by 20% to $60. DeNardi's revised target price on Southwest Airlines stock indicates a 12.7% upside from the October 21 closing price of $53.23.
Notably, the uncertainty over the 737 MAX's return to the skies heightened after some internal messages became public last Friday. The messages indicate that a Boeing pilot "unknowingly" misled regulators about the MAX's flight-control system, which later caused two deadly accidents.
Article continues below advertisement
The FAA (Federal Aviation Administration) alleges that Boeing knew about the messages for months, according to the October 21 CNBC report. It also blames the aircraft manufacturer for a delay in informing regulators about crucial information during the MAX certification process. The FAA has sought an immediate response from Boeing over this matter. Boeing CEO Dennis Muilenburg plans to testify before Congress on October 30.
How does the MAX crisis hurt Southwest Airlines?
Southwest Airlines operates all Boeing 737 aircraft, a strategy to streamline training and maintenance requirements and costs. Currently, it owns 750 planes, of which 34 are 737 MAX models. The low-cost carrier also expected to receive 41 additional MAX aircraft in 2019. Overall, the company still has 246 unfilled orders for the MAX plus another 115 options.
Southwest Airlines intends to have more MAX planes in its fleet due to the aircraft's fuel efficiency. However, the worldwide grounding of the MAX aircraft has cast a shadow over the airline's growth prospects. Due to the flying ban, Southwest is facing approximately 200 daily flight cancellations, reducing its overall seating capacity.
Article continues below advertisement
In the second quarter, the low-cost carrier reported a 3.6% YoY (year-over-year) decline in seating capacity. In its September 18 investor update, Southwest assumes the MAX crisis could cause a 3% YoY decrease in overall seating capacity in Q3. The grounding could negatively impact Southwest's Q3 pretax income by approximately $175 million, the same as in Q2.
Additionally, the uncertainty over the 737 MAX's return is delaying its global expansion plans, particularly on its Hawaiian Islands route. Southwest Airlines received approval to start service between the Hawaiian Islands and four California cities in March. It had planned to fly only MAX aircraft across this route due to its fuel efficiency.
The 41 MAX aircraft scheduled for this year's delivery would have supported the company's aggressive expansion plans on this route. However, Southwest Airlines is facing challenges due to the shortage of MAX aircraft. Although it is trying to expand in the region with older Boeing 737-800 aircraft, the lower fuel efficiency of these planes are causing increased operating expenses for the company.
Article continues below advertisement
A solution to the Southwest MAX problem
The grounding of the MAX aircraft is causing massive flight cancellations and delayed expansion plans for Southwest Airlines. However, Stifel analyst DeNardi thinks that Southwest could solve its current problem through mergers and acquisitions.
In his note to clients, DeNardi stated that Southwest Airlines might be near a "tipping point," according to an October 21 report by The Fly. DeNardi noted that the prolonged grounding of MAX aircraft could push the company to look for strategic solutions, including acquisitions.
In his client note, DeNardi suggested that JetBlue Airways (JBLU) could be a better fit for Southwest. Southwest Airlines operates only Boeing 737 aircraft, and JetBlue operates only Airbus and Embraer's narrow-body planes in its fleet.
Moreover, JetBlue has a strong foothold in the US, South America, Central America, Mexico, and Caribbean regions. Apart from these ready markets, JetBlue and its 255 aircraft assets could help Southwest Airlines expand to new areas. So, JetBlue's aircraft assets would complement Southwest's strategic plans.
Nonetheless, we doubt Southwest Airlines would consider this idea of acquiring another airline to overcome its MAX woes. The plan is only worth considering if there is a high probability that the 737 MAX would never fly again or safety approval could drag out for two or three years. We believe that the MAX issue should be over long before the completion of a merger and Southwest integrates JetBlue's assets.
Analysts' recommendations
DeNardi's views also contradict other Wall Street analysts' beliefs about Southwest Airlines stock. Last month, Southwest Airlines received rating upgrades from two prominent Wall Street analysts. Susan Donofrio of Macquarie raised her rating on the stock from "neutral" to "outperform." She also increased her target price on the stock by $15 to $67.
Furthermore, Andrew Didora of Bank of America Merrill Lynch upgraded the stock to "buy" from "neutral." His revised target price of $65 is 12% higher than the previous forecast of $58. The analyst believes Southwest Airlines has a better cost structure than its rivals, including Spirit Airlines and American Airlines. He also thinks that the company could expand its margins despite the expected slower demand and higher capacity for next year.
Overall, analysts seem to be more bullish on Southwest Airlines stock following its better-than-expected Q2 results on July 25. Despite massive flight cancellations and reduced seating capacity, the company reported robust top- and bottom-line YoY improvement in the quarter.
As of October 22, about 45% of the 20 analysts rated the stock as a "buy" or equivalent. Approximately 45% of the analysts gave it a "hold" rating, and the remaining analysts gave a "sell" rating. Their average target price on Southwest Airlines stock reflects an upside of 12% over the next year.