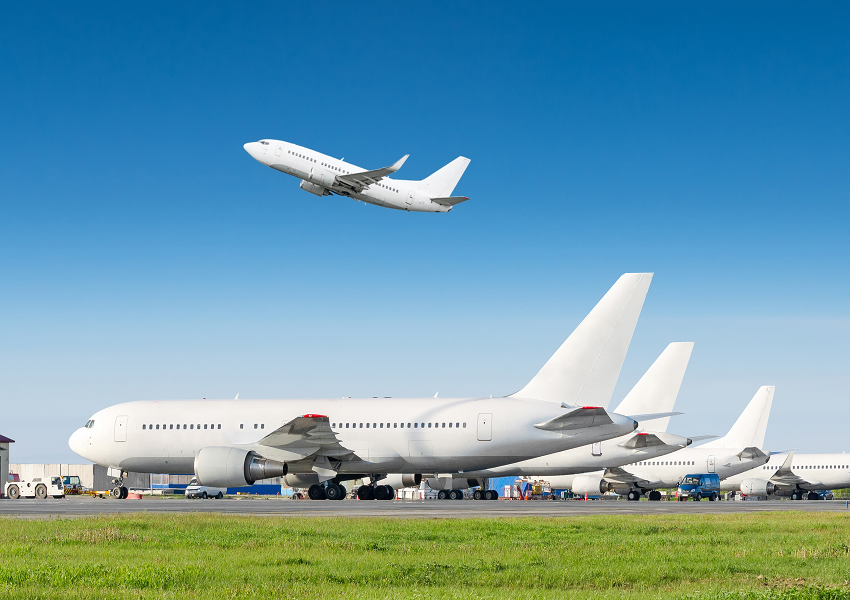 Boeing MAX Return Timeline Extended by Air Canada
By Anirudha Bhagat

Oct. 17 2019, Updated 1:38 p.m. ET
Doubt over Boeing's (BA) 737 MAX returning to service in early January is growing. On Wednesday, Air Canada removed all of its MAXs from its flying schedule until February 14. The Canadian carrier thinks ongoing regulatory uncertainty could further delay the MAX's safety approval. Southwest Airlines' (LUV) pilot union also thinks Boeing will miss the target.
Air Canada, which currently owns 24 Boeing 737 MAX aircraft, was expected to receive 12 more this year. The MAX's grounding and non-shipment are impacting Air Canada's capacity expansion plans and financials.
Article continues below advertisement
The company now expects its total capacity to fall 2% YoY (year-over-year) in the third quarter. It had planned to increase its capacity by 3%. Furthermore, the company expects EBITDA growth of just 5% YoY in the quarter, significantly lower than its Q2 increase of 24%. Air Canada is slated to report its Q3 earnings results on October 29.
Yesterday, Benzinga reported the company had managed to fill just half of its MAX flying schedule with other aircraft. Air Canada's operating expenses are rising due to the replacement aircraft's higher costs. The company has also had to pay pilot wages despite the MAX grounding.
Airlines suffering from the MAX crisis
Air Canada is the first North American airline to push the Boeing 737 MAX cancelations to February. Although other North American carriers are uncertain, they hope the MAX will return to the skies in January.
Southwest, United Airlines (UAL), and American Airlines (AAL) have extended the MAX flight cancelations until January 5, 6, and 16, respectively. Together, the three US carriers own 72 Boeing 737 MAXs.
Article continues below advertisement
The MAX's quick return is critical for all of the carriers. In the US alone, Southwest, United, and American have together faced over 45,000 flight cancelations since MAXs were grounded in mid-March. OAG Aviation Worldwide estimated in August that the three carriers would lose 6.3 million seats of capacity and $600 million in operating profit if the MAX remains grounded until this month.
On a daily basis, Southwest and American face 200 and 115 flight cancelations, respectively. American is set to face 140 cancelations daily from November onward. In the second quarter, Southwest and American each lost $175 million in pretax income due to the MAX crisis. This year, American expects to lose up to $400 million in pretax income.
Boeing 737 MAX returns timeline
Boeing is currently working with the FAA (Federal Aviation Administration) to fix the software problem that caused two deadly crashes within five months. The aircraft manufacturer expects to get regulatory safety approval in the fourth quarter.
However, the FAA has lost credibility following several loopholes found during investigations into the two crashes. Therefore, various global regulators have decided to conduct independent reviews. Therefore, we think it's unlikely the MAX will fly again this year.
Article continues below advertisement
Stock performance
Most US airline stocks have underperformed the broader market this year. In addition to the Boeing MAX crisis, the industry is struggling with US-China trade uncertainty and global economic slowdown concerns.
The iShares Transportation Average ETF (IYT), of which 20% is allocated to the passenger airline industry, has returned 13.6% YTD (year-to-date). Meanwhile, the Dow Jones and S&P 500 have gained 15.8% and 19.3%, respectively,.
Down 12.6% this year, American Airlines stock is among the weakest in the airline industry. Southwest stock is the strongest, up 15.5%. And after United Airlines posted better-than-expected third-quarter results on Tuesday, its stock has risen and is up 6.4% YTD.
As would be expected, Boeing stock has been under tremendous pressure since the Ethiopian Airlines crash on March 10. The stock has fallen 12% and lost nearly $27 billion in market capitalization since mid-March. It was the top Dow Jones 30 component with a YTD return of 31% on March 8. However, the stock's YTD gain has since eroded to 15.5%, and it has slipped to 16th place among the Dow Jones 30.