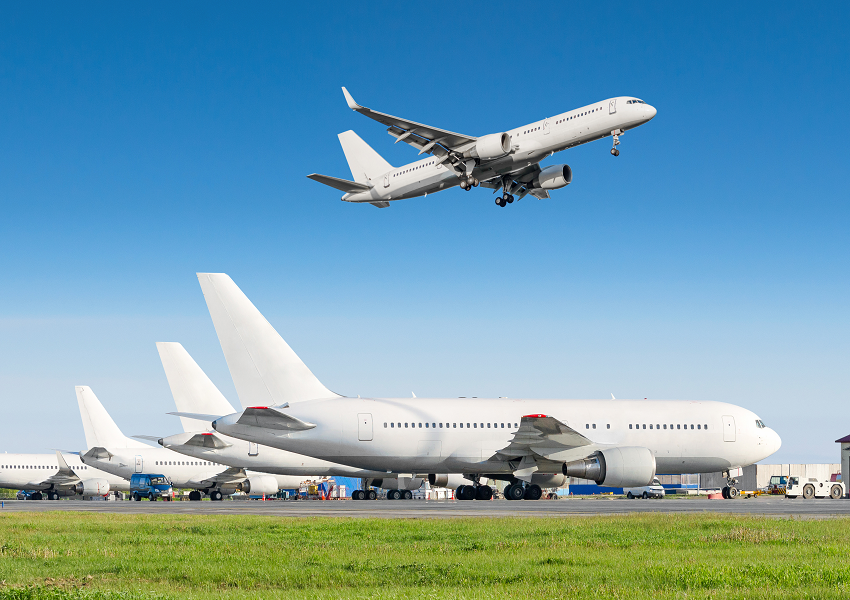 Boeing MAX Flights: Airlines Extend Cancellations Again
By Anirudha Bhagat

Oct. 14 2019, Published 1:55 p.m. ET
Two major US carriers once again extended the cancellations of their Boeing (BA) 737 MAX fleets. Last week, American Airlines (AAL) and United Airlines (UAL) announced that they would remove their Boeing MAX flights from their schedules through early January. Rising uncertainty over Boeing gaining regulatory safety approval for the MAX aircraft led airlines to extend the cancellation period.
The first announcement of the MAX flight cancellation came from American Airlines on October 9. In an investor update, the airline announced that it would push back the grounding of its Boeing MAX flights through January 16.
Article continues below advertisement
The move marked the sixth time that American Airlines extended its flight cancellation period. American Airlines first canceled all of its MAX flights through April following the March 10, 2018, Ethiopian Airlines crash. Later, it extended the grounding to June 5 and again to August 19. It later stretched the period to September 3, then to November 2, and then to December 3.
The airline currently owns 24 Boeing MAX planes. According to the company, the MAX grounding would result in 115 daily flight cancellations until November 2. After that, the company would book nearly 140 regular flight cancellations considering the additional MAX aircraft it was scheduled to receive. American Airlines expected to receive 16 other MAX aircraft this year.
UAL extends Boeing MAX flight grounding
According to an October 11 Reuters report, United Airlines followed in American Airlines' footsteps. The airline has announced that it would keep its 737 MAX fleets grounded until January 6. The announcement marked the fifth time that United has extended the grounding period of these aircraft.
The company first canceled all of its MAX flights through early July. After that, it extended the MAX grounding to August 3, and then to September 3. Later, it stretched its MAX cancellations until November 3, and then to December 19. According to Reuters, the grounding would cause over 8,000 flight cancellations for United from October 1 to January 6.
Article continues below advertisement
American and United's latest announcement signifies that no US carrier would fly Boeing MAX planes this year. Southwest Airlines (LUV) has already removed all Boeing MAX flights from its schedule through January 5. The airline has 34 737 MAX aircraft, making it the largest MAX operator in the US market. The company expected to receive additional 41 Boeing MAX planes this year.
MAX grounding hurt airlines
The global flying ban on Boeing MAX flights has severely impacted US airlines. These MAX operators have canceled thousands of flights and have lost millions in seating capacity since mid-March. According to OAG estimates, the three US carriers would lose 6.3 million in seating capacity if the MAX remains grounded through October. The report estimates that the cost of MAX grounding would cross over $600 million for the three US airlines.
Article continues below advertisement
Southwest and American each incurred a negative impact of $175 million in their respective Q2 pre-tax income. Due to the MAX fiasco, Southwest's total capacity plunged 3.6% YoY, while American's seating capacity fell 0.8% YoY. Southwest, American, and United together have canceled over 45,000 flights since mid-March.
Airline stocks' YTD performances
The majority of US airline stocks have failed to keep pace with the broader market this year so far. The iShares Transportation Average ETF's (IYT) year-to-date gain of 11.2% lagged behind the Dow Jones index's return of 14.8%.
American Airlines ranks last among the top four US carriers. The stock has lost 15.2% (over $2 billion) in market capitalization year-to-date. United Airlines and Delta Air Lines (DAL) stocks have gained 3.6% and 5.2%, respectively. With its year-to-date gain of 16.2%, Southwest is the only airline stock that has outpaced the Dow Jones Industrial Average.