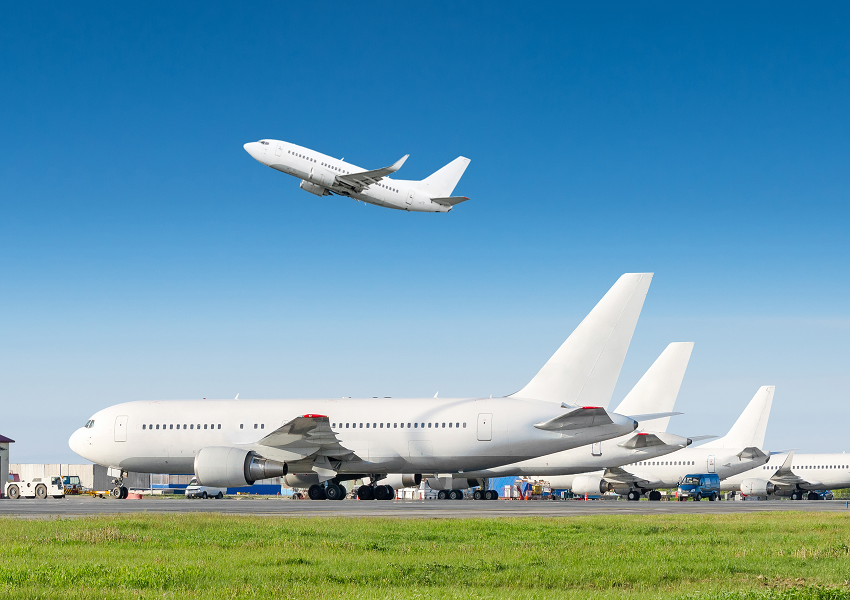 Boeing Aircraft Deliveries Fell 70% due to 737 MAX Crisis
By Anirudha Bhagat

Oct. 10 2019, Updated 10:58 a.m. ET
The prolonged grounding of Boeing's (BA) 737 MAX series planes is hurting its commercial aircraft deliveries. In September, the company's shipments for its troubled MAX jets remained frozen for the sixth straight month. As a result, it reported a massive YoY (year-over-year) fall in its September commercial airplane deliveries.
Last month, the company's overall deliveries plunged 70% YoY to 26 planes from 87. From January to September, Boeing shipped 302 aircraft, down 47% YoY from 568. Globally, airlines aren't taking shipments for the company's fast-selling MAX jets following a flying ban on the model in mid-March. Regulators worldwide grounded the aircraft following two deadly crashes within five months of each other.
Article continues below advertisement
The 737 MAX series planes account for approximately 80% of Boeing's overall commercial aircraft deliveries. As of September 30, the company had 4,543 unfilled orders for its 737 MAX series planes. Top US air carriers Southwest Airlines (LUV), American Airlines (AAL), and United Airlines (UAL) have combined pending orders for 408 MAX aircraft. The total number of unfilled orders for all models was 5,705 on October 9.
Due to the ongoing MAX crisis, analysts have also lowered their aircraft delivery forecasts for 2019. On October 1, Jefferies analyst Sheila Kahyaoglu trimmed her projection for Boeing's 2019 aircraft shipments to 438 units from 508. Her 2019 estimate suggests the company will miss its 2019 delivery target by over 50%. During its results for the fourth quarter of 2018, the company said it expected to ship 895–905 aircraft in 2019.
Article continues below advertisement
Boeing's aircraft deliveries lag Airbus's
Boeing's MAX woes have proven a boon for Airbus. The European plane maker continued to outpace the US aircraft manufacturer in the delivery race. Airbus delivered significantly more aircraft than Boeing last month as well as from January to September. Last week, Airbus announced that it had shipped 71 planes in September and 571 planes from January to September.
Airbus has also remained far ahead of Boeing in the order race. It reported 41 net orders last month and 127 from January through September. In comparison, Boeing recorded 25 net orders for commercial jets in September.
From January to September, Boeing had net orders of -84 aircraft. The negative net order figure was mainly the result of order cancellations for 200 MAX aircraft by India-based Jet Airways. The airline canceled its orders after it filed for bankruptcy.
Following the worldwide grounding of its MAX jets in mid-March, orders remained scarce for the troubled aircraft. However, in September, Boeing received the first order for MAX from an unidentified business jet customer. International Airlines Group showed interest in buying 200 MAX aircraft during the June Paris Air Show. However, the parent company of British Airways hasn't confirmed the order yet.
Article continues below advertisement
MAX crisis impacting Boeing's financials
Moreover, Boeing recorded an after-tax charge of $4.9 billion during the second quarter. According to the company, the tax is an estimated compensation cost to MAX customers for their foregone revenues and operating profits. The after-tax charge reduced Boeing's second-quarter revenue and pretax income by $5.6 billion.
The company's third-quarter results could be worse, as its overall deliveries fell 67% during the quarter. Wall Street analysts expect YoY falls of 20% and 38% in the company's third-quarter top and bottom line results, respectively. These revenue and earnings declines could be steeper if Boeing records a similar after-tax charge in the third quarter.
The longer the 737 MAX remains grounded, the longer Boeing will continue to lose money. The company is trying to fix the software problem that caused the two accidents.
Article continues below advertisement
CEO Dennis Muilenburg previously assumed the company would receive regulatory approval in October. However, given recent frictions between European and US aviation regulators, there's only a very small chance of Boeing receiving the regulatory nod this month. On October 8, the Wall Street Journal reported that the two regulators disagreed about Boeing's proposed fixes to MAX's flight-control system.
Boeing's stock performance
Since the Ethiopian Airlines crash on March 10, Boeing has lost 11.3%, or $27 billion in market cap. Before the crash, the stock was a top performer in the Dow Jones 30 with a YTD (year-to-date) gain of 31%. However, as of October 9, its YTD gain has shrunk to 16.3%. Boeing stock has also fallen to 15th place on the Dow Jones 30 component list. The stock has lower returns than the iShares US Aerospace & Defense ETF (ITA), which has risen 27.1% YTD.