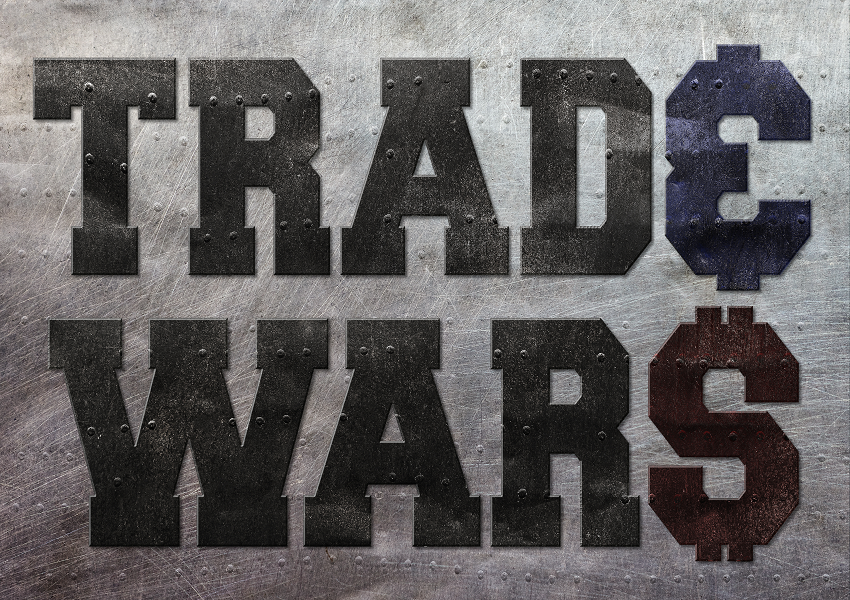 Airline Stocks Fall as WTO Allows US Tariffs on EU Goods
By Anirudha Bhagat

Oct. 2 2019, Published 3:19 p.m. ET
Airline stocks fell sharply today after the WTO (World Trade Organization) paved the way for the US to impose tariffs on EU (European Union) goods. This morning, the WTO ruled in favor of the US in a 15-year-long dispute regarding Airbus. The US has alleged that the EU provides illegal subsidies to Airbus, violating fair trade practices.
According to today's CNBC report, the WTO allowed the US to impose tariffs on $7.5 billion worth of EU goods. The US government wants to impose tariffs on European imports worth $11.2 billion. The Trump administration previously supported imposing a 100% tariff on these selected goods.
Article continues below advertisement
Delta Air Lines (DAL) stock plunged the most, dropping 6.3% after the WTO ruling. United Airlines (UAL) stock was trading 4.8% lower while American Airlines (AAL) stock fell 4.3%. Shares of JetBlue Airways (JBLU) fell 1.8%. The iShares Transportation Average ETF (IYT), which allocates 20% of its funds to the passenger airline industry, dropped 2.5% today.
Tariff hikes to hurt airline stocks
According to today's Reuters report, civil, passenger, and cargo airplanes, as well as helicopters, are on the US priority list. The US government plans to impose tariffs on four Airbus production facilities located in Germany, France, Britain, and Spain.
As a result of the WTO's latest ruling, US-based airlines would be most vulnerable to tariff hikes. Buying aircraft from Airbus would become more costly. Boeing and Airbus together control over 90% of the market share in the commercial aircraft manufacturing space. As Airbus aircraft would become more expensive, airlines would have less bargaining power with Boeing (BA).
Article continues below advertisement
Almost every US airline has unfulfilled orders with Airbus. American Airlines placed orders for 20 Airbus A321XLR planes. As of August 31, the airline has unfulfilled orders of 114 units with the European aircraft manufacturer. This year, Delta Air Lines also signed a deal to buy five A220–300 aircraft. Delta is still awaiting deliveries of 254 airplanes from Airbus.
JetBlue Airways has placed orders for 10 A220–300 jets and has unfulfilled orders of 154 airplanes as of August 31. United Airlines is awaiting the delivery of 45 aircraft from Airbus.
In our view, the WTO's decision could present significant financial risks to the airlines mentioned in this article. As a result, these airlines asked the US government to not implement a tariff increase, as it might lead to layoffs in the industry.
US-EU tariff war may intensify
The tariff war between the US and EU may intensify if the Trump administration goes ahead with the tariff increase. Notably, Trump has already imposed duties of 25% and 10% on imported steel and aluminum, respectively. Trump has also warned that his administration might levy tariffs on European cars and parts.
In retaliation, the EU has levied duties on approximately $3 billion worth of US-based goods, which include motorcycles, bourbon whiskey, and orange juice.
So, the imposition of new tariffs could escalate the trade war between the US and the EU. CNBC reported that Cecilia Malmström, the European Commissioner for Trade, said that any tariff imposition by the US would be "short-sighted and counterproductive."
Malmström continued, "If the U.S. decides to impose WTO authorized countermeasures, it will be pushing the EU into a situation where we will have no other option than do the same."
Malmström alleged that Airbus rival Boeing also received illegal subsidies by the US government. The WTO is investigating this complaint filed by the EU against Boeing. However, the EU must wait until early January for a final ruling from the WTO.
The European trade body has already prepared a list of US imported goods worth $20 billion, according to Reuters. These goods include wine, spirits, dry fruit, coffee, frozen fish, tobacco, handbags, helicopters, suitcase, tractors, and video games.