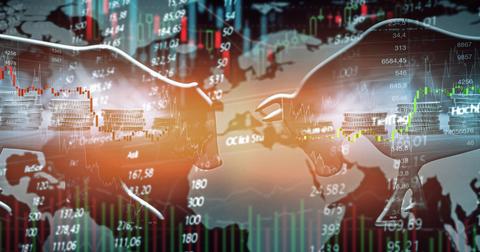 Will Tech Stocks Turn Bearish after Their Q3 Earnings?
By Adam Rogers

Updated
The earnings season is still about a month away and is a busy time for analysts and investors. An earnings miss can send stocks spiraling downward while a beat can result in a substantial short-term gain.
The S&P 500 ETF (SPY) peaked last September when it was trading around $290.72. It fell to $250 by the end of 2018, losing 14% in four months. The fourth quarter of 2018 saw several tech stocks lose significant value.
Tech giants Apple (AAPL), Amazon (AMZN), Microsoft (MSFT), Facebook (FB), and Google (GOOGL) fell 30.8%, 25%, 11.7%, 19%, and 13.6%, respectively, in the final quarter of 2018. In our view, last year's market sell-off could be replicated in 2019, especially in the tech sector.
Article continues below advertisement
Companies with international revenue could see significant earnings decline
According to a September 6 FactSet report, the market continues to be impacted by trade tensions and a slowing global environment. This could severely affect companies with sizeable international revenue exposure.
The report noted, "S&P 500 companies with higher global revenue exposure are expected to report year-over-year declines in earnings and revenues in Q3 2019, while S&P 500 companies with lower global revenue exposure are expected to report year-over-year growth in earnings and revenues in Q3 2019."
The average earnings decline for S&P 500 companies is estimated to reach 3.6%—the third straight quarter of earnings decline. However, companies that generate over 50% of their sales in the US could experience earnings growth of 0.4%. Comparatively, companies with revenue less than 50% in the US are expected to experience an earnings decline of 10.7% in the September quarter.
The average revenue growth for the S&P 500 is forecast to reach 2.9% in the third quarter. Companies with large international exposure are expected to see sales fall 1.7% while firms with a majority of domestic revenue could experience 4.7% growth.
Article continues below advertisement
Technology companies could lead the S&P 500 earnings decline
The September 6 FactSet data indicates that the US economy remains strong. However, the ongoing trade war has impacted China to a great extent, as the world's second-largest economy is struggling with sluggish growth.
Several US tech companies have extensive exposure to China. For example, China accounts for a significant portion of Apple's sales. Semiconductor heavyweights Micron, Intel, NVIDIA, and Broadcom all have extensive exposure to China. Most of the semiconductor companies will experience double-digit earnings declines in the September quarter.
According to FactSet, almost 57% of sales for tech companies in the S&P 500 come from international markets. The tech sector expectedly has a large exposure to international geographies.
Will tech stocks tank again?
How could the market react if tech stocks post lower-than-expected earnings? We know that tech stocks perform poorly in a sell-off due to their premium valuations. The Technology Select Sector SPDR ETF (XLK) fell over 16% in the fourth quarter of 2019. Among the other tech funds, the SMH and SOXX ETFs fell 15.4% and 13%, respectively, in that period—greater than the decline in the S&P 500 ETF.
While technology stocks experienced a massive decline in late 2018, they made a strong comeback in 2019. In July 2019, Goldman Sachs cautioned that software stocks were trading at a premium. There is also a concern over low tech spending, which has severely dented NetApp, DXC, and VMware in the recent past.
The last week saw a slew of expensive tech stocks lose significant market value. On September 5, we identified five overvalued tech stocks—Akamai, Motorola Solutions, Accenture, Intuit, and VeriSign. Akamai has fallen 3.1% since then. Plus, Motorola Solutions, Accenture, Intuit, and Verisign have lost 7.2%, 2.8%, 8.9%, and 8.3%, respectively, since then.
The trade war is still not over, and no one knows how Saudi Arabia will react to the attack on its oilfields. There are signs of an upcoming recession, and ETFs are trading close to record highs. Taking all these factors into consideration, we believe that investors should remain cautious.