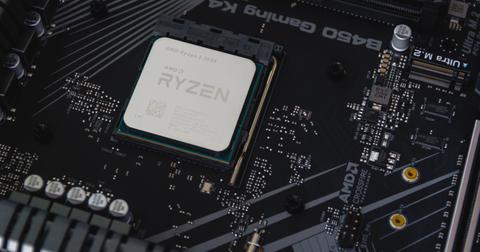 Why Is the Microsoft Surface Laptop Important to AMD?
By Puja Tayal

Updated
A rumor surfaced this week that Advanced Micro Devices (AMD) Ryzen Mobile would make its way inside Microsoft's (MSFT) upcoming Surface Laptop 3. This rumor came from WinFuture more than 15 days ahead of the Microsoft Surface event on October 2. If this rumor is true, it leaves several questions for AMD investors.
Article continues below advertisement
Which Ryzen CPU will power Surface Laptop 3?
AMD launched its 7nm (nanometer) Ryzen desktop CPUs (central processing units) this year, which helped it overtake Intel's (INTC) 14nm CPUs in performance and price. A smaller node increases transistor density, which improves performance and reduces power consumption.
While AMD beats Intel in the desktop space, it falls behind Intel in the laptop space. Intel has already launched its 10nm Ice Lake processor for laptops whereas AMD is still stuck on the 12nm Ryzen Mobile processor. AMD plans to launch the mobile variants of its 7nm Ryzen 3000 series CPUs in the near future.
Unlike its desktop space, AMD cannot sell its mobile CPUs directly to consumers. It must sell mobile CPUs to laptop OEMs (original equipment manufacturers) who design laptops according to the processors. This design win could take some time.
Microsoft plans to unveil its Surface Laptop 3 on October 2, but the laptop is not expected to hit the market before 2020. As AMD's 7nm Ryzen Mobile APUs are not yet ready, they might not power the Microsoft Surface Laptop 3. This leaves Microsoft with only one option, the 12nm Ryzen Mobile APUs.
What does a Microsoft Surface win mean to AMD investors?
If the Microsoft-AMD rumor is true, it could be a big marketing win for AMD. Microsoft Surface laptops are not a big win in terms of volume, as they are well behind HP, Dell, and Lenovo in terms of market share. The Surface laptops accounted for just 3.6% of US PC shipments in the second quarter, according to Gartner. Microsoft Surface doesn't have as much marketing cachet as Apple. Plus, Apple's technology influences the rival's technology decisions.
Despite this, Microsoft is a name that would give AMD visibility, as the former has been using Intel CPUs. If the rumor is true, Microsoft would use AMD CPUs for the first time, which could lead to future design wins for AMD.
Article continues below advertisement
ExtremeTech noted another indirect benefit that AMD could realize from Microsoft—consumer confidence. The site noted that in 2011, there were rumors that Apple might use AMD's Llano CPU in the MacBook Air device. However, that rumor never materialized, as Apple lacked confidence in AMD's long-term roadmap. History appears to be repeating itself.
However, this time the odds are in AMD's favor. If Microsoft does use AMD Ryzen in its Surface laptop, that means it is confident about AMD's product roadmap and the performance scaling that future generation APUs would offer.
A company's stock price movement is largely governed by investor confidence. A Microsoft Surface win could strengthen investors' confidence in AMD's future roadmap. Investors should keep a close watch on Microsoft's October 2 event, which will clarify whether AMD Ryzen will power its upcoming Surface laptops.