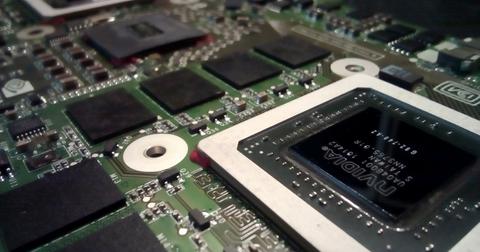 What Drove NVIDIA Stock Up 6.5%?
By Puja Tayal

Updated
NVIDIA (NVDA) stock soared 6.5% yesterday after it unveiled its new Quadro RTX 6000 mobile GPU at the IFA 2019 event in Germany. The company earns slightly over 10% of its revenues from its Professional Visualization segment.
However, a new professional visualization product isn't sufficient to drive NVIDIA stock up 6.5%—other factors boosted investor optimism.
Article continues below advertisement
China trade war updates influence NVIDIA stock
The overall stock market environment was optimistic yesterday as China and the United States agreed to return to the negotiation table in October. The SPDR S&P 500 ETF Trust (SPY) and the PHLX Semiconductor Sector Index rose 1.29% and 3.07%, respectively.
NVIDIA earns 25% of its revenue from China. China is a key market for NVIDIA's gaming and data center GPUs. Moreover, NVIDIA's $7 billion Mellanox acquisition is also awaiting approval from Chinese regulators. So, any sign of trade negotiation is a brownie point for NVIDIA stock, as the firm has a lot at stake in China.
Intel sees an uptick in data center demand
Intel (INTC) stock rose 2.4% yesterday. This increase occurred after an Intel executive stated at the Citi Global Tech Conference that cloud companies have returned to expected buying patterns in the second half.
A year ago, the cloud market's hardware purchases declined to absorb the inventory built up in the first nine months of 2018. Moreover, the US tariffs on Chinese imports included data center–related products. This significant development further slowed data center demand, especially in China.
Article continues below advertisement
In the second quarter, NVIDIA reported its first year-over-year decline in data center revenue in three years. NVIDIA earns 24.6% of its revenue from the data center. So, an uptick in data center demand comes as a positive sign for the company's second-half revenue. A company's stock price is based on its future earnings potential.
NVIDIA leads in Steam survey
NVIDIA stock has been in a downturn since the fourth quarter of 2018. One of the causes for the decline was the slow uptake of its Turing-based GeForce RTX series GPUs.
NVIDIA's GPUs are preferred by Steam, a video game digital distribution platform that allows users to install and update games. The August Steam Hardware Survey shows that NVIDIA's RTX GPU line is slowly gaining popularity.
The survey showed that 1.39% of Steam survey participants' machines use RTX 2070, 1.27% use RTX 2060, and 0.86% use RTX 2080. The increasing uptake of NVIDIA's ray-tracing GPUs indicates that its gaming revenue is expected to rise in the coming months.
All these factors have made NVIDIA investors optimistic about its growth. We expect 2020 to be an important year for gaming and autonomous vehicles. So, long-term investors are placing their long-term bets while the stock price is still low.