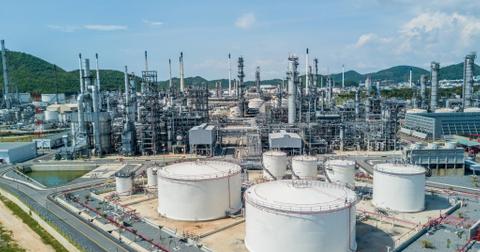 Valero Stock: Should Investors Place Bets Now?
By Ambrish Shah

Updated
Valero Energy (VLO) stock rose about 2.37% in today's trading session as of 11:47 AM EDT. VLO fell about 3.67% on Monday and closed at $82.39. According to today's CNBC report, "Refiners took a hit from the Saudi attack as many U.S. facilities depend on heavy crude supplied by countries including Saudi Arabia."
Valero stock is trading 31.75% below the 52-week high of $120.72 it touched on October 3, 2018. Meanwhile, the stock is trading 19.74% above its 52-week low of $68.81 on December 26, 2018. Valero stock has returned around 9.9% YTD (year-to-date). However, the stock has fallen 29.7% in the last 12 months.
At the closing price of $82.39, Valero's market cap is $34.1 billion. Valero's higher revenues and earnings drove its market cap growth. The company's revenues rose from $75.66 billion in 2016 to $117.03 billion in 2018. Its adjusted EPS has also risen from $3.72 in 2016 to $7.37 in 2018.
Article continues below advertisement
Valero stock: Target price
Among the 20 analysts that cover Valero, 17 recommend a "buy" or "strong buy." The company's mean target price is $100.17, which implies 21.6% upside potential based on its closing price of $82.39 on Monday.
Forward PE valuation
Valero has a forward PE ratio of 16.20x for 2019. For 2020, the ratio is 8.56x. The company's adjusted EPS could fall 30.9% in 2019 and rise 89.0% in 2020.
The stock looks expensive considering its expected negative earnings growth for 2019. However, the stock appears cheap based on its expected earnings growth of 89.0% and its PE ratio of 8.56x for 2020.
Article continues below advertisement
Valero stock: Financial results
Valero reported adjusted earnings per share of $1.51 in the second quarter—a fall of 29.8% on a YoY (year-over-year) basis. During the second quarter of 2018, the company reported adjusted EPS of $2.15. Valero's Q2 2019 adjusted EPS beat analysts' estimate of $1.37.
In the second quarter, Valero reported total revenues of $28.93 billion, which implies a YoY fall of 6.7%. During the second quarter of 2018, the company posted revenues of $31.02 billion.
Valero's revenues beat analysts' estimate of $24.51 billion in the second quarter. The company's consolidated adjusted EBITDA was $1.47 billion—a YoY fall of 20.2%.
Revenue and earnings expansion
Last year, Valero's sales rose YoY from $93.98 billion to $117.03 billion. Analysts expect its sales to fall 11.2% YoY to $104.0 billion in 2019 and rise 8.3% YoY to $112.6 billion in 2020.
Last year, the company's adjusted EPS grew YoY from $4.96 to $7.37. Analysts expect Valero's adjusted EPS to fall 30.9% YoY to $5.09 this year and rise 89.0% YoY to $9.62 next year. They expect the company's EPS to grow 4.39% compounded annually over the next five years.
To learn more, please read Valero's Earnings Fall but Beat the Estimate.