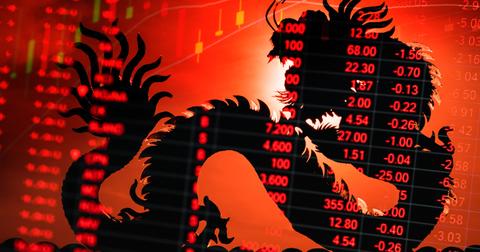 Trade War and Oil: Double-Trouble for China's Economy?
By Mike Sonnenberg

Updated
Just as the Fed is scheduled to meet to ponder an interest rate cut amid fears of a slowdown in the US economy, the People's Bank of China has kept the country's one-year interest rate steady. The decision disappointed the markets, which were expecting the central bank to stimulate the slowing Chinese economy with a rate cut.
The benchmark Shanghai Composite Index was down 1.33% at 1:40 AM ET, while Hong Kong's Hang Seng Index was down 1.47% at the same time. Most other Asian markets were trading in the red on September 17. Analysts still expect Beijing to loosen its purse strings to give the Chinese economy a new lease on life. However, the ongoing trade war with the US and an unexpected oil shock could act as headwinds to these efforts.
Article continues below advertisement
Trade war and the Chinese economy
Apple (AAPL) is gauging the cost impact of shifting 30% of its smartphone production out of China. Foxconn and Megatron assemble the majority of the iPhones sold worldwide in Shenzhen, China. Tariffs on iPhones will go live on December 15. Apple fell 2% in August due to trade war concerns. Google (GOOG) (GOOGL) is also reportedly moving the production of its Pixel smartphones from China to Vietnam. Google grabbed headlines after the Android-maker suspended business with China's Huawei in May as Trump banned US companies from doing business with Huawei. The ban and the suspension were later eased.
The US and Chinese negotiating teams are scheduled to meet on September 19. While optimism about an interim trade deal has increased after goodwill gestures from both countries, President Donald Trump is known for changing his mind unexpectedly. Thus, a deal is not done until it's done.
Article continues below advertisement
Oil shock and the Chinese economy
Amid the ongoing trade war, a sudden spike in crude oil prices adds to the Chinese economy's struggles. Over the weekend, two key crude oil facilities run by Saudi Aramco were attacked by Iran-backed Houthi rebels using drones. The attacks disrupted half of Saudi Arabia's crude oil supply—5 million barrels per day and about 5% of the daily crude oil supply. The supply disruption saw crude oil prices soar.
China is the world's largest importer and consumer of crude oil, with a demand of 8.4 million barrels per day in 2018. A continued rally in crude oil prices amid a slowing Chinese economy could be catastrophic. First, a spike in crude oil prices increases China's import bill. Second, the rally makes logistics expensive. A slowing Chinese economy coupled with rising inflation could be a recipe for a disaster.
Article continues below advertisement
Is China's consumer economy in trouble?
Traditionally an export powerhouse, the Chinese economy has been shifting toward a consumption-driven model in recent years. This change is evident in the fact that its exports as a percentage of GDP came down to 19.5% in 2018 from a peak of 36% in 2006.
However, a slowing economy, a possible rise in fuel bills, and a weakening Chinese yuan may hamper the prospects of China's consumer sector. For Alibaba (BABA) and JD.com (JD), this could be bad news. Alibaba is a dominant player in the Chinese e-commerce market with more than a 50% share. JD.com is a distant second with just over a 15% share. Since May, when the trade war escalated, Alibaba stock is down 4.6%. Although JD.com has gained 1.9% during the same period, it has marginally lagged the 2.1% gain in the S&P 500 (SPY).
A fall in discretionary income could also hamper automakers such as Tesla (TSLA) and NIO (NIO). Tesla is launching a Gigafactory in China to produce its Model 3, potentially as a hedge against the trade war. NIO is touted as the Tesla of China. Tesla has gained 1.7% since May, while NIO's American depositary receipts have plummeted over 35% in the same period. Legacy automakers such as Ford and General Motors are already struggling in China. A further slowdown in the Chinese economy coupled with a rally in oil prices would be a clear negative for these automakers.