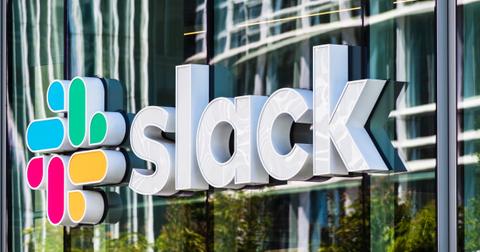 Slack: Can $800 Million in Cash Help It Pass Microsoft?
By Mike Sonnenberg

Updated
Slack (WORK) reported its second-quarter earnings on Wednesday after the market closed. The company reported 58% revenue growth during the quarter.
Article continues below advertisement
Slack's growth dilemma
However, the outlook for the rest of fiscal 2020, ending on January 31, showed more pressure on the company's revenue growth. Slack's revenues grew more than 100% in fiscal 2018. The growth slowed down to 82% in fiscal 2019. At the midpoint of the guidance, Slack's revenues will likely grow just over 50% in fiscal 2020.
The company commanded more than a 35x valuation multiple over the fiscal 2020 projected revenues at its public debut. As a result, slowing growth is a warning sign. After all, investors paid the premium due to growth expectations. In comparison, Uber (UBER) is currently valued at a multiple of around 4x on its fiscal 2019 revenue expectations. Out of the major public debuts this year, only Beyond Meat (BYND) is trading at a higher fiscal 2019 revenue multiple of 37.5x.
Growth is a priority for Slack
While talking on CNBC's Squawk Box, Slack's co-founder and CEO, Stewart Butterfield, said that "growth is the priority." However, he's looking for growth at a reasonable cost. To be fair, Slack seems to have made some inroads into the large enterprise segment. The number of customers paying for Slack grew 35% in the second quarter to over 100,000. The number of customers paying over $100,000 annually rose 75% during the quarter.
Article continues below advertisement
However, Microsoft Teams seem to be growing faster. Microsoft Teams, which is three years younger than Slack, crossed 13 million daily active users in July. Slack crossed 10 million daily active users in January. Butterfield didn't discuss the latest daily active user numbers during the earnings presentation. Instead, he said that the numbers will be disclosed on a milestone basis.
Slack spends more on new features
Butterfield said that the company is focused on investing in growth and spending more on new features. Slack is creating features to keep customers engaged and attract new customers. The company launched a new update in July. The update is for Slack's web and desktop versions. Notably, the update will improve speed and reduce memory usage. Slack is also testing "shared channels" with over 20,000 paid customers. Shared channels allow users from two different workspaces to collaborate while maintaining privacy for non-shared channels. The shared channels could be useful for companies to talk to outside contractors and agencies on Slack. Shared channels are expected to be out of beta at the end of September.
Slack's peers are also gearing up to improve their products. Facebook (FB) is redesigning its competing product, Facebook Workplace, to make it look less like Slack. Microsoft Teams keeps adding new functionalities to attract new customers.
Article continues below advertisement
How can Slack grow customers and revenues?
Slack can grow in three ways. The company can get more revenues out of existing customers by increasing the average revenue per customer. Slack can also attract new customers and cross-sell products. To get more revenues out of existing customers, the company needs to get more companies to pay or get more paying customers to pay even more.
While the average revenue per customer seems to be growing, we think that the growth isn't enough to justify the valuation. In the second quarter, the average revenue per paying customer rose 17%—58% revenue growth and 35% growth in paying customers. The average revenue per paying customer rose due to Slack's large enterprise push.
Attracting new customers that pay is also going to be harder. Microsoft and Facebook are aggressive with Microsoft Teams and Workplace, respectively. Like Slack, Microsoft Teams is also a "freemium" product. However, Microsoft Team's free version offers more perks than Slack's free version. Also, Microsoft Teams comes bundled with other Office 365 benefits in its paid avatar. Facebook Workplace is also priced aggressively with higher perks for the free version and the premium version starting at $4. Slack's premium pricing starts at $6.67 per user per month.
Article continues below advertisement
Cross-selling conundrum
Currently, Slack relies on one product with third-party integrations to fill the gap. In contrast, Microsoft (MSFT) can cross-sell Azure cloud services, the Office product suite, LinkedIn memberships, GitHub code repository, and plenty of other things with Microsoft Teams. Even Facebook can cross-sell advertisements to Facebook Workplace customers. Getting a lot more money out of existing customers is going to be hard for Slack without other products in its suite.
Cash is the king
With no profits in sight, Slack will have to rely on its cash kitty to drive the growth. As of July 31, Slack had about $800 million in cash and cash equivalents. Slack will likely burn about $105 million in fiscal 2020 ending on January 31. At that rate, the available cash and cash equivalents could last for years to come. However, Microsoft and Facebook have a bigger war chest—not all of it's available to compete with Slack though. As of June 30, Microsoft had $133.8 billion in cash and cash equivalents, while Facebook had $48 billion in cash.
Burning cash for growth
Burning investors' money for growth is common among the loss-making unicorns that are going public these days. Beyond Meat, which had $277 million cash as of June 29, burned $22 million in operating activities during the quarter. Notably, Beyond Meat is the most successful IPO in 2019. While the stock fell from its high, it's still trading way above the IPO price.
Uber, which had $11.7 billion in cash as of June 30, isn't expected to be profitable for years to come. Uber is also a Vision Fund portfolio company like Slack. For Softbank's Vision Fund, this quarter may not be a pleasant one. So far, Uber and Slack have been under pressure since July. The biggest loss might come from WeWork, which might go public at half the valuation than it desired.
Slack's growth path might be a steep climb. Overall, $800 million might not be enough since the company's peers have more cash.