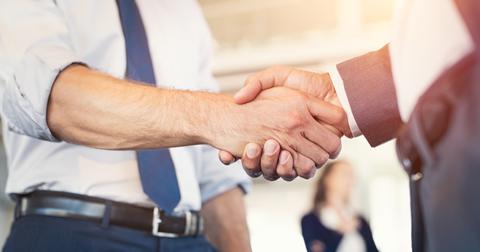 Should Symantec Agree to a Private Equity Buyout Offer?
By Sophia Nicholson

Updated
On Friday, Symantec (SYMC) received a buyout offer from two private equity firms for its Consumer Cyber Safety business. The private equity buyout offer fueled the Symantec stock, which soared 4.5% on September 6 to $24.52.
At this price, Symantec had a market capitalization of $15.2 billion. Notably, the stock has risen 30.7% year-to-date.
Article continues below advertisement
Symantec receives a buyout offer from private firms
According to the Wall Street Journal, the private firms, Permira and Advent International, are seeking to buy Symantec's consumer business for $16.4 billion. The private firms would pay around $26–$27 per share to Symantec shareholders for the consumer segment. The consumer segment includes the company's Norton Antivirus, VPN service, and LifeLock identity theft protection service.
The Symantec consumer business buyout deal follows Broadcom's (AVGO) intention to acquire Symantec's Enterprise Security business last month. According to reports, the consumer buyout deal would preserve Broadcom's Enterprise Security acquisition terms.
However, it's uncertain whether Boston-based Advent and London-based Permira might buy all of Symantec first and then proceed with the Broadcom deal. Another option could be to wait for the Broadcom deal to close and then buy Symantec's remaining consumer business.
Is the buyout term attractive?
On its face, the $16.4 billion private equity deal for the consumer business looks compelling. The $16.4 billion deal price has the edge over others in the nearly $15 billion valuation given by Broadcom to Symantec.
On July 3, Broadcom had intended to buy all of Symantec for around $14.5 billion. However, the Broadcom-Symantec deal didn't materialize, as the two parties could not decide on the deal's terms in mid-July.
In August, Broadcom agreed to buy one Symantec unit—Enterprise Security—for $10.7 billion. The companies expect the enterprise acquisition deal to close by the end of January after receiving regulatory approval.
From the tax viewpoint, the private equity–Symantec consumer deal looks attractive. The sale of the consumer business to these private equity firms would reduce the tax burden for Symantec's shareholders.
In contrast, the enterprise deal looks inefficient due to taxable dividends. Notably, Symantec would offer a special dividend of $12 per share to its shareholders in the fourth quarter of fiscal 2020 (ending in March) after the deal closes.
Symantec also has plans to cut its workforce by 7% and shut down some of its facilities to minimize costs. Symantec has announced a 67% increase in its regular dividend and has approved an increase in its share buyback program.
Article continues below advertisement
Deal to give a path to Symantec
Symantec derives revenue from its Enterprise Security and Consumer Cyber Safety businesses. Symantec's Enterprise Security segment mainly consists of Blue Coat Systems and serves businesses and enterprise accounts.
The consumer unit includes its LifeLock identity-protection brand and Norton Antivirus software business. The consumer segment offers device security, identity threat protection, and privacy software to consumers and small businesses.
However, Symantec's consumer business has performed better than the enterprise segment. In the second quarter, the consumer business contributed 90% to the company's operating income.
In comparison, the Enterprise Security business contributed 10% to the company's operating income. Symantec also gets 51% of its total revenues from the Consumer Cyber Safety segment, while 49% of its revenues come from the Enterprise Security business.
In our view, a deal with these private equity firms makes sense, especially when the company is struggling with challenges such as declining revenues and depleting margins. Among its challenges was the departure of CEO Greg Clark in May.
The sale of both segments might help the company lower its costs and debt levels. At the end of the first quarter of fiscal 2020 (ending July), Symantec's cash and cash equivalents were $1.5 billion, while its long-term debt was around $4 billion.
Symantec also believes that the Norton LifeLock business could generate annual earnings of $1.50 per share after the sale of the enterprise unit to Broadcom. Symantec also expects the consumer unit to generate stable cash flows and achieve revenue growth in the mid-single-digit range on a year-over-year basis.