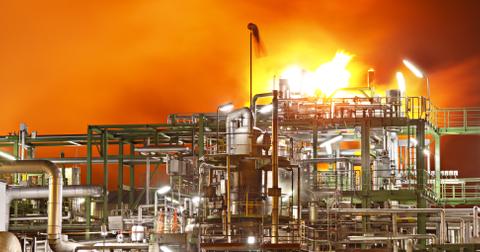 Saudi Aramco Attacks: Crude Oil Shock and Your Stocks
By Mike Sonnenberg

Updated
In a major geopolitical development, two facilities run by Saudi Aramco, the world's largest crude oil producer, were attacked by Iran-backed Houthi rebels using drones. The drone attack impacted the Abqaiq facility, which is the largest crude oil plant in the world.
Along with Abqaiq, the Khurais facility was also impacted. The attacks disrupted half of Saudi Arabia's crude oil supply—5 million barrels per day—about 5% of the daily crude oil supply. It may take days to restore the supply. According to S&P Platts, the attacks have also wiped out the glut in the crude oil market.
At 10:23 AM EDT, Brent crude oil was trading up 11.2% at $67 per barrel while West Texas Intermediate (or WTI) crude oil was trading up over 10% at $60.50 per barrel.
Article continues below advertisement