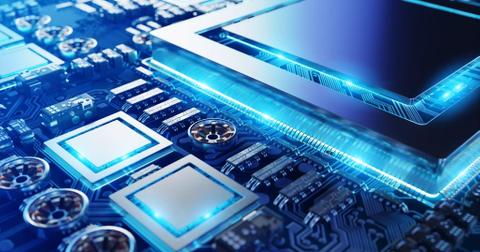 NVIDIA Stock: Why Investors Can Expect Weakness
By Ambrish Shah

Updated
On September 27, NVIDIA (NVDA) stock fell 3.15% and closed at $171.76. The company has a market capitalization of $104.60 billion.
Article continues below advertisement
Why did NVIDIA stock fall?
NVIDIA stock fell on reports that the Trump administration is considering limiting capital outflows to China. According to CNBC's September 27 report, "Among available options is delisting Chinese companies from U.S. stock exchanges and limiting Americans' exposure to the Chinese market through government pension funds."
The report added, "The efforts to curtail American investment in China would be undertaken with the stated goal of protecting U.S. investors from excessive risk due to lack of regulatory supervision."
Notably, the Trump administration didn't comment on the matter. However, if these plans materialize, it would significantly escalate the trade war between the US and China.
The news had a negative impact on semiconductor stocks Micron (MU), Intel (INTC), and NVIDIA. On September 27, these stocks fell 11.09%, 0.27%, and 3.15%, respectively. Plus, these semiconductor companies have significant exposure to China.
Bruce Bittles, Baird's chief investment strategist, said, semiconductor stocks are a "bellwether to watch: If they deteriorate, it could pretend a steeper decline."
The Dow Jones Industrial Average fell around 71 points, or 0.3%, on September 27. On the day, the S&P 500 fell 0.5%, and the Nasdaq Composite fell 1.1%.
Analysts' recommendations on NVIDIA stock
Of the 39 analysts tracking NVIDIA, 26 gave it a "buy," 10 gave it a "hold," and three gave it a "sell." Analysts have a 12-month average price target of $186.89 on the stock, indicating a potential upside of 8.8% from its current price.
Article continues below advertisement
Financial performance
In the second quarter, NVIDIA's revenues of $2.58 billion beat analysts' estimate by about 1.3%. Notably, the company's revenues fell 17.4% YoY. However, the company's adjusted EPS of $1.24 beat analysts' estimate about 7.8%, and its adjusted EPS fell about 36.1% YoY.
In fiscal 2019, NVIDIA's adjusted EPS reached $6.64. Analysts expect NVIDIA's adjusted EPS to fall 18.8% to $5.39 in fiscal 2020 and to rise 31.5% to $7.09 in fiscal 2021.
NVIDIA's revenues are expected to fall 8.1% to $10.77 billion in fiscal 2020. Its sales could rise 19.8% to $12.9 billion in fiscal 2021 and increase 15.4% to $14.89 billion in fiscal 2022.
NVIDIA's performance
Currently, NVIDIA is trading at a discount of 41.33% to its 52-week high of $292.76. The stock is trading at a premium of 38.0% to its 52-week low of $124.46, and NVIDIA stock has gained 28.7% this year through September 27. The stock has risen about 0.16% in today's trading session as of 11:05 AM EDT.
On September 27, NVIDIA's share price closed 3.1% below its 20-day moving average. It closed 1.5%, 6.0%, and 6.3% above its 50-day, 100-day, and 200-day moving averages, respectively. NVIDIA stock has a 14-day RSI (relative strength index) score of 48, which suggests that investors are neutral on the stock.
NVIDIA has an upper Bollinger Band level of $188.09. Plus, its middle Bollinger Band level is $176.93, and its lower Bollinger Band level is $165.78. On September 27, NVIDIA stock closed near its middle Bollinger Band level, which suggests that the stock was neither oversold nor overbought.
NVIDIA consistently rewards shareholders with dividends, and its dividend yield was 0.37% on September 27. Comparatively, Intel's dividend yield was 2.48%.
Among NVIDIA's peers, Micron and Intel have gained 36.2% and 8.2%, respectively, year-to-date.
To learn more, please read NVIDIA Stock Rises on Goldman Sachs's Optimism and NVIDIA Stock: Are Analysts Losing Confidence? You can also read NVIDIA Unveils the World's Fastest Mobile Workstation.