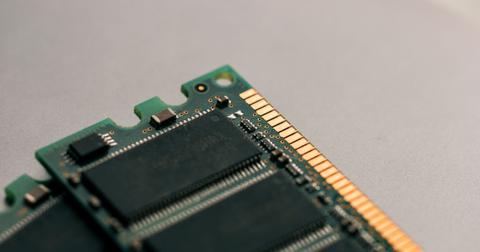 MU and WDC: Memory Stocks Rally on Analyst Optimism
By Puja Tayal

Updated
Over the last three months, memory stocks Micron (MU) and Western Digital (WDC) have come into a positive spotlight. Between June 20 and September 16, MU and WDC rose 47% and 59%, respectively.
MU and WDC outperformed the VanEck Vectors Semiconductor ETF (SMH), which rose 12.5% during the same period. These memory stocks are trading near their 52-week highs. This three-month rally has made Wall Street analysts optimistic on the memory industry.
Article continues below advertisement
Memory stocks trade near their 52-week highs
Micron and Western Digital's shares are currently trading near their median price targets of $50 and $61, respectively. However, bullish analysts expect these memory stocks to rise to $90 and $126, respectively.
These bullish targets are above their highs that were last seen in early 2018 when the memory industry peaked. This brings us to the question: Why are analysts bullish on memory?
Understanding the memory industry's cyclicality
Before we understand what made analysts bullish on memory stocks, it's important to understand the nature of the memory industry. Because memory chips are commodities, there is not much difference among the chips manufactured by different companies. So, memory chip prices are governed by the market forces of supply and demand.
When demand is greater than supply, memory prices rise and when supply is greater than demand, memory prices fall. As memory chipmakers don't have control over prices, the industry is impacted by market cyclicality. So, memory stocks move in tandem with memory prices. The unpredictable nature of the memory industry's cyclicality exposes memory stocks to significant volatility.
Article continues below advertisement
The memory market has consolidated over the years, and now there are fewer suppliers. These suppliers try to maintain supply discipline to keep memory prices in check and thereby mitigate the risk of declining prices. Now that we know how memory stocks move, let's see where we stand today in the memory cycle.
The memory industry has been in a downturn since June 2018. This downturn occurred because demand fell at a time when NAND (negative AND) and DRAM (dynamic random access memory) suppliers increased supply.
Although suppliers reduced their supply, memory demand fell faster because of the weak macro environment. The result was an increased memory inventory in the hands of customers. As a result, customers stopped buying memory chips and moved to absorb their inventory. This trend increased the inventory levels of memory chipmakers.
Article continues below advertisement
Analysts bullish on memory stocks
Analysts and investors see an improvement in the macro environment and an increase in memory demand. However, analysts are divided on whether the current macro improvement is the start of Micron's stock rally.
Longbow
On September 11, Longbow analyst Nikolay Todorov upgraded Micron to "buy" from "neutral" with a $66 price target as the memory market's fundamentals improve. According to a September 11 CNBC report, he stated that DRAM and NAND shipments improved in the third quarter. These shipments improved due to increased demand from select US hyperscalers and increasing memory content in Chinese mobile phones. Moreover, the trade war between Japan and South Korea has increased the risk of tightening supply.
Article continues below advertisement
Japan supplies South Korea with a significant portion of the necessary chemicals used in manufacturing memory chips. The trade war between the two countries obstructed the import of these chemicals. South Korea houses Samsung (SSNLF) and SK Hynix, which accounted for over 60% of global memory chip supplies last year. As a result, the excess inventory of memory chipmakers is shrinking faster than anticipated.
Todorov believes that at this rate, DRAM contract prices could hit bottom by the end of this year and normalize by the first quarter of next year. He added that NAND prices have already started to recover with a seasonal uptick in demand for PCs, smartphones, and game consoles.
Todorov is bullish on Micron because of its improved operating margin relative to its peers. A higher margin could bring a greater upside potential for Micron when memory prices rise.
Analysts at Susquehanna Financial, Deutsche Bank, Mizuho Securities, and KeyBanc upgraded their ratings on Micron stock. They all noted that DRAM and NAND inventories could decrease and prices could stabilize in the second half of 2019 as the holiday season demand kicks in. However, Morgan Stanley analyst Joseph Moore is cautious about the current uptrend.
Morgan Stanley analyst cautious on Micron
In July, Moore stated that the risk of tightening supplies would create a short-term increase in demand. Mobile and PC OEMs (original equipment manufacturers) typically build up their memory inventory to ensure an adequate supply for holiday season. That is what happened, and DRAM and NAND demand and prices improved in the third quarter.
In September, Moore turned cautious on Micron, as he believes that the demand environment remains challenging. OEMs have already accumulated significant memory inventory. In the event there is a setback in the demand for PCs, smartphones, and game consoles, OEMs would switch from buying memory to absorbing existing inventory. This would once again reduce memory demand and lower prices by at least 10% in the fourth quarter.
Moore has an "equal-weight" rating and a $48 price target for Micron stock. However, MU stock is already trading above this target, indicating that investors have already priced in the upside potential.
Looking at analysts' views, we believe that memory stocks like Micron and WDC are not a good buy at the current price amid the macroeconomic uncertainty. However, investors should keep an eye on these stocks and buy them at the dip, as they could have an upside potential when memory prices improve.