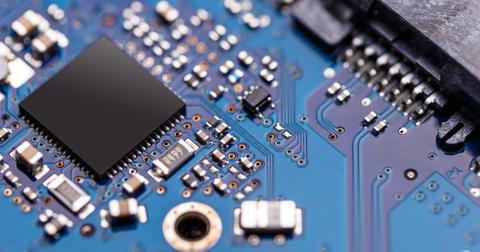 Micron: Q4 Earnings Send Semiconductor Stocks Lower
By Adam Rogers

Updated
Micron Technology (MU) shares fell more than 9% in early market trading today. The stock is trading at $44.09, which is 14% below its 52-week high.
Micron announced its fourth-quarter results on Thursday after the market closed. The company reported revenues of $4.87 billion with an EPS of $0.56.
Analysts expected the company to post revenues of $4.59 billion with an EPS of $0.51. Although Micron's sales fell 42.3% and its EPS fell 84% in the fourth quarter, the company beat analysts' estimates. So, why is Micron stock falling today?
Article continues below advertisement
Mild guidance impacts Micron
Micron expects revenues of $4.8 billion–$5.2 billion for the first quarter of 2020. The company expects an EPS of $0.39–$0.53 for the November quarter. In comparison, analysts expect Micron to post revenues of $4.8 billion and an EPS of $0.53 in the first quarter.
Micron's revenue decline in the August quarter also impacted its operating cash flow. The company's operating cash flow fell close to 65% to $2.23 billion.
Micron's CEO, Sanjay Mehrotra, said that trade war uncertainty and the Huawei ban will impact the company's top line in the near term. However, Mehrotra is confident about the company's ability to address rising memory demand after the market recovers.
He said, "Micron delivered fourth quarter results ahead of expectations, capping a fiscal 2019 in which we executed well in a challenging environment, significantly improved our competitive position, and returned cash to shareholders through share repurchases."
Micron's results impacted its peers
The company's lower forecast impacted other semiconductor companies. So far, Western Digital (WDC), Lam Research (LRCX), and Applied Materials (AMAT) shares have fallen 0.2%, 4.5%, and 3.6%, respectively, today.
Semiconductor ETFs including the VanEck Semiconductor (SMH) and the iShares S&P Semiconductor (SOXX) have fallen 1.15% and 1.21%, respectively.
Semiconductor downturn isn't over
Micron shares have made a strong comeback in 2019. The stock fell close to 25% in 2018. Investors were worried about the downturn in the semiconductor space and the trade war. The stock has risen more than 34% year-to-date despite the recent pullback.
However, the weakness impacting semiconductor stocks will likely continue. Analysts expect Micron's sales to fall 14.5% year-over-year in fiscal 2020 after a decline of 23% in 2019. The company could return to revenue growth in 2021. Analysts expect the company's sales to rise 22.2% to $24.45 billion.
The company's earnings fell 52% in 2019. Analysts expect the earnings to fall 57.6% in 2020. However, analysts expect the earnings growth to be 96.7% in 2021.
Although chip prices continue to fall, the rate of deceleration has improved, which increased investors' confidence. Micron's guidance shows that semiconductor stocks aren't out of the woods.
A trade solution would provide a significant tailwind for Micron and its peers. Several semiconductor stocks have substantial exposure to China. Recently, the stocks have underperformed markets.
Currently, Micron stock is trading at a forward PE ratio of 8.3x. The stock is trading 29% below its all-time high price of $62. Analysts have a 12-month target price of $52 for the company.