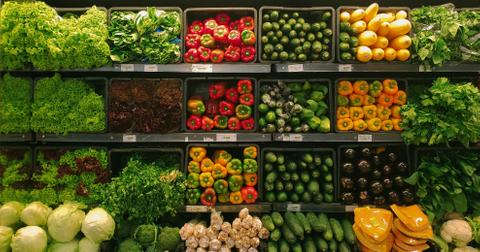 Kroger: Q2 Comps Might Lag Target and Walmart
By Amit Singh

Updated
Article continues below advertisement
What might support Kroger's comps?
Omnichannel offerings and demand for privately-owned products will likely support Kroger's comps. However, the company's second-quarter comps might lag Target and Walmart.
During the second quarter, Target's comps increased 3.4%. Meanwhile, Walmart's US comps rose 2.8%. Notably, Kroger's comps rose 1.5% in the first quarter—below the company's fiscal guidance range of 2.0%–2.25%. Besides lower comps, the company's revenues and earnings also fell on a YoY (year-over-year) basis.
While we expect Kroger's comps to show a sequential improvement, its growth will likely be within the targeted range mentioned above. During the first-quarter conference call, Kroger stated that its second-quarter comps are trending better than the first quarter, which indicates a sequential improvement.
Kroger's expanded pickup and delivery services and the introduction of its privately-owned brands will likely support its comps and margins.
Analysts expect the company to post revenues of $28.4 billion—up 1.7% on a YoY basis. Meanwhile, the company's adjusted EPS will likely be $0.41—up about 1% YoY.
Target and Walmart might be ahead
Even if Kroger meets its targeted comps growth guidance in the second quarter, it will be lower than what Target and Walmart reported. Target's comps have grown at a strong rate in the past several quarters. The company will likely sustain the momentum.
Target expects 3.4% growth in its comps in the second half of 2019. The projection looks encouraging. Target will be up against tough comparisons. Meanwhile, Walmart expects its US comps to be at the higher end of its guidance range of 2.5%–3% growth. Walmart and Target's comps guidance is better than Kroger's expectation of 2.0%–2.25% growth. Digital transformation, value pricing, and expanded offerings are expected to support Walmart and Target's comps.
Besides Walmart and Target, Kroger's comps significantly lag Costco (COST). Costco's comps have grown at a rapid pace over the past several months. Meanwhile, the company continues to outperform peers with its industry-leading comps.
Overall, we expect Kroger's financial performance to show a sequential improvement. However, the company's comps and earnings growth rate could continue to lag its peers.
Although Kroger stock has recovered, it's still down about 6.1% on a YTD (year-to-date) basis. In contrast, Target and Costco stock rose 64.7% and 45.8% during the same period. So far, Walmart stock has risen 24.6% YTD.