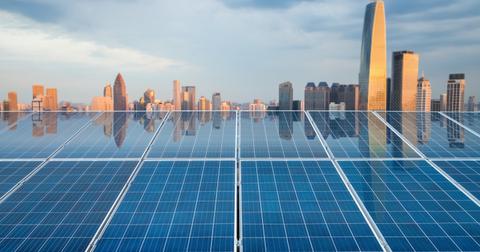 Is the Recent Weakness in Solar Stocks an Opportunity?
By Vineet Kulkarni

Updated
Almost all solar stocks fell sharply on September 26. Solar leader First Solar (FSLR) fell approximately 7% while this year's top gainer, Enphase Energy (ENPH), fell 7.5% yesterday. The Invesco Solar ETF (TAN) tumbled 3.6%, and the broad market index S&P 500 (SPY) fell 0.2%.
Article continues below advertisement
Why did solar stocks fall?
Because solar companies are still gaining ground, they are still perceived as relatively risky. Also, they belong to one of the top-rallied sectors of this year. So, market participants generally overreact to such stocks even when the sentiment in the broader markets is somewhat weak.
Another reason for solar stocks' recent weakness could be the fall in energy commodity prices. Oil and gas prices were weak in the last few trading sessions, which makes renewables relatively less attractive.
However, even after the steep fall in solar companies, they are sitting on hefty gains for the year. Year-to-date, First Solar stock is up about 47% while SunPower (SPWR) is up more than 150%. Solar inverter makers Enphase Energy and SolarEdge Technologies (SEDG) stocks have surged 390% and 143%, respectively, year-to-date.
Article continues below advertisement
Huge growth potential for solar stocks
The recent fall in solar stocks could be an opportunity in these renewable energy companies. Strong demand and the falling costs of solar energy drove record earnings growth for these companies in Q2 2019.
First Solar, SunPower, Enphase Energy, and SolarEdge increased their guidance for the rest of the year. Wall Street analysts also look upbeat on their earnings for the next few quarters. For more about Enphase Energy's earnings, please read Enphase Energy's Q2 Earnings: Record Growth.
The recently released Solar Market Insight Report by Wood Mackenzie and SEIA painted a rosy picture of the industry. It forecast total PV (photovoltaic) installations to more than double in the country in the next five years.
Residential solar installations in the second quarter increased 3% compared to the first quarter and 8% compared to the second quarter of 2018. So, the solid demand for solar and production ramp-ups could bode well for solar companies' earnings in the next few quarters.
First Solar stock has fallen almost 10% since its 52-week high, and SunPower has corrected more than 20% from its 52-week high. Enphase Energy is off almost 35% from its all-time high of $35.40 in late August.
Attractive valuation
Many of these stocks look attractive from a valuation standpoint. First Solar and SolarEdge stocks are trading 17x their forecast earnings for the next year. Enphase Energy stock is trading 25x its forward earnings. Considering their huge growth potential, their current valuation looks attractive.
SunPower stock seems like an exception among these solar picks. It is currently trading beyond 70x its forward earnings and appears notably expensive. Based on Wall Street analysts' estimates, SunPower is expected to report a loss in 2019 but could turn to profits in the second half of next year.
Article continues below advertisement
Volatility
Solar stocks have displayed wild swings recently. On September 26, First Solar's implied volatility was close to 40% while SunPower's implied volatility was beyond 60%.
Implied volatility measures investors' anxiety, and a rise in volatility is generally associated with a fall in stock prices. Enphase Energy's recent implied volatility is 80%. In comparison, the implied volatility in the S&P 500 was close to 13%.
Enphase Energy offers solid potential gain
Among the top solar companies discussed above, Enphase Energy stock offers the highest potential upside for the next 12 months. Based on analyst estimates, it has a mean price target of $31.10 against its current market price of $23.18. This indicates a potential upside of almost 34% for the next year.
Among the 10 analysts covering Enphase, seven recommended the stock as a "buy." Enphase stock has one "strong buy" recommendation, one "hold" recommendation, and one "sell" recommendation.
To learn about First Solar's price targets and chart indicators, please read Why First Solar Stock Could Continue to Climb.