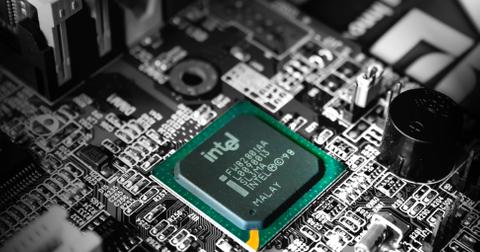 Intel Stock Surges 11% in Two Weeks and Is Still Growing
By Puja Tayal

Updated
Intel (INTC) stock has been on the rise since the start of September. The stock has risen 5.7% in the last three days and 11.4% in the past two weeks. It's up despite the escalation in the US-China trade war. This stock rally pulled Intel out of the technical weakness it fell into in August when US President Donald Trump announced 10% tariffs on $300 billion worth of Chinese imports.
Technical weakness is measured with the help of moving averages, which take into account the average of a stock's price over a certain period. A moving average removes one-off stock price movements and shows a smoother line and in which direction movement is skewed.
Article continues below advertisement
Intel's 200-day moving average has been pretty much flat throughout the year, as the stock is up just 6% YTD (year-to-date). However, its 50-day moving average has been falling since May, and it started to stabilize in August. Its trading price fell below its 50-day and 200-day moving averages on August 5 and rose above these averages just yesterday. This trend marked Intel's move from technical weakness to technical strength.
This brings us to the question of whether this rally is sustainable. Can Intel stock continue to trade above $50 for the next few months? The answer is uncertain.
Can Intel stock continue to trade above $50?
Intel stock has the potential to trade above $50 and even make a new high despite its headwinds. These headwinds include competition from Advanced Micro Devices (AMD) and NVIDIA (NVDA), delays in its 10 nm (nanometer) products, and weak data center demand. However, its biggest risk is its exposure to China and the uncertainty around the trade war.
Throughout the year, Intel stock fell below $50 whenever the war escalated. Even when the company cut its full-year revenue guidance by $2.5 billion on April 24, its stock fell 9% to $52.4. But when President Trump escalated the trade war in May, the stock fell to $43.4. Intel is more exposed to China's retaliatory measures than to US tariffs on Chinese imports. It supplies chips to Chinese PC original equipment manufacturers and data centers.
To answer the question, Intel stock could trade above $50 providing things don't get worse between the US and China.
Article continues below advertisement
Recent positives that may have worked in Intel's favor
At the IFA 2019 event in Germany, Intel unveiled its Cascade Lake-X HEDT (high-end desktop) CPU (central processing unit) scheduled for launch in October. The company claims that this CPU can beat AMD's HEDT 14 nm Ryzen Threadripper 2000 series CPU in performance per dollar. Intel also unveiled its Project Athena–based laptops, which offer features such as instant-on, improved connectivity, and good battery life. With this, it aims to compete with Qualcomm's (QCOM) Always Connected PC. These new products have further revived investors' confidence in Intel.
Article continues below advertisement
Wall Street analysts are mixed on Intel
Wall Street analysts are mixed on Intel. Of the 40 analysts tracking the stock, 33% have given it "buy" recommendations, 50% have given it "holds," and 18% have given it "sells." Bank of America Merrill Lynch analyst Vivek Arya has a "buy" rating and a $62 price target on Intel. He expects Intel's data center revenue to rise 20% in the second half compared to the first half. He's based his estimate on the bank's cloud capital spending tracker, which indicated that cloud spending could increase by 29% during this period. Intel owns more than 95% of the server CPU market and earns 60% of its data center revenue from the cloud business.
Article continues below advertisement
However, Citi analyst Christopher Danley noted that enterprise customers are cautious about spending amid a slowdown in China. He believes that growing demand from the cloud could be partially mitigated by sluggish demand from enterprises. He's also concerned about a potential price war between AMD and Intel. AMD already showed its willingness to compete on the price front on July 7. It addressed the competition from NVIDIA's (NVDA) Super GeForce RTX graphics processing units with the last-minute price cuts of its Navi GPUs. A price war between AMD and Intel would prove beneficial for customers but harm both companies' profits.
Cowen analyst Matthew Ramsay is cautious about Intel and expects its second-half recovery to be slower than expected in light of the current status of the US-China trade war.
The verdict
Intel stock is fundamentally strong and has growth potential. It's not a stock to be purchased at $50 given the trade war's uncertainty, but if you've already bought it below $45, it's worth holding on to.
Puja Tayal does not hold Intel shares.