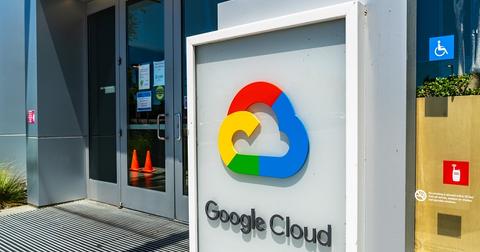 Google Cloud Bets $3.3 Billion More: Huge Opportunity
By Ruchi Gupta

Updated
Article continues below advertisement
Huge revenue opportunity for Google's cloud business
Demand for cloud services remains strong globally. I think that strength is encouraging companies like Google to make huge investments and expand their cloud infrastructure. Global spending on cloud services is set to rise to over $214 billion in 2019 from $182.4 billion in 2018, Gartner estimates. By 2022, the global cloud market should surpass $330 billion.
Google's planned Europe data center investment follows the company setting its sights on attracting large cloud customers. As we discussed earlier, Google has hired former SAP SE (SAP) executives to help attract big cloud customers. Plus, Google's expanding its cloud sales team to generally help it grow its cloud market share.
Presently, Amazon and Microsoft rule the global cloud market with 33% and 16% market shares, respectively, according to Synergy Research. Google comes in third with 8.0% market share. However, as we saw here, Google aims to overtake Microsoft by 2024 and become the world's second-largest cloud company.
Diversifying revenue sources
I think Google needs a big break in the cloud market to reduce its overreliance on advertising dollars. Currently, advertising contributes the vast majority of Google's revenue. While Google remains the top digital advertising company, it's no longer a sure bet. Amazon and other competitors are gaining ground in the digital advertising market, threatening Google's base.
So Google is looking for new revenue sources outside advertising, and cloud computing is one of the company's target markets. Currently, Google's tiny share of the cloud market shows it has more growth potential than rivals Amazon and Microsoft.