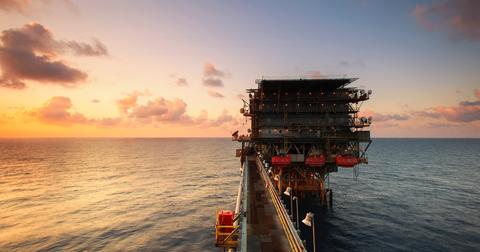 GE to Sell BHGE Stock: Cash Crunch or Transformation?
By Mike Sonnenberg

Updated
Yesterday, Baker Hughes, a GE company (BHGE), announced that General Electric (GE) and its subsidiaries were planning to sell up to 121 million class A shares in Baker Hughes. BHGE will also repurchase $250 million worth of class B shares from GE. At yesterday's closing price of $24.11, the BHGE shares could fetch GE about $2.9 billion in addition to the $250 million the conglomerate will fetch from the repurchase of class B shares.
Yesterday, General Electric stock closed up 2% at $9.14. The broader S&P 500 Index (SPY), which GE is part of, stayed steady. At the end of June, GE held a 50.6% stake (522 million shares) in Baker Hughes. The transaction will bring the company's stake in BHGE down to less than 40%.
Apart from losing its majority stake, General Electric is also set to lose the chance to appoint four board members to BHGE's board. Moreover, it will have to change its accounting treatment for BHGE, resulting in pressure on its profits and losses, cash flows, and balance sheet.
Article continues below advertisement
Significant timing
While General Electric has been planning to offload some BHGE shares for a while, the timing of the transaction may raise a few eyebrows. Last month, the Madoff whistleblower, Harry Markopolos, accused GE of committing $38 billion worth of accounting fraud. On the day of the allegations, GE stock experienced an 11.3% fall, its biggest since 2008.
Markopolos's first allegation was regarding General Electric's LTC (long-term care) reinsurance liabilities. He alleged that the company needs $18.5 billion in cash immediately to maintain appropriate reserves for its LTC losses. He also that the company will need to report $10.5 billion in losses by 2021 to comply with the new regulations. So far, Wall Street analysts and regulators have downplayed Markopolos's report. Even a court has given GE a partial breather in one of the lawsuits related to its LTC liabilities.
Markopolos's Baker Hughes allegation
In his second allegation, Markopolos targeted General Electric's relationship with Baker Hughes. He argued that GE should have reported $9.1 billion in losses related to its holdings in Baker Hughes as of December 31, 2018. He also suggested that the company shouldn't have consolidated BHGE in its books, as a single business shouldn't be reported under two different entities.
While the stock price of BHGE has risen since the end of 2018, GE is still expected to realize losses on the BHGE stake sale and share repurchase transaction.
Not the first time for GE
This isn't the first time GE is offloading BHGE shares. In 2018, GE sold 101.2 million shares in BHGE, bringing its stake down from 62.5% to 50.4%. The company also recorded $2.2 billion in pretax losses toward the sale.
However, this time things may be different, as GE's stake in BHGE is falling below 50%, prompting an accounting method change. The change will affect all the company's financial statements. Some will be one-time effects, while others may affect GE for some time to come. As for Baker Hughes, having such a large block of shares on sale might impact its stock price.