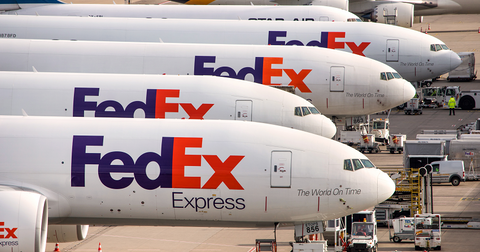 FedEx Q1 Earnings Next Week: Will It Disappoint Again?
By Anirudha Bhagat

Updated
Analysts expect FedEx (FDX) to disappoint investors again when it reports its fiscal 2020 first-quarter earnings results on September 17. They expect the delivery giant's fiscal 2020 first-quarter earnings to fall for the third straight quarter. FedEx has a mixed earnings surprise history. It's beaten analysts' estimates seven times while missing estimates five times.
Analysts expect FedEx's first-quarter revenue to remain flat YoY (year-over-year) at $17.1 billion. Sluggish revenue growth and increased expenses could weigh on FDX's first-quarter earnings performance. Analysts expect FedEx's first-quarter adjusted EPS to fall 8.4% YoY to $3.17.
Article continues below advertisement
Trade slowdown to hurt FedEx's first-quarter earnings
Wall Street's revenue growth forecast for FedEx's first quarter is the lowest it's been in the past 12 quarters. This dismal top line projection reflects analysts' concerns about a global trade slowdown. FedEx has already been feeling the pinch of the global trade slowdown for the past few quarters.
During its fiscal 2019 fourth-quarter results, the company disclosed that an economic slowdown in Europe and Asia was hurting its international business. As per the press release, the European economy is suffering from negative manufacturing outputs in Germany and Italy. In Asia, the ongoing trade war between the US and China is affecting FedEx's international business.
While providing its outlook for fiscal 2020, FedEx cautioned about continued impacts to its financial results in the near term. Its mix shift to low-yielding services could also weigh on its first-quarter top and bottom line results.
Furthermore, higher costs due to TNT Express's integration and increased investments in facility upgradation could drag on FedEx's first-quarter bottom line results. The company is also aggressively investing in autonomous delivery solutions such as the FedEx SameDay Bot. These investments could weigh on its first-quarter earnings.
Article continues below advertisement
Amazon contract expiry to affect first-quarter earnings
FedEx's latest decision not to renew two logistics deals with Amazon (AMZN) will also negatively affect its first-quarter results. In June, FedEx didn't renew its domestic air-shipping contract with Amazon. In August, it also didn't extend its ground delivery deal for Amazon's international parcels.
The company justifies its decision by arguing that cutting ties with Amazon will help it focus on and utilize its own resources in the broader e-commerce market in the long run. However, we believe that the nonrenewal of two contracts will have a considerable impact on FedEx's first-quarter earnings. The e-commerce giant accounts for about 1.3% of FedEx's total annual revenue.
The majority of FedEx's logistics peers will report their fiscal 2019 third-quarter results in October. Analysts' earnings expectations for rival United Parcel Service (UPS) reflect a potential YoY rise of 13.7% in the third quarter. Further, Wall Street expects XPO Logistics (XPO) and Old Dominion Freight Lines (ODFL) to post YoY earnings rises of 22.2% and 1.3%, respectively.
Article continues below advertisement
FedEx stock performance
FedEx stock has lost over 31% of its market value over the last year. As of its September 12 closing price of $173.51, the stock is trading near its 52-week low of $147.82. Moreover, it's down 33% from its 52-week high of $259.25.
The decline in FedEx stock is much higher than the fall in the iShares Transportation Average ETF (IYT). The ETF has lost 6.9% of its value over the last 12 months. IYT invests in Dow Jones US transportation stocks, and nearly 20% of its portfolio constitutes air freight and courier companies. FedEx has also underperformed the broader market's return. Over the same period, the Dow Jones and the S&P 500 have risen 4.6% and 4.2%, respectively.
Apart from a back-to-back dismal quarterly performance, the primary reason behind FedEx stock's underperformance is uncertainty over US-China trade negotiations. FedEx is stuck in the middle of ongoing trade tensions between the US and China.
The company is facing two government probes in China related to the wrongful deliveries of a few Huawei Technologies parcels. The Chinese government's move is considered retaliation to the Trump administration's ban on US companies' doing business with Huawei in mid-May.
The company is also facing the risk of being added to China's list of unreliable entities. Its Chinese operations contribute nearly 6% to its total revenue. Therefore, its stock is highly vulnerable to the ongoing trade war between the world's two largest economies. Boeing stock has also been beaten down due to concerns over the rising competitive threat from Amazon. The e-commerce giant is investing aggressively in building its own logistics infrastructure.